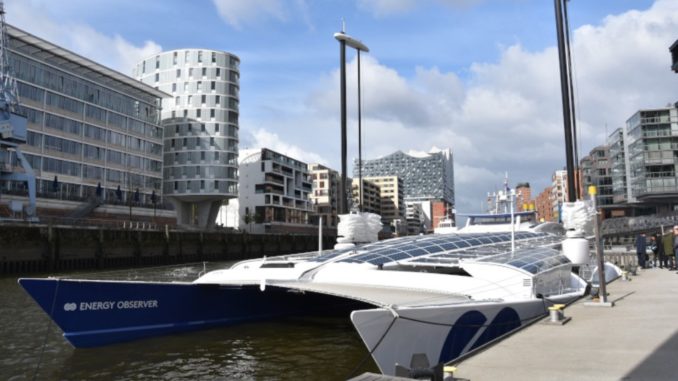 Hamburg was the 35th station where solar hydrogen ship Energy Observer fought after its slowly way up from the Elbe against the tidal ebb on 28 April 2019.
Energy Observer plan the six-year circumnavigation of the world. A total of 101 locations in 50 countries are to be visited.
Although this odyssey is not about speed, Captain Victorien Erussard and his crew were visibly pleased to have new technologies on board that will enable faster progress and more comfortable travel. In Amsterdam, the solar catamaran was fitted with additional photovoltaic panels, a thermal energy store and special Oceanwings in mid-April.
Hydrogenics
The new twelve-metre high masts, which resemble vertical wings rather than sails, replace the previously used vertical wind turbines (Darrieus rotors). Instead of generating electricity, the aim of the Oceanwings is to generate propulsion.
Its usage is a world premiere: for the first time, the wings designed by VPLP will be used on such a large boat as the Energy Observer. As Erussard explained during his presentation, their efficiency is twice that of conventional sails. In addition to the fully automatic, intelligent control, a major advantage is that they can be used up to an angle of 22° (conventional sails: 45°). Since their installation, the average speed has increased from five to seven knots.
The aim of this multi-year gymnastics event – in addition to the 2020 Olympic Games in Japan – is to test various technologies. For example, the organisers said goodbye to their kite because it was too complicated to handle. System engineer Hugo Devedeux was not quite as happy with the compressor, which already had to have twelve diaphragms replaced. Otherwise, however, the energy system on board, designed by CEA-Liten, seems to run reliably.
Promotional tour
The visit of several specialist journalists on board the Energy Observer was initiated by the Toyota car group, which is the official media partner of Victorien Erussard's circumnavigation of the world. The Japanese company used the stop in Hamburg to give media representatives the opportunity to steer hydrogen vehicles from Cologne to the Hanseatic city as part of a road show, so that they can gain their own experience with this technology and inform themselves about H2 technology on water and on the road.
Photo: Central location not far from the Elbe Philharmonic Hall
Author: Sven Geitmann
Source: Hydrogeit