Polini Motori is more and more protagonist of the E-bike world, now in a 2020 Italian E-bike Cross-Enduro race with Italian rider Thomas Oldrati.
Thomas Oldrati, who will compete wearing the Fiamme Oro colors thanks to the Team Fulgur support.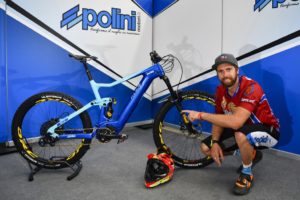 The weekend of August, 23rd, on the occasion of the Ponte Dell'Olio (PC) trial, Polini will make available for Oldrati and the Fulgur Team the pretty new motor E-P3 MX. The Polini motor E-P3 MX is 100% Made in Italy and, combined with the Polini Hi-Speed, assures great performance thanks also to the increase of the active assistance. Everything in respect of the FMI regulations, which foresee a motor's unlocking with more than 250W nominal maximum power.
Oldrati was 2008 Enduro Junior World Champion, vice champion in the 2019 E1 class, ten times Italian champion (2005 50cc, 2006-2007 125 2strokes, 2010-2011 250 4strokes, 2013-2014 E1, 2017 E3, 2019 250 4strokes), is now part of the sport group Fiamme Oro of the state police and in this season he will compete in the World and Italian Championship with Honda RedMoto.
Source: Polini Motori