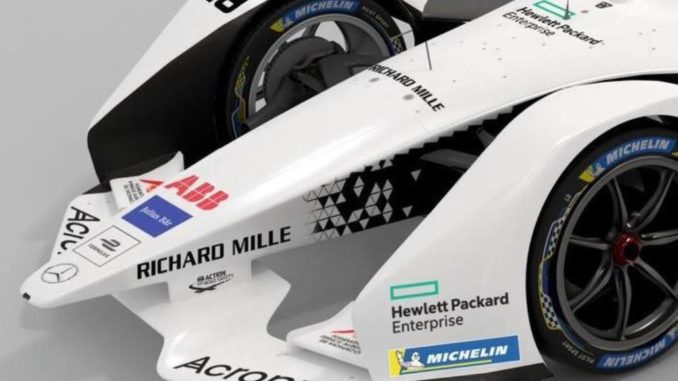 In the 2019/20 Formula E Season, Venturi Motorsport will write a new chapter as the team looks to the future with Mercedes-Benz.
After a transitional year in Season 5 of the ABB FIA Formula E Championship, the world's only Monegasque racing team begins a new era in Season 6, with a fresh new look both visually and under the bodywork.
With a new powertrain, a soon to be unveiled striking new livery and competing under the new banner of Venturi Racing, the team is determined to deliver on its ambition to rise through the ranks of the Formula E grid – building on the successes of last season, which saw the marque take its first race victory in the series.
A powerful partnership
Venturi Racing will deploy Mercedes-Benz EQ technology in Season 6. This new agreement will see the Mercedes-Benz EQ Formula E Team supply the cooling system, rear frame, rear suspension, dampers, software, onboard electronics and wiring looms – as well as the new powertrain (inverter, motor, rear axle components and energy management software), which has been designed and developed by Mercedes-AMG High Performance Powertrains.
Venturi Racing's test and race mileage with the new package will accelerate the learning process of the Mercedes-Benz EQ Formula E Team in its debut season, capitalising on Venturi's experience both as the first manufacturer to commit to Formula E in 2013 and as a leader in the electric mobility arena for almost two decades through the wider Venturi Automobiles family.
In turn, Venturi Racing will benefit from the reliability, precision and diligence that have become hallmarks of Mercedes-Benz, one of the most successful manufacturers in motorsport history.
A familiar feel
One thing that will remain consistent for Season 6 will be the Venturi Racing driver line-up, with Felipe Massa and Edoardo Mortara partnering behind the wheel for a second consecutive year.
Gildo Pastor, President, Venturi Automobiles:
We are proud to welcome Mercedes-Benz to the Venturi family as our powertrain partner for Season 6. Pairing our experience in high-performing electric vehicles with the racing pedigree of Mercedes is a significant step towards strengthening our position in a racing formula that is becoming ever more competitive. We're all excited about this new era for the team and I'm confident this will be the start of a great journey with our new colleagues in Stuttgart and Brixworth.

Another great source of pride for the team lies in our driver lineup which remains unchanged for the coming season. We look forward to building upon the skill, experience and speed of Felipe Massa and Edoardo Mortara – two incredibly talented and determined drivers. I can't wait to see those five red lights go out in Diriyah this coming November, signalling the start of what I'm sure will be a successful collaboration between Venturi and Mercedes-Benz.
Susie Wolff, Venturi Racing Team Principal:
This development marks a significant step forward for the team and, with my longstanding relationship with Mercedes-Benz, I feel very confident that we will enjoy a strong working partnership with our new powertrain suppliers. We made good progress in Season 5 but our plans for Season 6 are even more ambitious and we are doing everything within our power to make sure that we are as competitive as possible before we head to Saudi Arabia for the season opener.
Ian James, Team Principal of the Mercedes-Benz EQ Formula E Team:
We are delighted to welcome Venturi Racing to the Mercedes family ahead of our first Formula E season. At Mercedes-AMG High Performance Powertrains, we have accumulated a huge amount of knowledge in the field of high-performance electrified power units over the past few years, which will not only benefit our new Mercedes-Benz EQ Formula E Team but also Venturi Racing. Running four cars on track in our debut season will accelerate our progress towards the ultimate goal of fighting for race wins.
Andy Cowell, Managing Director of Mercedes-AMG High Performance Powertrains.
We are taking the expertise we've built up over the last decade and applying it to the new challenge of Formula E. Working together with Venturi Racing, we will be able to increase our rate of learning in our debut season, and what's more, with a well-established team, who have been part of the series since the very first year. The lessons learned and the technologies we are working on at the race track will also be incorporated into the development of road-going vehicles over time, so the entire Mercedes-Benz family will benefit as a result.
Source: Venturi