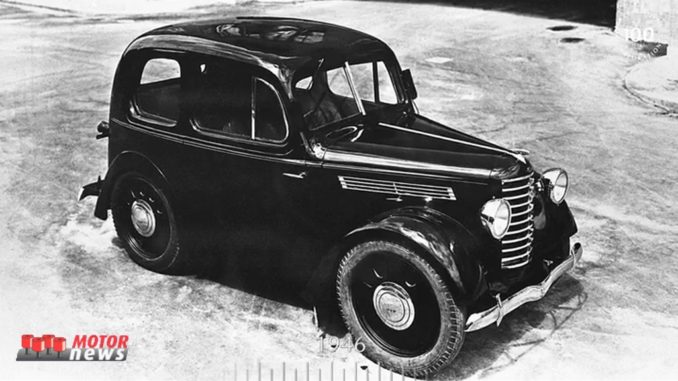 Tra i servizi della terza puntata di Motor News il salone Rétromobile di Parigi, i 100 anni di Mazda e il ritorno di Paolo Andreucci con Peugeot 208 Rally4 al CIR.
Di seguito i servizi…
Modelli elettrici storici Peugeot in mostra a Parigi
Peugeot ha esposto alcuni dei suoi storici modelli 100% elettrificati grazie alla presenza de "L'Aventure Peugeot Citroën DS" al Salone Rétromobile. Peugeot non è nuova all'elettrificazione ed il primo modello risale al 1941, la VLV. Oltre a lei, erano esposte la versione elettrica di 106 ed il prototipo EX1, un concept che ha scritto diversi record. Madrina dello stand era poi l'ultima nata del Leone, la Nuova Peugeot e-208, da poco disponibile anche in Italia.
Lo stand Peugeot a Rétromobile
Giulio Marc D'Alberton, Responsabile della Comunicazione Peugeot Italia, illustra i 7 modelli esposti da Peugeot in occasione del Salone Rétromobile che si è tenuto a Parigi, festeggiando anche il compleanno di alcune vetture mitiche di casa Peugeot.
DS celebra il compleanno della SM a Rétromobile
DS Automobiles e DS Heritage festeggiano nell'edizione 2020 di Rétromobile a Parigi un anniversario molto importante: i 50 anni della coupé SM, una vettura iconica, che ha portato nel mondo delle GranTurismo il lusso e l'eleganza alla francese.
Citroën espone lo Scarabée d'Or a Rétromobile
Al Salone Rétromobile 2020, Citroën espone la replica dello Scarabée d'Or e a sua volta lancia il progetto della traversata elettrica del Sahara, un progetto audace che richiama lo stile di André Citroën. Nel 2022, cento anni dopo la prima traversata in auto del celebre deserto, Citroën replicherà l'impresa con Ë.POPÉE, la traversata elettrica del Sahara che rappresenta una nuova sfida per Citroën quale quella di ripetere l'impresa, questa volta in modalità elettrica.
Incredibilmente spaziosa la Citroën SpaceTourer
Citroën SpaceTourer è polivalente e spaziosa e dimostra la competenza ed esperienza della Marca Citroën nello sviluppo in questo tipo di vetture. Il design presenta linee fluide per uno stile al contempo energico e rassicurante. Il frontale alto permette di dominare la strada conferendo forza e personalità.
Servizio con la voce di Marco Cereda.
Ritornano "Ucci" "Ussi" al Rally Italiano con Peugeot 208 Rally4
Peugeot torna protagonista al CIR, con la Nuova Peugeot 208 Rally4 e con l'11 volte campione italiano rally Paolo Andreucci navigato da Anna Andreussi. L'arrivo della nuova Peugeot 208 Rally4 avverrà verso metà anno.
Cento anni di Mazda
Mazda Motor Corporation celebra 100 anni di novità stilistiche e tecniche, dall'azienda produttrice di sughero di Hiroshima a costruttore globale di auto. Nel 1921 l'industriale Jujiro Matsuda prese il controllo della Toyo Cork Kogyo e trasformò l'azienda prima in produttore di macchine utensili, poi in un costruttore di veicoli.
Addio a Erhard Schnell, designer della prima Opel Corsa
Si è spento a 92 anni Erhard Schnell, il padre della Opel GT e designer della prima Opel Corsa. Erhard Schnell ha mantenuto uno stretto rapporto con Opel fino alla fine, partecipando a numerosi eventi della Casa come per esempio nel 2018, quando ha festeggiato all'Hockenheimring i 50 anni della Opel GT insieme agli appassionati di auto d'epoca giunti da tutto il mondo, a cui si riferiscono queste immagini.
In English
Erhard Schnell, the father of the Opel GT and designer of the first Opel Corsa, passed away at the age of 92. Erhard Schnell has maintained a close relationship with Opel until the end, participating in numerous events of the House such as in 2018, when he celebrated the 50 years of the Opel GT at the Hockenheimring together with fans of vintage cars from all over the world , to which these images refer.
Cupra Leon Competición stampata in 3D
A prima vista quello mostrato nelle immagini sembra essere uno specchietto retrovisore normale, ma non è così. Si tratta di un elemento della vettura stampato in 3D, un sistema di cui Cupra ha iniziato ad avvalersi per lo sviluppo della nuova Leon Competición, in collaborazione con HP. Xavi Serra, Responsabile Sviluppo
Tecnico di CUPRA Racing racconta i particolari.
Il Product Manager Andrew Higgins parla della Nuova Opel Corsa
Nuova Opel Corsa offre una tecnologia di alto livello e un grande piacere di guida e al riguardo, parla Andrew Higgins, il Product Manager di Opel Corsa.