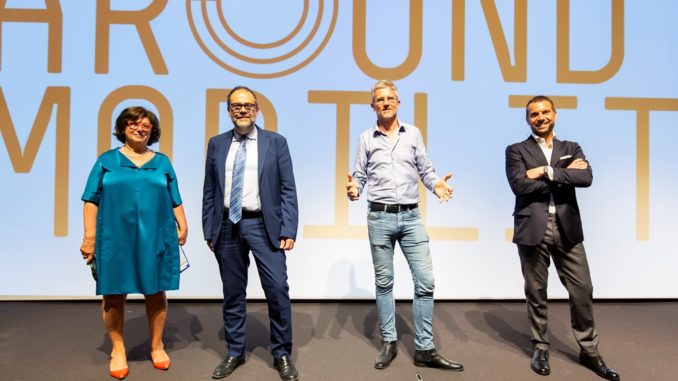 Luci puntate su Peugeot nel Meet Digital Culture Center, primo appuntamento di un semestre di incontri dedicati al presente e al futuro della mobilità.
Si tratta del Media Guru Around Mobility in cui La Casa del Leone ha partecipato attivamente contribuendo al dibattito sulle opportunità offerte dalla nuova mobilità elettrificata.
La serie rientra in un progetto più ampio, che vede Peugeot e MEET uniti in una partnership per affrontare l'argomento della mobilità con lo sguardo sempre rivolto al ruolo cruciale giocato dall'innovazione digitale e tecnologica e all'importanza di diffondere conoscenza e consapevolezza per innescare un cambiamento virtuoso.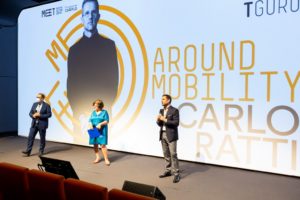 L'incontro è stato preceduto da una preview per la stampa in cui Salvatore Internullo, Direttore Generale Peugeot Italia, Maria Grazia Mattei, fondatrice e Presidente MEET Digital Culture Center e Carlo Ratti, architetto e professore all'MIT di Boston, hanno presentato la nuova partnership tra Peugeot e MEET Digital Culture Center, centrata su una condivisione di valori quali la qualità̀ della vita, il re-design dell'ambiente e l'attenzione alla sostenibilità̀. L'incontro ha visto la partecipazione dell'Assessore a Mobilità e Lavori pubblici di Milano, Marco Granelli, che è intervenuto rimarcando l'impegno del capoluogo lombardo per una mobilità sempre più sostenibile, in perfetta sintonia con il progetto messo in campo da Peugeot e MEET.
La mobilità sta attraversando una fase di cambiamento radicale, che avrà impatti sociali ed ambientali straordinari, è proprio in questa fase di trasformazione che dobbiamo esplorare nuove soluzioni provando a innestare un pensiero di cambiamento verso un futuro sostenibile – ha sottolineato Maria Grazia Mattei, fondatrice e presidente di MEET. Insieme a Peugeot ci proponiamo ad esplorare questa trasformazione cercando di individuare possibili strategie trasformative e virtuose.

Siamo entrati in un periodo di forte cambiamento della società e delle nostre abitudini di vita: noi come Peugeot abbiamo avviato già da tempo una profonda trasformazione industriale per accompagnare questa evoluzione della mobilità del futuro. Dopo aver completamente rinnovato la gamma negli ultimi 12 mesi abbiamo presentato la nostra nuova identità di brand interamente incentrata sulla digitalizzazione, sulla elettrificazione della mobilità (grazie anche a 10 versioni tra 100% electric e Plug-in Hybrid già oggi guidabili) e su una Customer Experience innovativa – afferma Salvatore Internullo, Direttore Generale Peugeot Italia.
Meet the Media Guru Around Mobility, da giugno ad ottobre, comporrà una panoramica ricca e sfaccettata della trasformazione in atto nel campo della mobilità a partire da 5 macro-temi: tecnologie, società, cambiamento climatico, comunità e design. All'interno di questo perimetro concettuale si articolano incontri con esperti internazionali, con prospettive e competenze diverse, selezionati con l'obiettivo di offrire punti di vista diversi e stimolanti, accendere curiosità e rispondere a nuove domande.
Il primo macro-tema – le tecnologie – è stato affrontato il 9 giugno, da Carlo Ratti, direttore del Senseable City Lab dell'MIT di Boston e co-fondatore dello studio internazionale di design e innovazione Carlo Ratti Associati. La dirompente evoluzione tecnologica e digitale, a partire dall'impatto dell'intelligenza artificiale sui sistemi di trasporto pubblico e privato, è stato il tema principe del primo incontro, in cui Carlo Ratti ha esposto numerosi progetti di ricerca volti a indagare come le tecnologie possono migliorare lo stile di vita e le prestazioni della mobilità cittadina e come il design può contribuire a migliorare il nostro presente.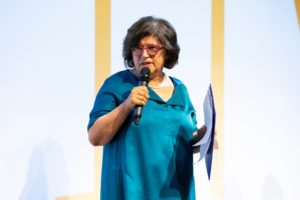 Messaggio chiave di tutto il programma è It's Time to Change, un messaggio rivolto a tutti, che diventa tanto più forte in quanto mirato alla sensibilizzazione sull'urgenza di un cambiamento che possa contribuire a salvaguardare la natura e a rendere il mondo un luogo più vivibile e a misura d'uomo, senza per questo limitarne gli spostamenti grazie anche al supporto delle nuove tecnologie e del digitale.
La collaborazione con MEET Digital Culture Center ha permesso di interpretare questi concetti anche attraverso un'opera site-specific d'arte generativa, che ha racchiuso i concetti chiave di Digital Nature, Green Mobility e Quality Time, dal titolo: Meta-Cities, quando le città diventano nuova natura, creata dallo studio d'arte digitale Streamcolors. L'opera è stata proiettata dal 3 al 9 giugno su due vetrine di MEET (una su via Tadino, l'altra su via Vittorio Veneto). In contemporanea, le installazioni evocative e le proiezioni artistiche presentate da Streamcolors in Piazza Gae Aulenti nell'ambito del racconto della Peugeot Electric Experience, sono state delle overview di approfondimento sugli aspetti indispensabili per il futuro del pianeta. I mondi virtuali ed artificiali creati per queste installazioni si sono basati su una riflessione che ha posto al centro l'urgenza di riprogettare l'ambiente e le città dando sempre più spazio alla centralità della natura.
Fonte: Peugeot Italia