Connected Energy e Renault collaborano allo stoccaggio di energia e le tecnologie di ricarica EV
• Renault fornirà batterie EV usate a Connected Energy Ltd per l'applicazione second life nel suo prodotto E-STOR
• Renault è leader di mercato dei veicoli elettrici in Europa
• E-STOR è un sistema di accumulo di energia rivoluzionario in grado di ridurre i costi e consentire un uso più flessibile ed efficiente dell'energia – tra cui elevata capacità di carica veloce
• E-STOR sarà disponibile nel Regno Unito dal luglio 2016
Fonte: Renault UK
Londra, Gran Bretagna. 4 febbraio 2016. Renault e Connected Energy collaborano per sviluppare la modalità sostenibile e l'efficiente utilizzo delle batterie per veicoli elettrici al termine della loro vita utilizzabile a bordo dei veicoli al fine di fornire soluzioni innovative e più accessibili di ricarica dei veicoli.
Alla fine della loro vita utile a bordo delle auto, le batterie Renault EV hanno ancora una notevole capacità residua, il che significa che possono continuare a dare un grande servizio in altre applicazioni prima di essere riciclati. E con il rapido aumento delle vendite degli EV – 97,687 veicoli elettrici sono stati venduti in Europa nel 2015, in crescita del 48% rispetto al 2014 – c'è una maggior richiesta di energia per ricaricare loro.
E-STOR: un sistema di gestione dell'energia flessibile e rispettosa dell'ambiente
Attraverso la sua premiata tecnologia E-STOR, Connected Energy sta offrendo una soluzione altamente innovativa per questo enigma attraverso l'uso di batterie eV "second life".
Questo può essere usato, ad esempio, per immagazzinare l'energia prodotta da fonti rinnovabili da una generazione sul posto come pannelli solari e turbine eoliche, e quindi rilasciarle quando necessario in un secondo momento. Il sistema permette inoltre la batteria da caricare tramite tariffe elettriche non di punta ed a basso costo, consentendo agli utenti di ridurre i costi energetici.
Le batterie utilizzate sono batterie Renault EV, scelte da Connected Energy perché la Renault, come leader di mercato EV con 23.000 unità vendute in Europa nel 2015, ha esperienza nella tecnologia, nel suo ciclo di vita e nell'impatto sull'ambiente.
Il primo prodotto E-STOR è nominalmente valutato a 50 kW/50kWhr che potrebbe tipicamente essere utilizzato per alimentare un caricatore rapido o un gruppo di caricabatterie rapidi, ma il sistema è completamente scalabile e le unità di maggiore capacità seguiranno il lavoro.
In termini pratici, oltre a permettere un uso più efficiente dell'energia, il sistema può anche consentire l'installazione di impianti di ricarica rapida per veicoli elettrici in siti in cui la fornitura di energia elettrica consentirebbe tradizionalmente solo la ricarica più lenta. Invece la ricarica di veicoli tramite una alimentazione ad alta capacità direttamente dalla rete, E-STOR permette di avere più batterie da ricaricare a una velocità inferiore per un periodo di tempo, pronto a rilasciare la loro energia e caricare una macchina quando un conducente di EV ha bisogno.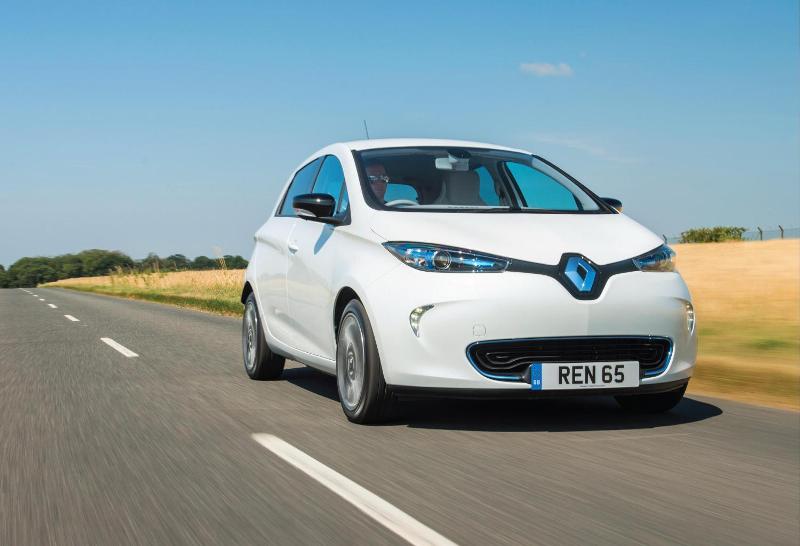 Renault offre due soluzioni concrete con i suoi veicoli elettrici e le batterie tramite E-STOR. In primo luogo alla rete, fornendo accumulo di energia che impedisce il sovraccarico della rete elettrica e gli equilibri tra domanda e offerta. In secondo luogo per l'ambiente, perché le batterie non equipaggiate per uso automobilistico, ma che hanno ancora una notevole capacità residua, possono avere una vita più lunga ed una più bassa impronta di carbonio prima che vengano effettivamente riciclate.
Nel mese di giugno 2015, E-STOR è stata nominata vincitrice della categoria innovazione nei prestigiosi Renewable Energy Awards britannici 2015, ospitata dalla Renewable Energy Association.
Matthew Lumsden, Direttore Generale Connected Energy, ha detto:
"E-STOR consentirà il miglior rapporto costo efficacia dei veicoli elettrici in ambienti commerciali e industriali, aumentando così la sostenibilità complessiva di questa forma di trasporto puliti. Con la Renault ci siamo assicurati la fornitura di batterie Second Life per le future installazioni E-STOR".
Eric Feunteun, direttore del programma veicolo elettrico, Renault, ha commentato:
« L'applicazione di seconda vita delle batterie per veicoli elettrici Renault sostiene l'impegno di Renault per la transizione energetica nel settore automobilistico. Attraverso E-STOR, i proprietari di EV possono caricare la propria auto a costi ridotti con l'elettricità che è meno dipendente del carbonio. In questo modo si rende la guida di un EV una soluzione intelligente e ancora più sostenibile per il trasporto. Grazie a questa tecnologia di gestione energetica, i veicoli elettrici e le batterie diventano una risorsa per la rete, piuttosto di creare un sovraccarico".
Renault è leader e pioniere nel mercato dei veicoli elettrici emergenti e ha venduto veicoli elettrici a partire dal 2011, offrendo una gamma di automobili e furgoni elettrici in grado di soddisfare la maggior parte delle esigenze. La citycar ZOE si affianca al divertimento della distintiva Twizy urbana, che è disponibile in una versione veicolo commerciale con un vano carico al posto di un sedile passeggero posteriore – Twizy Cargo. Il completamento della gamma Renault Z.E (Zero Emissions) è il Kangoo Express Z.E. – Il van compatto ideale per le consegne urbane e per i commercianti ed è disponibile in una gamma di stili di carrozzeria.
Nel 2015, Renault è stato il marchio più performante EV in Europa, con vendite in aumento del 49 per cento a 23.086 unità, con una quota di mercato europea del 23,6 per cento EV. E' stata una storia simile nel Regno Unito, con le vendite di ZOE in aumento di fino al 102 per cento nel 2015 per 2.053 veicoli – superando in modo significativo il mercato dei veicoli elettrici nel Regno Unito, che è stato di fino al 48 per cento sul 2014.
In English
Connected Energy and Renault to collaborate on Second Life batteries
Connected Energy and Renault to collaborate on energy storage and EV charging technology
Renault will provide used EV batteries to Connected Energy Ltd for second-life application in its E-STOR product
Renault is the electric vehicle market leader in Europe
E-STOR is a revolutionary energy storage system that can reduce costs and enable more flexible and efficient use of energy – including high capacity fast charging
E-STOR will be available in the UK from July 2016
Source: Renault UK
London, United Kingdom. 4 February 2016. Renault and Connected Energy are partnering to develop sustainable and efficient ways of using electric vehicle batteries at the end of their useable in-vehicle life in order to supply innovative and more affordable vehicle charging solutions.
At the end of their useful in-vehicle life, Renault EV batteries still have considerable remaining capacity, which means that they can continue to give great service in other applications before they are ultimately recycled. And with rapidly increasing EV sales – 97,687 EVs were sold in Europe in 2015, up 48% on 2014 – so is the requirement in energy to charge them.
E-STOR: a flexible and environmentally friendly energy management system
Through its award-winning E-STOR technology, Connected Energy is offering a highly innovative solution to this conundrum through use of 'second life' EV batteries.
This can be used, for example, to store energy generated from on-site renewable generation resources such as solar panels and wind turbines, and then release it as it's needed at a later time. The system also allows the batteries to be charged via low-cost off-peak electricity tariffs, enabling users to reduce their energy costs.
The batteries used are Renault EV batteries, chosen by Connected Energy because Renault, as EV market leader with 23,000 units sold in Europe in 2015, has expertise in the technology, its lifecycle and impact on the environment.
The first E-STOR product is nominally rated at 50kW/50kWhr which could typically be used to support one rapid charger or a cluster of fast chargers but the system is fully scalable and higher capacity units will follow.
In practical terms, as well as allowing more efficient use of energy, the system can also enable installation of rapid electric vehicle charging in sites where electricity supply would traditionally only allow slower rates. Instead of charging vehicles via a high-capacity supply directly from the grid, E-STOR allows multiple batteries to be charged at a slower rate over a period of time, ready to release their energy and charge a car when an EV driver needs it.
Renault offers two concrete solutions with its electric vehicles and their batteries through E-STOR. First to the grid, by providing energy storage that prevents power grid overload and balances supply and demand. Second to the environment, because batteries not fitted for automobile use, but that still have considerable remaining capacity, can have a longer life and lower carbon footprint before they are actually recycled.
In June 2015, E-STOR was named winner of the innovation category in the prestigious British Renewable Energy Awards 2015, hosted by the Renewable Energy Association.
Matthew Lumsden, Managing Director, Connected Energy, said:
"E-STOR will enable the more cost-effective roll-out of electric vehicles in commercial and industrial settings, thus increasing the overall sustainability of this clean form of transport.    With Renault we have secured the supply of second life batteries for future E-STOR installations."
Eric Feunteun, Electric Vehicle Program Director, Renault, commented:
"The second life application of Renault electric vehicle batteries supports Renault's commitment to the energy transition in the automotive industry  .  Through E-STOR, EV owners can charge their car at reduced costs with electricity that is less carbon-dependent. It makes driving an EV a smart and even more sustainable transportation solution. With this energy management technology, EVs and their batteries become an asset for the grid rather than create overload."
Renault is a leader and pioneer in the emerging electric vehicle market and has sold electric vehicles since 2011, offering a range of 100 per cent electric cars and vans to suit most requirements. The ZOE supermini sits alongside the fun and distinctive Twizy urban run-around which is also available in a commercial vehicle version with a boot instead of a rear passenger seat – Twizy Cargo. Completing the Renault Z.E (Zero Emissions) line-up is the Kangoo Van Z.E. – the perfect compact van for urban deliveries and tradesmen and is available in a range of bodystyles.
In 2015, Renault was the best performing EV brand in Europe, with sales rising 49 per cent to 23,086 units, with a 23.6 per cent European EV market share. It was a similar story in the UK, with ZOE sales up 102 per cent in 2015 to 2,053 vehicles – significantly outpacing the UK electric vehicle market, which was up 48 per cent on 2014.
no images were found

.