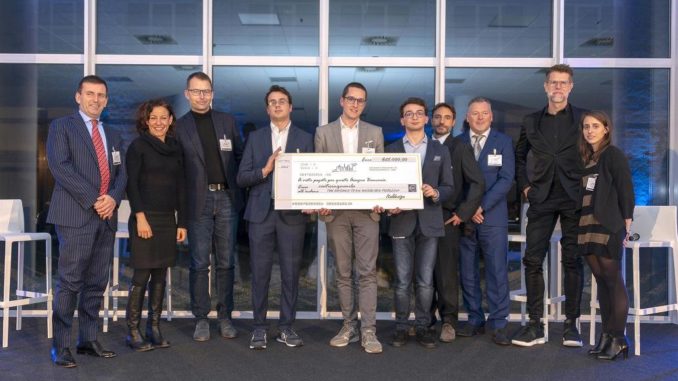 Sono europee e sudamericane le squadre che hanno vinto il concorso "Future Mobility Contest in Cities", premiati da Italdesign nella sua sede di Moncalieri.
Gestione del trasporto pubblico, accessibilità alle cure mediche per tutti e soluzioni per spostamenti su grandi distanze vincono il primo, secondo premio e la menzione speciale della giuria
La cerimonia di premiazione chiude idealmente le celebrazioni del 50º anniversario della fondazione di Italdesign
Lanciato lo scorso febbraio con il Patrocinio della Città di Torino come parte delle celebrazioni per il cinquantesimo anno della fondazione dell'azienda, il concorso ha raccolto ottantotto progetti, provenienti da venti Paesi di tutto il mondo.
La giuria internazionale ha deciso di assegnare:
– al progetto "M.A.R2.E.V." realizzato da Roberto Monti, Alessandro Bianchi, Alessandro Consalvi, Andrea Rosellini, il primo premio, di 25.000€
– al progetto "myCare" di Marco Balagna Dena, Elena Verduci, il secondo premio, di 10.000€
– al progetto "DOZE. SLEEP IN MOTION" di Leonardo Caricato la Menzione Speciale e un premio di 5.000€
Abbiamo lanciato questo concorso lo scorso febbraio per celebrare i cinquant'anni della nostra azienda – ha dichiarato l'Amministratore Delegato Jörg Astalosch – desideriamo ringraziare tutti coloro che hanno inviato i loro progetti da tutto il mondo e, naturalmente, anche i membri della giuria; non è stato facile scegliere i vincitori tra tutti questi progetti interessanti.
M.A.R2.E.V. – Modular Autonomous Rechargeable Road Electric Vehicle – è un sistema modulare e autonomo di trasporto condiviso che consente ai veicoli di viaggiare accoppiati come un convoglio unico oppure singolarmente, ed è pensato specificamente per città di medie dimensione.
Analizzando diversi contesti urbani, abbiamo visto come quelle di medie dimensioni generalmente hanno una scarsa offerta di sistemi di trasporto pubblico condivisi. Abbiamo dunque immaginato un futuro diverso grazie al progetto M.A.R2.E.V., un sistema che potrebbe aumentare la qualità del trasporto pubblico e della vita dei cittadini – ha dichiarato Roberto Monti, uno dei membri del team vincitore.
myCare, che si è aggiudicato il secondo premio, è invece un innovativo sistema che consente ai cittadini di ricevere direttamente a domicilio – o dovunque essi vogliano – medicine o dispostivi medici. La menzione speciale della giuria è stata assegnata al progetto Doze, un progetto per un veicolo autonomo a zero emissioni, molto compatto nelle dimensioni, intelligente ed economico, pensato per il 2030.
Sono contento di poter chiudere questo anno dedicato al nostro anniversario – ha concluso Jörg Astalosch – premiando questi progetti, che incarnano al meglio ciò che è la nostra filosofia per i prossimi cinquant'anni. Guardando tutti i progetti e le idee che sono state caricate sul portale del concorso, posso dirmi fiducioso nella forza del progresso che le future generazioni porteranno al tema della mobilità.
La giuria:
Pierpaolo Antonioli, Managing Director del centro di ingegneria di General Motors a Torino (Campus del Politecnico di Torino), dal settembre 2009. GM Torino ha la responsabilità globale per lo sviluppo dei motori diesel e delle tecnologie diesel ibride per applicazioni per le autovetture per l'intero gruppo GM.
Klaus Busse, Head of Design per Fiat, Abarth, Lancia, Alfa Romeo, Maserati di FCA Fiat Chrysler Automobiles. Nato nel 1969, dall' ottobre 2015 ha operato in qualità di Vice President of Design per FCA Europe. Klaus ha iniziato la sua carriera in Mercedes-Benz in Germania dove rimane per dieci anni. Nel novembre 2013 ha ricevuto il premio Automotive News All-Star per il Design e nel gennaio 2015 il premio Industry Innovator of the Year.
Stefano Musso, Ricercatore presso il Dipartimento of Control and Computer Engineering del Politecnico di Torino.
Roy Kalawsky, Professore di Human-Computer Integration e Systems Engineering presso la Loughborough University, UK. È inoltre Direttore dell'Advanced VR Research Centre, e recentemente è stato insignito dell'Airbus Endowed Chair of Data and Digital Engineering Information Systems; prima di lavorare per la Loughborough University nel 1995, ha ricoperto il ruolo di Head of Cockpit Research presso BAE Systems Military Aircraft
Iain Macbeth, Head of Foresight for the Transport Innovation Directorate presso Transport for London (TfL), responsabile per i trend emergenti della mobilità. Ian fa parte dell'UK Automotive Council Technology Group and European Commission GEAR2030 Group, per sviluppare il piano per il trasporto automatico su strada.
Paola Pisano, Assessore all'innovazione del Comune di Torino. Ph.D, Docente di Gestione dell'Innovazione all'Università degli Studi di Torino. Responsabile del Laboratorio Smart City del Centro di Innovazione tecnologica multidisciplinare dell'Università di Torino (ICxT)
Jörg Astalosch, Amministratore Delegato di Italdesign, inizia la propria carriera nel Gruppo Volkswagen nel 1988. Da allora ha ricoperto diversi ruoli all'interno dei brand del Gruppo. Dal 2012 al 2014 ha ricoperto il ruolo di Chief Financial Officer presso MAN Truck & BUS AG. Dal 2014 al 2015 ha lavorato per il Presidente del Consiglio di Sorveglianza del Volkswagen Group per spostarsi in Italdesign nel settembre 2015.