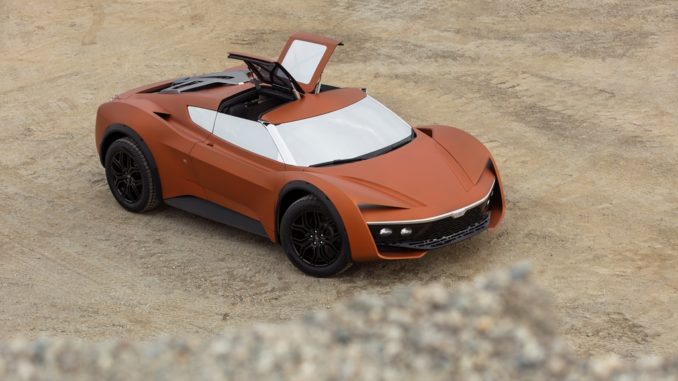 In the view of Fabrizio e Giorgetto Giugiaro, this electric vehicle has been created to underline the true capacity of this project and not to become a Hyper Car but a Hyper SUV.
It is designed for off-road use, and if the original 2030 from which it derives has multiple settings, capable of moving at high performance speeds anywhere and on any terrain, this extreme revolution was created to perform mainly off-road, so it is very high off the ground. A two-seater inspired and aimed at great fun rides in the desert, hence its name.
The main feature is the setting with a single high attitude and suspension system specifically for extreme off-road use.
The configuration designed by the Giugiaros sees the indispensable visible spare wheel that becomes part of the style, with a large boot, unusual in traditional two- seater cars. Even the colours are very particular, with advanced internal equipment compared to the 2030, optimised for off-road use, rougher but without renouncing comfort.
Exterior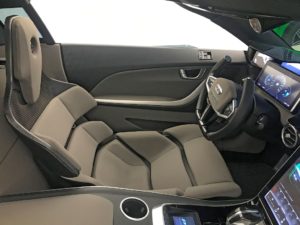 Apart from the boot, the bodywork components are the same as the 2030. With few adaptations the style changes: the track is wider, the tyres suitable for sand have smaller rims but with the same diameter, the additional mudguards are made of carbon. The car body is the same and the performance and image are of a true two-seater extreme off-road.
Interior
The interior leather upholstery makes way for more technical and extreme fabrics and materials such as Kult by PT- Pantaloni Torino introduced by GFG in the Kangaroo, which has given excellent performance both aesthetically and functionally.
Its seats are sportier, restraining and enveloping.
Technical Data Vision 2030 Desert Raid
| | |
| --- | --- |
| Brand | GFG Style |
| Model | VISION 2030 DESERT RAID |
| Type | Hyper Suv |
| Seats | 2 |
| Power 3 | 80 Kw |
| Wheel Torque | 680 Nm |
| Drive Wheel | AWD |
| Accelleration | 0-100 km/h 3,8 sec. |
| Top Speed | 250 km/h limited |
| All Electric | Range Over 450 km |
| Battery Capacity | 90 Kwh |
| Chassis | Aluminum Space Frame |
| Body | Carbon Fiber |
| Length | 4770 mm |
| Width | 2120 mm |
| Height | 1360 mm (ground clearence: 240 mm) |
| Wheelbase | 2830 mm |
| Tyres | 275/50 R20 |
Below you can see the video
Source: GFG Style