I modelli della Serie 90 di Volvo Cars vengono rinnovati sul piano di sicurezza, propulsori e connettività, integrando anche Android Auto
Fonte: Volvo Car Italia
Bologna, Italia. 23 Novembre 2016. Volvo Cars, la Casa automobilistica di vetture di lusso, ha annunciato per le vetture della Serie 90 l'introduzione di numerose novità che riguarderanno i sistemi di sicurezza, i propulsori e la connettività.
L'offerta di integrazione con i dispositivi smartphone proposta dalla Casa svedese, che già comprende Apple CarPlay, si arricchirà della funzionalità Android Auto sullo schermo di grandi dimensioni che Volvo propone al guidatore per la gestione delle funzioni di bordo e non.
"Volvo Cars è l'unica Casa automobilistica a offrire un'interfaccia a schermo sdoppiato che consente l'utilizzo delle funzionalità dello smartphone e di quelle di bordo senza dover cambiare videata. Si tratta di una caratteristica legata in primo luogo a un fattore di sicurezza, concepita proprio per rendere l'interfaccia di Volvo la più semplice da utilizzare fra quelle oggi disponibili sul mercato. Allo stesso modo, la nostra funzionalità di aggiornamento Over-The-Air consente di avere sempre a disposizione le cartine più aggiornate," ha spiegato Peter Mertens, Senior Vice President Ricerca & Sviluppo di Volvo Car Group.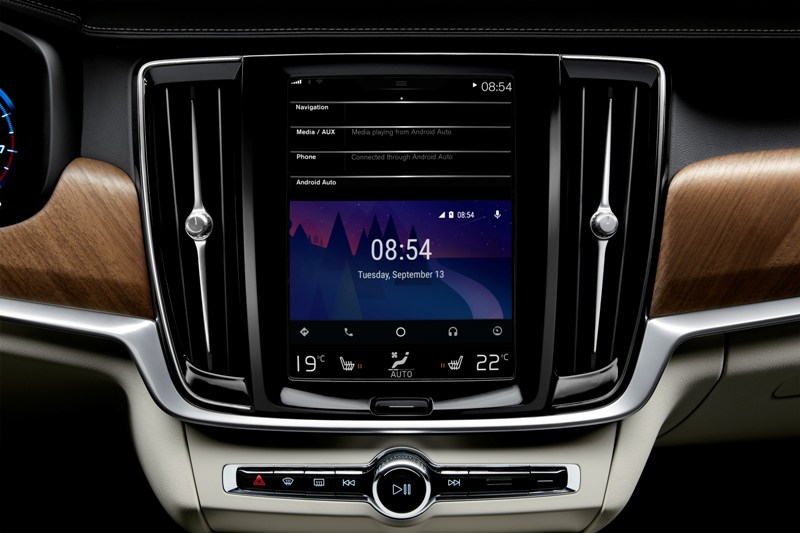 Oltre a garantire un'integrazione con lo smartphone fluida e senza discontinuità che copre i principali sistemi operativi utilizzati da questi dispositivi mobili, i modelli della Serie 90 di Volvo includeranno anche un intelligente sistema di aggiornamento Over-The-Air in grado di assicurare che a bordo siano sempre disponibili le cartine più aggiornate.
Sicurezza
Volvo Cars ha applicato la propria strategia per la sicurezza anche all'automobile connessa alla Rete, introducendo due nuovi sistemi di sicurezza connessi che faranno il loro debutto sui modelli XC90, S90 e V90, ovvero il dispositivo di segnalazione in caso di fondo scivoloso – Slippery Road Alert – e di pericolo – Hazard Light Alert -, che si servono del cloud per condividere con altre vetture dati critici ai fini della sicurezza.
"Le Volvo di oggi sono dotate di numerosi sensori di sicurezza. Riteniamo che condividere le informazioni legate alla sicurezza, che si riferiscano alle condizioni stradali o alla presenza di potenziali pericoli sul percorso che si sta affrontando, sia un modo serio e utile di sfruttare i dati che la vettura sta già comunque raccogliendo," ha aggiunto Peter Mertens. "Grazie all'approccio Connected Safety, Volvo Cars sta contribuendo alla creazione di un sistema per la sicurezza stradale completamente nuovo."
L'Architettura di Prodotto Scalabile (SPA) di Volvo Cars, su cui si basa la Serie 90 e che verrà utilizzata per la prossima Serie 60, fa sì che sui modelli realizzati su questa piattaforma si possano aggiungere nuovi sistemi di sicurezza entro tempi brevissimi.
Il dispositivo Slippery Road Alert aumenta l'attenzione del conducente alle condizioni stradali del percorso su cui si trova e di quello più avanti raccogliendo in modo anonimo le informazioni sul fondo stradale provenienti dalle vetture che si trovano più avanti di qualche chilometro e avvisando con anticipo gli automobilisti che si stanno avvicinando a un tratto di strada con fondo scivoloso.
Il sistema Hazard Light Alert preavverte gli automobilisti della presenza di veicoli con luci di emergenza accese lungo il tragitto successivo, dando loro tempo di decelerare. Questo dispositivo si rivela particolarmente utile nelle curve a gomito e in prossimità di uno scollinamento. Questi due nuovi sistemi di sicurezza connessi saranno inizialmente disponibili in Svezia e Norvegia, per poi essere introdotti negli altri mercati in base a una programmazione specifica.
Nuovi propulsori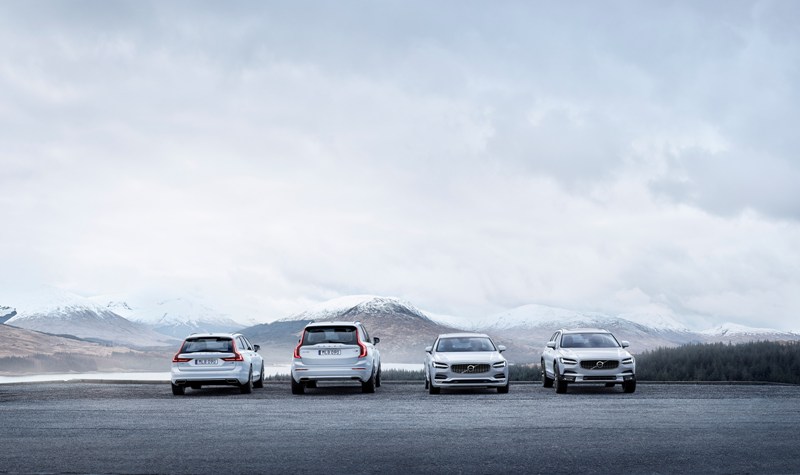 Oltre a introdurre delle novità nell'ambito della connettività e della sicurezza, Volvo Cars ha aggiunto numerose nuove varianti alla gamma di propulsori Drive-E che offrono un'interessante combinazione di economia dei consumi e guidabilità. Il quattro cilindri diesel D3, abbinato a un nuovo cambio manuale a 6 rapporti, garantirà consumi pari a 4,3 l/100 km per la S90 riducendo le emissioni di CO2 a 114 g/km. Nell'abbinamento con una nuova trasmissione automatica a 6 velocità, l'unità D3 avrà emissioni allo scarico pari a 114 g/km e consumi di 4,3 l/100 km. Il motore D3 sarà disponibile anche nella versione a trazione integrale.
Design
La Serie 90 si rinnova anche grazie all'introduzione di una nuova tinta della carrozzeria, ovvero la tonalità Maple Brown disponibile per la S90 e la V90.
I modelli aggiornati entreranno in produzione a partire dalla metà di novembre.
In English
Updates in the Volvo Cars' 90 Series
Volvo Cars' 90 series cars receive safety, powertrain and connectivity updates including Android Auto
Source: Volvo Car Corporation
Goteborg, Sweden. 23th November 2014. Volvo Cars, the premium car maker, has announced several important updates to its 90 series cars, delivering new safety, powertrain and connectivity updates.
The Swedish carmaker's smartphone integration offer, which already includes Apple CarPlay, will now come with Android Auto functionality in Volvo's large driver interface.
"Volvo Cars is the only car maker with a split screen interface that allows you to use both your smartphone functionality and your in-car features without changing views. This is primarily a safety-related feature, designed to make our interface the easiest to use on the market. In the same way our Over-The-Air update capability means that you will always have the latest maps updates to hand," said Dr Peter Mertens, Senior Vice President Research & Development at Volvo Car Group.
Delivering seamless smartphone integration that covers mainstream smartphone operating systems, Volvo's 90 series cars will also now feature a clever Over-The-Air navigation update system, which ensures that the car always has the latest maps on-board.
Safety
Volvo Cars has also applied its safety thinking to the connected car, delivering two new connected safety systems that will make their debut in the XC90, S90 and V90 – Slippery Road Alert and Hazard Light Alert which use the cloud to share safety-critical data between cars.
"Today's Volvos contain many safety sensors. We believe that sharing safety-related information – whether around conditions or hazards on the road ahead is a thoughtful and useful way to use the information the car is already gathering," added Dr Peter Mertens. "With Connected Safety, Volvo Cars is helping to define a completely new type of road safety system."
Volvo Cars' Scalable Product Architecture, on which the 90 series and coming 60 series will be built, means that new safety systems can be added across the range of cars built on the platform with little or no delay.
Slippery Road Alert increases the driver's awareness of both current road conditions and those on the road ahead, by anonymously collecting road surface information from cars further ahead on the road and warning drivers approaching a slippery road section in advance.
Hazard Light Alert forewarns drivers of vehicles that have activated their hazard warning lights on the road ahead, providing the driver with enough time to slow down. This is particularly useful on blind corners and over the crest of hills in the road. These two new connected safety systems will go live in Sweden and Norway initially with a planned roll-out to other markets.
Powertrain updates
In addition to delivering updated connectivity and safety, Volvo Cars has also added several new Drive-E powertrain variants, delivering an attractive balance of fuel economy and drivability. The D3 4-cylinder diesel engine coupled to a new manual 6-speed transmission will deliver fuel economy of 4.3 l/100 km in the S90 with emissions down to 114 g/km CO2. A new automatic 6-speed transmission coupled to the D3 will deliver 114 g/km CO2 and 4.3 l/100 km. The D3 will also now be available with All-Wheel Drive.
Design
This 90 Series model update sees in the introduction of a new exterior colour, Maple Brown on the S90 and V90.
The updated models will go into production in mid-November.
no images were found

.