Fonte: Formula E
Donington Park, Gran Bretagna. 10 Agosto 2015. Appena sei settimane dopo la fine della prima stagione della Formula E conclusasi con la spettacolare Visa ePrix di Londra, sono iniziate i test per la seconda stagione a Donington Park.
Il più veloce nella giornata iniziale è stato Sebastien Buemi con e.dams Renault, che ha impostato il ritmo nel corso di una giornata che è stata interrotta da una breve pioggia a metà pomeriggio. Il miglior tempo di Buemi è stato di 1m32s092, a fronte dei migliori tempi di Buemi di 1m31s083 durante la penultima giornata di test pre-campionato dell'anno scorso.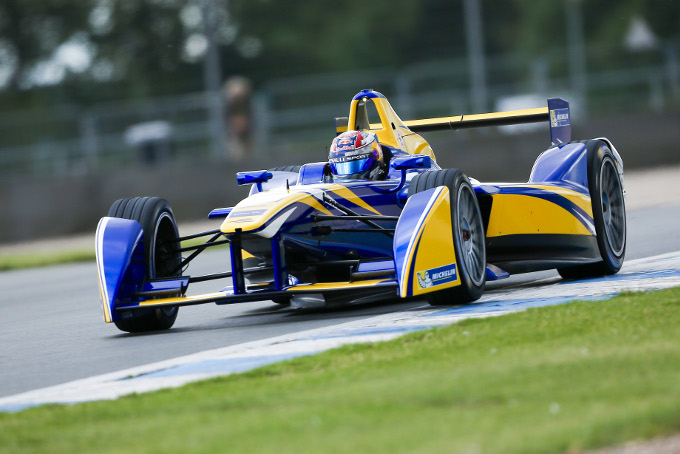 La giornata è stata la prima uscita pubblica della seconda stagione più tecnologica, con otto nuovi produttori che forniscono i powertrain. Tuttavia, né Andretti – nella sua nuova livrea Amlin, né Trulli hanno completato un giro, anche se entrambe le squadre aspettano di farlo domani.
E 'stata anche la prima volta del nuovo pilota Venturi Jacques Villeneuve a guidare una vettura di Formula E in pubblico. Il campione del mondo di Formula 1 1997 è finito in 14esima posizione con un miglior tempo di 1m38s176.
Il francese Tom Dillmann ha fatto il suo debutto di Formula E provando per il Team Aguri, completando alcuni giri esplorativi sul bagnato sperando domani di poter farlo in condizioni di pista normale. C'erano volti noti in colori non familiari come Jean-Eric Vergne che ha fatto il suo debutto pubblico per il DS Virgin Racing, mentre Nick Heidfeld ha avuto la sua prima uscita come pilota del team Mahindra Racing.
I risultati
Ecco i tempi dei primi test di pre stagione di Formula E a Donington Park (1 ° giorno)
1. Sebastien Buemi, Renault e.dams, 1:32.095s
2. Lucas di Grassi, ABT Schaeffler Audi Sport, 1:32.158s
3. Nicolas Prost, Renault e.dams, 1:32.286s
4. Sam Bird, DS Virgin Racing, 1:32.523s
5. Salvador Duran, Team Aguri, 1:32.549s
6. Bruno Senna, Mahindra Racing, 1:35.653s
7. Nick Heidfeld, Mahindra Racing, 1:35.700s
8. Jerome D'Ambrosio, Dragon Racing, 1:36.324s
9. Tom Dillmann, Team Aguri, 1:36.329s
10. Stephane Sarrazin, Venturi, 1:36.361s
11. Jean-Eric Vergne, DS Virgin Racing, 1:36.704s
12. Loic Duval, Dragon Racing, 1:37.987s
13. Nelson Piquet Jr, NEXTEV TCR, 1:38.052s
14. Jacques Villeneuve, Venturi, 1:38.176s
15. Jarno Trulli, Trulli, no time set
16. Simona de Silvestro, Andretti, no time set
Puoi scaricare i tempi cliccando qui sotto (PDF)
06_combinedclassification_monday

In English
Buemi fastest as Formula E testing kicks off
Source: Formula E
Donington Park, UK. August 10th, 2015. Just six weeks after the first season of Formula E concluded with the spectacular Visa London ePrix, testing kicked off for season two at Donington Park.
Initial bragging rights went to Sebastien Buemi of Renault e.dams, who set the pace during a day that was interrupted by a brief rain shower in the mid-afternoon. The quickest time of 1:32.092s, compares to Buemi's best time of 1:31.083s, set during the penultimate day of pre-season testing last year.
The day was the first public outing for the season two technology, with eight new manufacturers producing powertrains. However, neither Andretti – in its new Amlin livery, nor Trulli completed a lap, although both teams expect to run tomorrow.
It was also the first time new Venturi signing Jacques Villeneuve had driven a Formula E car in public. The 1997 Formula 1 world champion ended up in 14th place with a best time of 1:38.176s.
Frenchman Tom Dillmann made his Formula E test debut for Team Aguri, completing a few exploratory laps in the wet ahead of a full run tomorrow. There were familiar faces in unfamiliar colours as Jean-Eric Vergne made his public test debut for DS Virgin Racing, while Nick Heidfeld had his first outing as a Mahindra Racing driver.
FIA Formula E Championship – Donington Park – Pre-season testing (Day 1) – Results:
1. Sebastien Buemi, Renault e.dams, 1:32.095s
2. Lucas di Grassi, ABT Schaeffler Audi Sport, 1:32.158s
3. Nicolas Prost, Renault e.dams, 1:32.286s
4. Sam Bird, DS Virgin Racing, 1:32.523s
5. Salvador Duran, Team Aguri, 1:32.549s
6. Bruno Senna, Mahindra Racing, 1:35.653s
7. Nick Heidfeld, Mahindra Racing, 1:35.700s
8. Jerome D'Ambrosio, Dragon Racing, 1:36.324s
9. Tom Dillmann, Team Aguri, 1:36.329s
10. Stephane Sarrazin, Venturi, 1:36.361s
11. Jean-Eric Vergne, DS Virgin Racing, 1:36.704s
12. Loic Duval, Dragon Racing, 1:37.987s
13. Nelson Piquet Jr, NEXTEV TCR, 1:38.052s
14. Jacques Villeneuve, Venturi, 1:38.176s
15. Jarno Trulli, Trulli, no time set
16. Simona de Silvestro, Andretti, no time set
Below you can dowload the final classification Day 1 (pdf)
06_combinedclassification_monday
no images were found