Fonte: ABT Schaeffler Audi Sport
Londra, Gran Bretagna. 27 giugno 2016. Lucas di Grassi, Sébastien Buemi oppure Sam Bird – chi sarà il nuovo Campione della Formula E? La domanda avrà la risposta il prossimo fine settimana quando la serie di corse elettrica metterà in scena le sue ultime due gare a Londra. Il Team ABT Schaeffler Audi Sport si è preparato meticolosamente per la resa dei conti.
Il percorso precedente le ultime due gare della stagione in corso non poteva essere più volatile ed emozionante: dopo sette podi e tre vittorie, il pilota del team ABT Audi Sport Schaeffler Lucas di Grassi guida la classifica ad un punto dal pilota della Renault e.Dams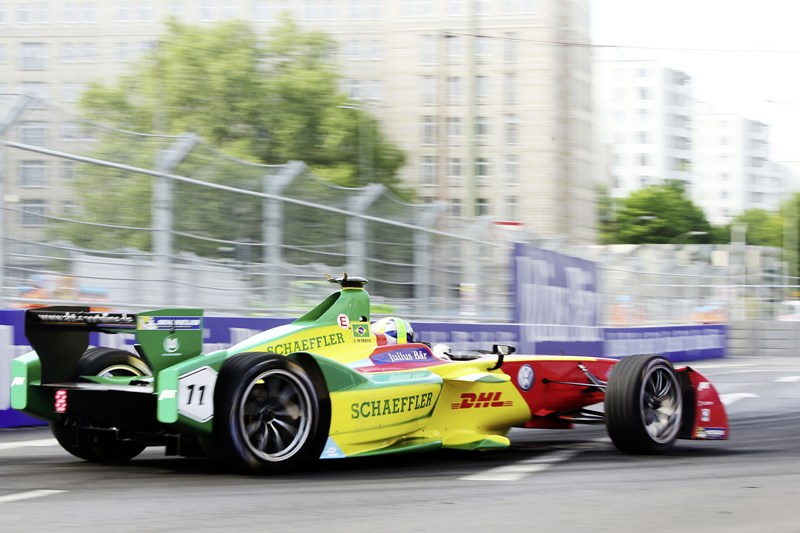 Sébastien Buemi. Compresi i punti di giri veloci e pole position, ci sono ancora altri 60 punti in palio a Londra, motivo per cui il terzo pilota Sam Bird ha davvero solo una possibilità matematica di vincere il titolo.
La sede della resa dei conti è, come lo scorso anno, il Battersea Park, nel cuore di Londra, direttamente accanto al Tamigi. I piloti completeranno due giorni di gara il Sabato e la Domenica con le pratica, qualifiche e gara nel giro di poche ore. La pista lunga 2,925 km è stretta e fornisce pochissimi posti per sorpassare – motivo per cui le qualifiche potrebbe essere più importante che mai. Le previsioni di tempo instabile potrebbero aggiungere ancora più pepe alla lotta per il titolo.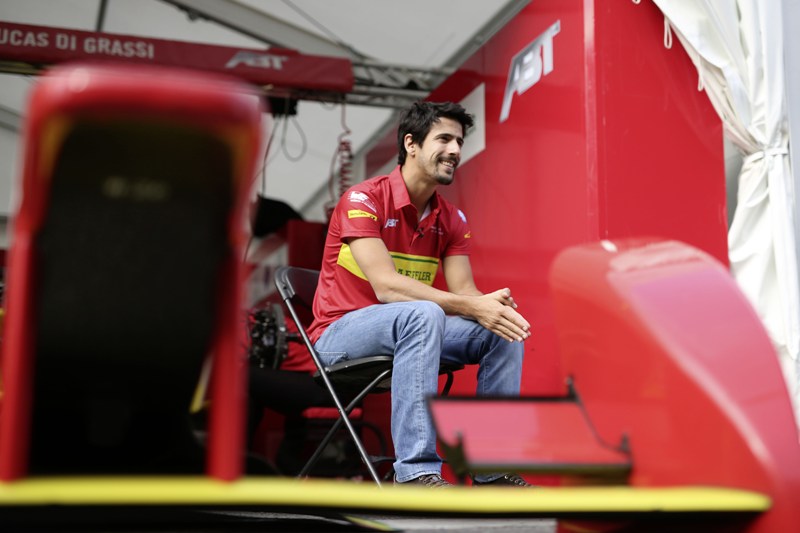 Il candidato al titolo Lucas di Grassi mantiene la calma.
"Abbiamo fatto tutto quello che potevamo fare: ci siamo preparati perfettamente, i nostri ingegneri e meccanici sono molto motivati, siamo tutti impegnati per la causa", dice il brasiliano che è arrivato terzo lo scorso anno nel campionato. "Il nostro obiettivo è chiaro: ci proponiamo di svolgere al meglio e non fare errori. Abbiamo una buona squadra e partner meravigliosi. Abbiamo la possibilità di realizzare qualcosa di grande a Londra ".
Il compagno di squadra Daniel Abt ha anche una chiara visione per il fine settimana.
"Quanti più punti potrò prendere in gara tanto meglio sarà per Lucas nella lotta per il titolo", dice il pilota di 23 anni, il più giovane in campo. Abt è già salito sul podio due volte quest'anno, recentemente nella sua gara di casa a Berlino. Questo è anche un motivo per cui il Team ABT Audi Sport Schaeffler è solo undici punti dietro nella classifica a squadre ed ha ancora una possibilità di prendere il bottino. "La festa sul podio di Formula E è indescrivibile. Naturalmente il mio grande sogno è quello di spruzzare lo champagne sul podio di nuovo a Londra."
Un vantaggio di un punto, un circuito difficile, il pericolo di tempo instabile – proprio quello che piace a Hans-Jürgen Abt.
"E 'ovvio che la pressione è enorme – ma questo è esattamente quello che ci piace. Questo è il motivo per cui siamo piloti appassionati", dice il boss del team. "Con un solo punto che separa i piloti non ci possono essere favoriti. Sarà una questione di chi fa il lavoro migliore Sabato e Domenica, ed a tal fine ho assoluta fiducia nella mia squadra e nei due piloti ".
Le gare di Londra iniziano il Sabato e la Domenica alle 16:00 ora locale (17:00 ora italiana).
In English
ABT fights in London for the Formula E championship title
Source: Team ABT Schaeffler Audi Sport
London, UK. 27 June 2016. Lucas di Grassi, Sébastien Buemi or even Sam Bird – who will be the new Formula E Champion? The question will be answered next weekend when the electric racing series stages its final two races in London. Team ABT Schaeffler Audi Sport has prepared meticulously for the showdown.
The outset before the last two races of the current season could not be more volatile and exciting: after seven podium finishes and three wins, ABT Schaeffler Audi Sport driver Lucas di Grassi leads the standings by one point from Renault driver Sébastien Buemi. Including the points for fastest race laps and pole positions, there are still another 60 points up for grabs in London, which is why the third placed Sam Bird only really has a mathematical chance of winning the title.
Venue of the showdown is, like last year, Battersea Park in the heart of London directly alongside the Thames. The drivers complete two full race days here on Saturday and Sunday with practice, qualifying and race within just a few hours. The 2.925 kilometer long track is extremely tight and narrow and provides very few places to overtake – which is why qualifying could be more important than ever before. The unsettled weather forecast could add even more spice to the title battle.
Title candidate Lucas di Grassi is keeping his cool.
"We have done everything that we could do: we have prepared perfectly, our engineers and mechanics are highly motivated, we are all committed to the cause," says the Brazilian who was third overall last year. "Our goal is clear: we aim to perform at our best and make no mistakes. We have a good team and wonderful partners. We have the chance to achieve something big in London."
Team mate Daniel Abt also has a clear vision for the weekend.
"The more points I can take from the competition the better it is for Lucas in the title battle," says the 23-year old and youngest driver in the field. Abt has already mounted the podium twice this year, most recently at his home race in Berlin. Also a reason why ABT Schaeffler Audi Sport is only eleven points behind in the team classification and still has a chance of taking the spoils. "The party on the Formula E podium is indescribable. Of course my great dream is to spray the champagne on the podium again in London."
A one point lead, a tricky circuit, danger of unsettled weather – just what appeals to Hans-Jürgen Abt.
"It goes without saying that the pressure is enormous – but this is exactly what we thrive on. This is the reason why we are passionate racers," says the Team Boss. "With just one point separating the drivers there can be no favorites. It'll be a question of who does the best job on Saturday and Sunday, and to this end I have absolute confidence in my team and the two drivers."
The races in London start on Saturday and Sunday at 16:00 local time (17:00 German time).
no images were found

.