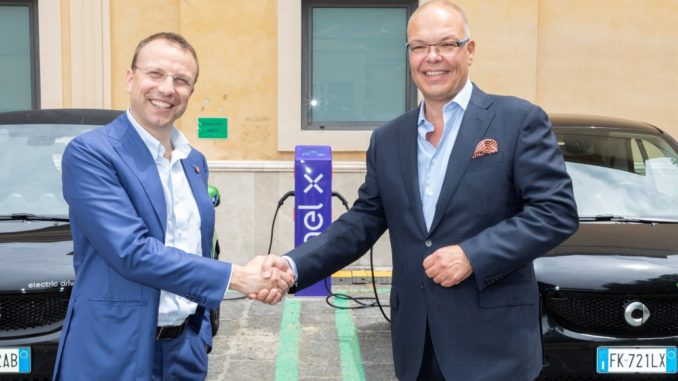 Smart in sinergia con Enel X offre ora l'innovativo servizio "ready to charge", che permette attraverso un'App dedicata, di aggiungere ai vantaggi del trovare velocemente parcheggio la possibilità di ricaricare la propria Smart.
Il futuro della mobilità elettrica passa anche attraverso servizi in grado di integrarsi nell'ecosistema urbano per facilitarne l'utilizzo. Una strategia che parte dalla wallbox domestica, si estende fino alla rete di ricarica pubblica e si completa attraverso il network di autorimesse private di 'ready to park' che da oggi, attraverso un'App dedicata, aggiunge ai vantaggi del parcheggio la possibilità di ricaricare la propria smart.
Enel X è la divisione di Enel dedicata a prodotti innovativi e soluzioni digitali per clienti, città, aziende e mobilità elettrica, attraverso una rete di strutture di ricarica ad uso pubblico che parte da Roma e nei prossimi mesi si espanderà anche a Firenze, Genova e Milano.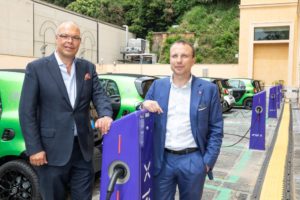 Nella Capitale sono già disponibili 96 parcheggi convenzionati e, entro i prossimi mesi, ognuno sarà dotato da un minimo di due fino ad un massimo di otto punti di ricarica con potenza fino a 22 kW per ricaricare Smart in meno di un'ora.
L'App Smart 'ready to park', che da luglio 2018 includerà la funzione 'charge', è già disponibile su Google Play® e App Store® e su www.smart-ready-to.it
Dopo 'ready to park' è la volta di 'ready to charge' che integra il servizio di ricarica, con prenotazione, accesso e pagamento attraverso un'unica App.
Oltre a prodotti maturi per il mercato, come la nostra Smart, la mobilità elettrica ha bisogno di servizi e infrastrutture che ne facilitino l'utilizzo: crediamo che sia necessario fare sistema con tutti gli attori coinvolti – ha dichiarato Marcel Guerry, Presidente di Mercedes-Benz Italia. Da qui nasce la nostra partnership con Enel X, un rapporto iniziato nel 2008 con e-mobility Italy e la prima generazione di Smart Electric Drive, che prosegue oggi con 'ready to charge': la più amata delle citycar, il più evoluto provider di servizi di ricarica e le autorimesse private più aperte all'innovazione insieme per favorire una mobilità urbana intelligente a zero emissioni locali.

La lunga collaborazione con Mercedes-Benz si arricchisce di un altro tassello che facilita ulteriormente la vita di chi guida la Smart elettrica. Allo stesso tempo prosegue il nostro impegno, a fianco delle più importanti case automobilistiche, per la realizzazione di una infrastruttura di ricarica capillare che elimini la paura di restare a secco di energia – afferma Francesco Venturini, responsabile di Enel X. Infatti, grazie a questo accordo chi parcheggia presso le autorimesse private 'ready to park' in alcune delle più importanti città italiane potrà sfruttare il tempo della sosta per la ricarica della propria Smart. Un servizio che arricchisce le potenzialità e le modalità di utilizzo delle vetture elettriche.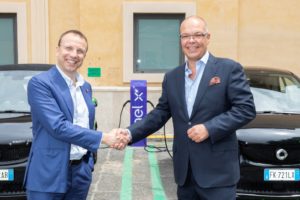 'Ready to charge' unisce i valori di Smart a servizi per una mobilità sempre più intelligente e ready to. Così come 'ready to park', anche 'ready to charge' è stato sviluppato dallo 'smart Lab Italy', uno dei quattro think tank che in altrettanti Paesi nel mondo lavorano per trovare soluzioni utili ad offrire un valido contributo nella realizzazione di un ecosistema di mobilità intelligente, semplice e sostenibile, proprio come Smart.
Per entrare nel mondo dei servizi 'ready to' dedicati ai clienti Smart è sufficiente scaricare l'App sullo smartphone, inserire la targa della propria Smart ed indicare gli estremi della carta utilizzata per il pagamento.
Attraverso la mappa interattiva è possibile scegliere il parcheggio e l'eventuale colonnina di ricarica, effettuare la prenotazione e raggiungere l'autorimessa entro un'ora, senza alcun addebito extra. Per accedere al parcheggio e al punto di ricarica basta attivare il Bluetooth e avvicinare il proprio smartphone alla sbarra.
Successivamente, l'App permette di controllare il tempo di sosta, lo stato della ricarica, effettuare il pagamento tramite carta di credito o Paypal e aprire la sbarra in uscita.