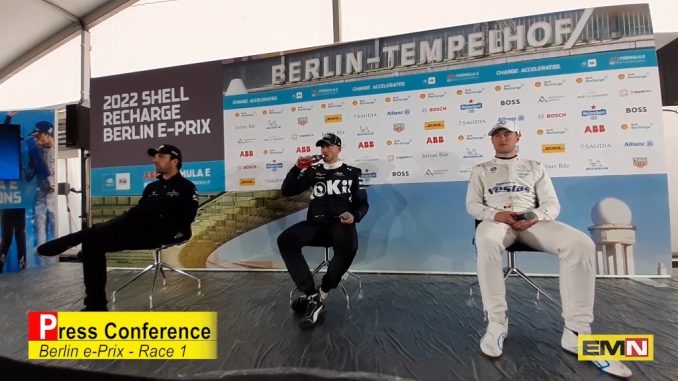 Edoardo Mortara ha vinto Gara1 del Berlin E-Prix di Formula E, mentre Jean Eric Vergne e Stoffel Vandoorne hanno completato il podio. Ecco le interviste…
Gara lunga e stressante secondo Edoardo Mortara
Perché il vincitore di Gara 1 del Berlin E-Prix ha definito la sua gara lunga e stressante? La risposta nell'intervista che vi proponiamo in questo video…
Intervista di Marcelo Padin da Berlino
Quando la plastica ci mette lo zampino…
Antonio Felix Da Costa aveva le carte in regole per salire sul podio, è partito a razzo e nei primi giri della gara era in terza posizione… ma poi l'Attack Mode e anche un fattore esterno hanno rovinato la sua giornata. Cosa è successo nella gara del pilota portoghese?
Intervista di Marcelo Padin da Berlino
Happy with the podium and thinking of tomorrow
Jean Eric Vergne speaks about the race and he said that he is happy with this podium, but now it's momento to thinking on tomorrow race.
In italiano – Felici per il podio e pensando al domani
Jean Eric Vergne parla della gara e si è detto contento di questo podio, ma ora è il momento di pensare alla gara di domani.
Intervista di Marcelo Padin da Berlino
Great podium in a difficult race
Stoffel Vandoorne said that has been a very difficult race and he is very happy with a podium. About the Race2, he said an interesting thing that can be uno of the key of the race.
In italiano – Grande podio in una gara difficile
Stoffel Vandoorne ha detto che è stata una gara molto difficile ed è molto contento del podio. A proposito di Race2, ha detto una cosa interessante che può essere una delle chiavi della gara.
Intervista di Marcelo Padin da Berlino
La conferenza stampa del podio del Berlin E-Prix Gara1 di Formula E
Edoardo Mortara, il vincitore di Gara1 del Berlin E-Prix di Formula E, insieme a Jean Eric Verge (secondo) e Stoffel Vandoorne (terzo) sono stati i protagonisti della conferenza stampa dei piloti dopo la Gara1 del Berlino E-Prix.
Intervista di Marcelo Padin da Berlino
Ecco le anteprime fotografiche dei video…