Fonte: Formula E
Mosca, Russia. 3 Febbraio 2015. Il prossimo 6 giugno la città di Mosca ospiterà la nona prova della stagione inaugurale della Formula E.
Il Presidente della FIA Jean Todt, insieme con il Direttore Esecutivo della Federazione Russa dell'Automobile, Sergey Ivanov; il CEO Formula E, Alejandro Agag, ed il Presidente della FEH Russia, Valentin Buhtoyarov, l'hanno annunciato oggi in una conferenza stampa tenutasi questa mattina presso il Parco Ararat Hyatt Hotel.
Il Moscow ePrix si svolgerà su un circuito cittadino di 13 curve adiacente al Cremlino.
La gara sarà la nona prova della nuova serie, con il finale di stagione rimanente al Londra ePrix il 27 giugno 2015 (vedi calendario completo qui sotto).
Jean Todt ha dichiarato:
"La presenza della Russia nel motorsport risale agli inizi del 20esimo secolo, ma il tasso di crescita che abbiamo visto negli ultimi anni, è incredibile. Dopo il debutto del WTCC due anni fa e della Formula Uno lo scorso anno, il lancio di un altro campionato FIA nel paese è una tappa importante in questo percorso di crescita. La Formula E rappresenta una nuova forma di competizione e divertimento con l'obiettivo di attrarre e coinvolgere non solo gli appassionati di motorsport, ma anche un nuovo pubblico e in particolare le giovani generazioni. Si adatta perfettamente al ruolo tradizionale della FIA come promotore principale dell'innovazione, della tecnologia e delle prestazioni nel settore automobilistico. Sono sicuro che Mosca godrà dell'evento".

"Siamo lieti di dare il benvenuto a Mosca nel calendario della stagione 2014/2015 della Formula E come la nostra decima città ospitante", ha detto Alejandro Agag.

"I russi hanno sempre accolto con passione ed entusiasmo eventi internazionali e siamo sicuri che sarà lo stesso con il Moscow ePrix. Il mercato automobilistico russo è in costante crescita, così come la sua industria dei veicoli elettrici e sono fiducioso che la Formula E contribuirà a promuovere il concetto di mobilità sostenibile in questo Paese. Come con le nostre gare precedenti, non abbiamo alcun dubbio che il Mosca ePrix sarà uno spettacolo fantastico per i team, i piloti ed i tifosi".
Sergey Ivanov, Direttore esecutivo della Federazione Russa dell'Automobile, ha dichiarato:
"La Formula E è un progetto molto interessante e superiore alla media che collega il motorsport con la scienza e la tecnologia innovativa. Si tratta di un evento storico per il motorsport russo, per la prima volta una vera e propria gara si svolgerà nel cuore della città. Abbiamo collaborato con la FIA per lungo tempo e siamo certi che la Formula E a Mosca si svolgerà in conformità con tutti gli standard internazionali".
Valentin Buhtoyarov, il presidente della FEH Russia, ha detto:
"E' un grande onore per me vedere oggi Jean Todt e Alejandro Agag all'evento dell'annuncio ufficiale della gara di Mosca del FIA di Formula E Championship. Questo rivela un ruolo molto importante del Moscow ePrix per l'intero campionato. Vorrei esprimere la mia gratitudine al Governo di Mosca per il loro prezioso sostegno e sono certo che l'evento sarà un grande successo. Il Moscow ePrix è molto più di una gara, è una competizione ad alta tecnologia che ha un grande significato sociale per la città. Offre un programma di intrattenimento ricco e si concentra sullo sviluppo della sostenibilità".
Svetlana Korshunova, organizzatrice del Mosca ePrix, ha dichiarato:
"Per otto anni abbiamo tenuto eventi Moscow City Racing e ogni anno noi facciamo del nostro meglio per venire con qualcosa di nuovo ed eccitante. Nel 2011 il momento clou del nostro spettacolo è stata la partecipazione della vettura da corsa Formulec EF01, il primo veicolo al mondo completamente ecologico, sviluppato in Francia. Da allora abbiamo seguito da vicino lo sviluppo di questo segmento del motorsport ed è un grande onore per noi vedere le auto da corsa completamente elettriche per le strade di Mosca, ma in un contesto completamente diverso. Questa sarà un'esperienza indimenticabile!"
Come risultato della nuova gara di Mosca, la data dell'ottavo round della serie – il Berlin ePrix – è stata anticipata di una settimana e avrà luogo il 23 maggio 2015.
Ad oggi, la Formula E ha compiuto quattro gare spettacolari a Pechino, Putrajaya, Punta del Este e Buenos Aires, con un vincitore diverso in ciascuna di esse. I restanti turni si svolgeranno a Miami, Long Beach, Monaco, Berlino, Mosca e Londra.
Calendario Formula E 2014/2015
Round 1 – Pechino ePrix, Repubblica Popolare Cinese, 13 Settembre 2014
Round 2 – Putrajaya ePrix, Malaysia, 22 Novembre 2014
Round 3 – Punta del Este ePrix, Uruguay, 13 Dicembre 2014
Round 4 – Bueno Aires ePrix, Argentina, 10 Gennaio 2015
Round 5 – Miami ePrix, Stati Uniti d'America, 14 Marzo 2015
Round 6 – Long Beach ePrix, Stati Uniti d'America, 4 Aprile 2015
Round 7 – Monaco ePrix, Monaco, 9 Maggio 2015
Round 8 – Berlino ePrix, Germania, 23 Maggio, 2015
Round 9 – Mosca ePrix, Russia, 6 Giugno 2015 *
Round 10 – Londra ePrix, UK 27 Giugno 2015
* Il layout del circuito che vedete nella foto rimane soggetto all'approvazione e omologazione della pista da parte della FIA.
In English
Formula E to race in Moscow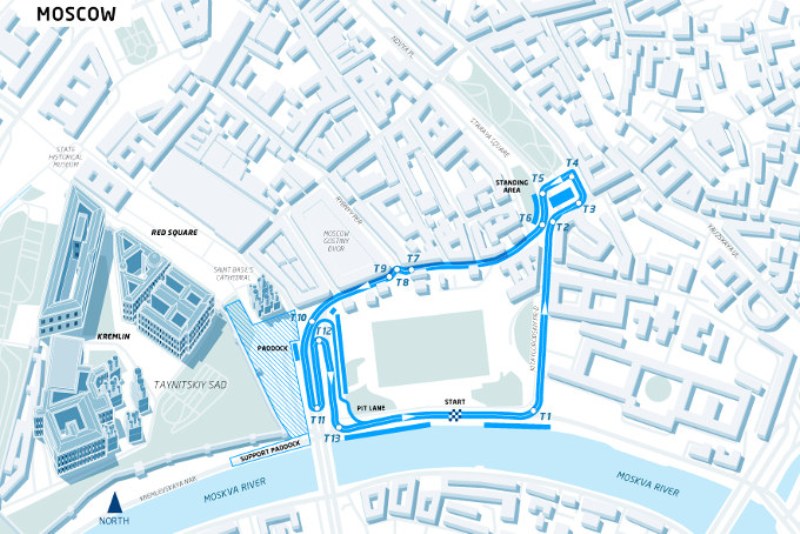 Source: Formula E
Moscow, Russia. February 3, 2015. Next June 6 the city of Moscow will host round nine of the inaugural season of FIA Formula E Championship. FIA President Jean Todt, together with Executive Director of the Russian Automobile Federation, Sergey Ivanov, Formula E CEO, Alejandro Agag, and the Chairman of FEH Russia, Valentin Buhtoyarov, have today announced it in a press conference held this morning at the Ararat Park Hyatt Hotel.
The Moscow ePrix will take place on a 13-turn street circuit adjacent to the Kremlin. It will form round nine of the new series, with the season finale remaining as the London ePrix on June 27, 2015 (see full calendar below).
Jean Todt said:
"Russia's presence in motorsport dates back to the beginning of the 20th Century but the growth rate which we've seen in the last few years is incredible. After the debut of WTCC two years ago and of Formula One last year, the launch of another FIA Championship in the country is an important milestone in this growth path. Formula E represents a new form of racing and entertainment as it's aimed to attract and engage not only motorsport fans but also a new audience and in particular the younger generations. It fits perfectly in the FIA's traditional role as a leading promoter of innovation, technology and performance in the automotive sector. I am sure that Moscow will enjoy the event."

"We are delighted to be welcoming Moscow onto the 2014/2015 Formula E calendar as our 10th host city," said Alejandro Agag. "Russian people have always welcomed with passion and enthusiasm international events and we are sure it will be the same with the Moscow ePrix. Russia's automotive market is steadily growing, as is its electric vehicle industry and I am confident that Formula E will help to promote the concept of sustainable mobility in this country. As with our previous races, we have no doubt the Moscow ePrix is going to be a fantastic spectacle for teams, drivers and fans."
Sergey Ivanov, Executive Director of the Russian Automobile Federation, said:
"Formula E – is a very interesting and above-average project which links motorsport with innovative science and technology. It is a historic event for Russian motorsport – for the first time ever a real race will take place in the very heart of the city. We've been cooperating with FIA for a long time and we are certain that the FIA Formula E Championship round in Moscow will be held in accordance with all the international standards."
Valentin Buhtoyarov, the Chairman of FEH Russia, said:
"It is a great honour for me to see Jean Todt and Alejandro Agag today at the official announcement event for the Moscow round of the FIA Formula E Championship. It proves a very important role of Moscow ePrix for the whole Championship. I would like to express my gratitude to the Government of Moscow for their invaluable support, and I am certain that the event will be a great success. Moscow ePrix is more than just a race, it is a high-tech competition that has a great social significance for the city. It offers a rich entertainment programme and focuses on development of sustainability."
Svetlana Korshunova, organiser of the Moscow ePrix, said:
"For eight years now we have been holding Moscow City Racing events and each year we would do our best to come up with something new and exciting. In 2011 the highlight of our show was the participation of EF01 Formulec racing car, the first in the world completely eco-friendly vehicle, developed in France. Since then we've been closely following the development of this segment in motorsport and it is a great honour for us to see fully electric racing cars on Moscow streets again but in a totally different status. This is going to be an unforgettable experience!"
As a result of the new Moscow race, the date for the eighth round of the series – the Berlin ePrix – has been brought forward by one week and will now take place on May 23 2015.
To date, Formula E has delivered four spectacular races in Beijing, Putrajaya, Punta del Este and Buenos Aires, with each producing a different winner. The remaining rounds take place in Miami, Long Beach, Monaco, Berlin, Moscow and London.
2014/2015 FIA Formula E Championship calendar:
Round 1 – Beijing ePrix, People's Republic of China, September 13 2014
Round 2 – Putrajaya ePrix, Malaysia, November 22 2014
Round 3 – Punta del Este ePrix, Uruguay, December 13 2014
Round 4 – Bueno Aires ePrix, Argentina, January 10 2015
Round 5 – Miami ePrix, USA, March 14 2015
Round 6 – Long Beach ePrix, USA, April 4 2015
Round 7 – Monaco ePrix, Monaco, May 9 2015
Round 8 – Berlin ePrix, Germany, May 23 2015
Round 9 – Moscow ePrix, Russia, June 6 2015*
Round 10 – London ePrix, UK June 27 2015
* Circuit layout remains subject to FIA approval and track homologation.
no images were found