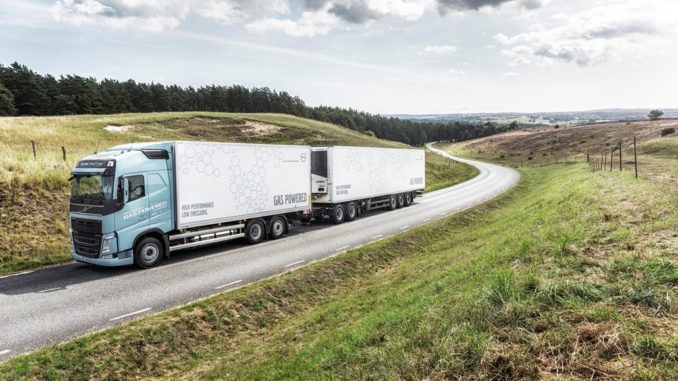 Fonte: Volvo Trucks
Rimini, 7 Novembre 2017. I nuovi veicoli a biogas e gas naturale di Volvo Trucks hanno recentemente ricevuto il premio italiano Sustainable Truck of the Year 2018, consegnato durante una cerimonia correlata alla fiera Ecomondo di Rimini il 7 novembre.
Volvo Trucks ha vinto il primo premio nella categoria trattori grazie al nuovo Volvo FH LNG, introdotto nel mercato europeo questo autunno.
"Con il lancio della nuova gamma LNG (…) Volvo ha indubbiamente alzato il livello dei veicoli a gas naturale", è riportato nella valutazione della giuria.
Le caratteristiche più apprezzate sono state l'elevata efficienza nei consumi e il basso impatto climatico. Il Volvo FH LNG offre le stesse prestazioni eccellenti e il ridotto consumo di carburante di un veicolo Volvo diesel, ma con emissioni di CO2 decisamente
inferiori. Con l'alimentazione a gas naturale, le emissioni si riducono del 20% e con il biogas rinnovabile combinato con HVO, è possibile arrivare fino al 100%. La decisione della giuria è stata determinata da molti altri parametri, tra cui sicurezza, comfort e riciclabilità.
"Questa nuova generazione di veicoli a gas segna una pietra miliare nell'impegno dell'azienda verso la sostenibilità e per il nostro obiettivo a lungo termine di ridurre a zero le emissioni. Siamo felici che il nostro lavoro riceva tanta attenzione. Puntando i riflettori sulla questione della sostenibilità e premiando i principali progressi compiuti, il riconoscimento Sustainable Truck of the Year favorisce lo sviluppo del settore dei trasporti verso la sostenibilità", dichiara Lars Mårtensson, Director Environment and Innovation presso Volvo Trucks.
Il premio Sustainable Truck of the Year è gestito da Vado e Torno, una delle principali riviste italiane dedicate ai veicoli pesanti, in collaborazione con il Politecnico di Milano.
no images were found