Fonte: Formula E
Miami, Florida. USA. 15 Marzo 2015. La soddisfazione di Alejandro Agag, amministratore delegato di Formula E, all'indomani del Miami ePrix è evidente dalle sue parole:
"L'atmosfera era incredibile, con molte persone che sono venute a partecipare a questo evento e tutte le attività intorno ad esso", ha detto Alejandro. "La gara è stata come al solito combattuta fino all'ultimo, con tante emozioni e il quinto vincitore diverso in altrettanti ePrix."
La gara a Miami è stato un po 'diversa rispetto quelle precedenti, soprattutto per la totale assenza di periodi di safety car e incidenti.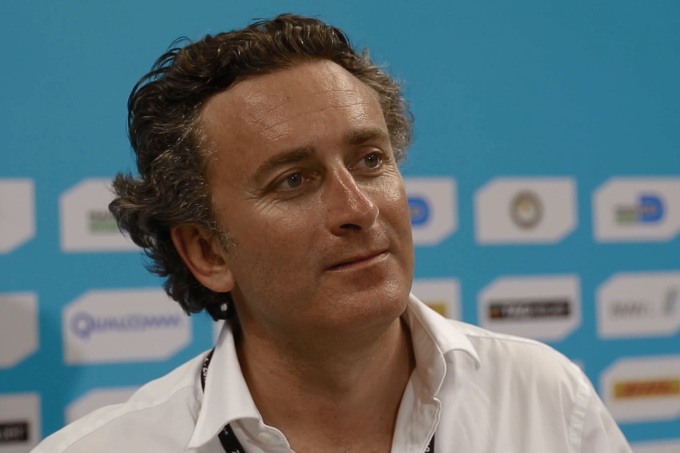 Questo non ha, tuttavia, reso la gara meno spettacolare.
Agag ha detto:
"C'è stato un grande inizio e poi tanta azione con sorpassi, attacchi continui e tre piloti a lottare per la vittoria negli ultimi giri. Inoltre, non abbiamo mai visto prima che la gestione dell'energia disponibile è la chiave per. ottenere il successo. Man mano che la stagione va avanti, team e piloti approfondiscono le proprie conoscenze e trovano il modo migliore per utilizzare l'auto, che è buono non solo per lo spettacolo".
Il paddock del Miami ePrix ha visto molti ospiti e una folla di VIP, ma un uomo ha attirato l'attenzione delle telecamere e dei fotografi, Sir Richard Branson.
E 'stata la prima visita del fondatore del Virgin Group ad una gara di Formula E, ma ha dimostrato ancora una volta il suo senso dello spettacolo prima con uno show sulla griglia di partenza con le cheerleaders della squadra del Miami Dolphins NFL e quindi trovandosi di sorpresa, almeno per i piloti, alla cerimonia del podio. La cerimonia sarebbe stata più dolce se avesse potuto raggiungere uno dei suoi piloti, ma Sir Richard ha dovuto trovare consolazione nel dare il trofeo all'eroe di casa, Scott Speed, secondo dietro al vincitore Nico Prost.
"E 'stato bello averlo qui per vedere la Formula E da vicino", ha commentato Alejandro. "Per noi è importante non solo che un marchio come Virgin sia parte di questo campionato, ma anche che un personaggio come Sir Richard, un vero visionario, un uomo con le idee di voler cambiare il mondo, è con noi e condivide con noi la filosofia di Formula E".
In English
Agag: "A great feeling"
Source: Formula E
Miami, Florida. Mrch 15, 2015. The satisfaction of Alejandro Agag, CEO of Formula E, in the aftermath of the Miami ePrix is clearly evident by his words:
"The atmosphere was amazing, with lots of people who came to attend this event and all the activities around it," said Alejandro. "The race was as usual fought to the last, with so many emotions and the fifth different winner in as many ePrix".
The race in Miami was a little different than previous rounds, especially for the total absence of safety car periods and accidents. This did not, however, make the race less spectacular.
Agag said:
"There was a great start and then so much action with overtaking, continuous attacks and three drivers to fight for the victory in the final laps. In addition, we haven't before seen the management of available energy being the key to gain success. As the season goes on, teams and drivers deepen their knowledge and find a way to utilise the car, which is only good for the show."
The paddock at the Miami ePrix saw many guests and a VIP crowd but one man attracted the attention of the cameras and photographers, Sir Richard Branson. It was the Virgin Group founder's first visit to a Formula E race but he proved once more his sense of the show first performing on the grid along with the cheerleaders of the Miami Dolphins NFL team and then being a surprise, at least for the drivers, at the podium ceremony. The party would have been sweeter if he could have been joined by one of his drivers but Sir Richard had to find consolation in giving the trophy to the home hero, Scott Speed, second behind winner Nico Prost.
"It was great to have him here to see Formula E up close," commented Alejandro. "For us it is important not only that a brand like Virgin is part of this championship but also that a character like Sir Richard, a true visionary, a man with his ideas to want to change the world, has been with us and share with us the philosophy of Formula E."
no images were found