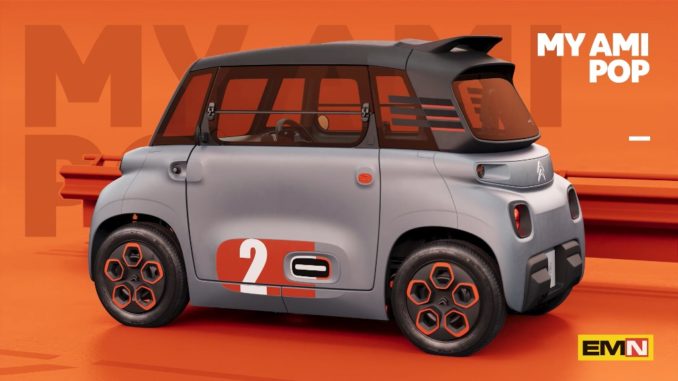 Nuova piattaforma per EV da KYB Corporation, lo stabilimento Accumot di Kamenz, Ami, Cupra e la nuova App della MINI nella puntata 15 di Electric Motor News.
Di seguito tutti i servizi.
La simpatica Ami – 100% ëlectric
E' agile e maneggevole, facilita gli spostamenti e il parcheggio; è il nuovo oggetto di mobilità urbana ultra compatto e si chiama Ami – 100% ëlectric. L'identità di Ami – 100% ëlectric ne svela immediatamente la personalità estroversa e anticonformista, capace di innescare un'attrazione che parla il linguaggio della mobilità 100% elettrica, accessibile a tutti. Ami sorprende subito per le dimensioni, i volumi ed un approccio grafico fatto per lasciare una vivace impressione già al primo incontro. Le sue forme minimaliste ed essenziali, giocano sulla forza di un frontale che esprime al meglio l'identità Citroën, con proiettori ed indicatori di direzione a formare una firma su due livelli.
Piattaforma EV da KYB Corporation e REE Automotive
Una nuova partnership strategica per sviluppare le capacità di sospensione per le future piattaforme di veicoli elettrici è stata firmata da KYB Corporation e REE Automotive.
Il fornitore automobilistico di primo livello dei sistemi di sospensioni semiattivi e attivi KYB aumenterà le prestazioni della piattaforma EV di nuova generazione REE, che offre completa libertà di progettazione e soluzioni economiche e scalabili nella mobilità elettrica. L'esperienza combinata di REE, un'azienda tecnologica pionieristica e leader nelle piattaforme di veicoli elettrici, e KYB, leader mondiale nella produzione di sistemi idraulici, ridisegneranno il movimento di merci, persone e servizi rivoluzionando il design dei veicoli elettrici.
Pronta a scendere in pista la nuova Cupra e-Racer
Cupra e-Racer è la prima vettura turismo da corsa a trazione elettrica, dotata di un telaio rinnovato e batteria più potente, punto di riferimento per il campionato ETCR.
La sfida del team Cupra nella fase di disegno e sviluppo del modello che avrebbe preso parte al campionato multimarca per turismo 100% elettriche, il Pure ETCR, era quella di unire prestazioni ed elettrificazione con efficienza e sostenibilità. Il risultato ottenuto è la Cupra e-Racer, pronta a conquistare i circuiti.
Come il modello che l'ha preceduta, Cupra e-Racer è creata sulla base di Cupra Leon. La nuova generazione della turismo vanta il design più aerodinamico mai sviluppato, servito agli ingegneri di Cupra Racing per sviluppare un'auto da gara più dinamica e potente, in grado di raggiungere i 270 km/h.
Mercedes Benz aumenta la produzione di batterie a Kamenz
Mercedes Benz AG si sta concentrando sulla creazione di una rete globale di produzione batterie e sta investendo oltre un miliardo di euro a tal fine. La rete sarà composta da nove fabbriche di batterie in sette località in Europa, Nord America e Asia. La controllata interamente di proprietà Mercedes-Benz Accumotive a Kamenz, in Sassonia, svolgerà un ruolo speciale in questo.
Servizio con la voce di Marco Cereda.
Mercedes Benz increase battery production in Kamenz
Mercedes Benz AG is focusing on establishing a global battery production network and is investing more than one billion EUR to this end. The network will consist of nine battery factories at seven locations in Europe, North America and Asia. Mercedes-Benz's wholly owned subsidiary Accumotive in Kamenz, Saxony will play a special role in this. Jörg Burzer, Member of the Board of Management of Mercedes Benz AG, Production and Supply Chain Management explain details in the video.
La App MINI Connected
Per tutti i modelli MINI è disponibile una SIM card 4G incorporata nella vettura, che apre una nuova era di connettività e servizi digitali.
Tramite l'app si può anche sbloccare o bloccare la MINI, azionare il clacson e i fari, mettere in funzione il climatizzatore prima di salire in auto (funzione riservata per MINI Cooper SE e MINI Countryman Cooper S E ALL4. Quest'ultima funzione consente ad esempio di preriscaldare o rinfrescare la MINI Full Electric quando è ancora in carica, garantendo quindi un'incidenza minore dell'impianto di riscaldamento sull'autonomia della vettura. Un'altra funzione esclusiva di MINI Electric è l'impostazione dell'orario di carica.