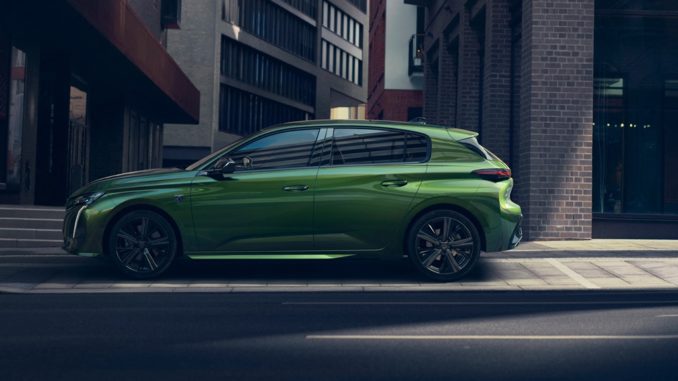 Nuova Peugeot 308 viene presentata con orgoglio dal marchio del Leone, forte di oltre 7.000.000 di veicoli venduti nelle varie generazioni.
Peugeot 308 nel corso della sua carriera ha vinto 42 premi internazionali (tra cui il prestigioso Car Of The Year nel 2014), ora porta al debutto il nuovo logo della Casa, con un design seducente decisamente alto di gamma che include l'ottimizzazione generale dell'architettura del corpo carrozzeria, valorizza l'abitabilità interna e conferma il dinamismo e la personalità dell'auto.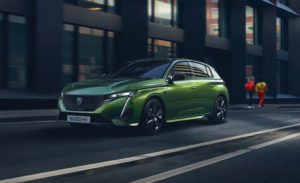 La tecnologica Nuova Peugeot 308 offre aiuti alla guida di ultima generazione; il nuovo Peugeot i-Cockpit si evolve e integra l'i-Connect Advanced, un sistema di infotainment intuitivo, connesso e decisamente moderno.
Efficiente e prestazionale sin nei minimi dettagli aerodinamici, Nuova Peugeot 308, fedele al concetto di "Power of Choice", è disponibile con motorizzazioni Plug-in hybrid e termiche, benzina o Diesel e potrà anche esser acquistata sul portale online della Casa.
Intense seduction
Nuova Peugeot 308 si afferma nel suo segmento e cambia morfologia. Il passo più lungo di 55 mm permette di allungare il corpo vettura e offre più spazio ai passeggeri posteriori, mentre l'altezza ridotta di 20 mm abbinata a un soft-nose allunga visivamente il cofano.
Per raggiungere il suo obiettivo di massima efficienza aerodinamica, Nuova Peugeot 308 ha fatto evolvere la distribuzione degli spazi interni senza intaccare la forma esterna, grazie anche a un profondo lavoro di ottimizzazione dell'architettura e di imbutitura delle lamiere della carrozzeria.
La carrozzeria di Nuova Peugeot 308 sposa quanto più possibile la struttura della vettura. Lo si nota in particolare nei profili molto pronunciati dei parafanghi, senza necessità di aumentare le carreggiate.
Lateralmente, le fiancate fluide e lisce rivelano il loro carattere possente nei due profili quadrati affilati che sovrastano le ruote anteriori e posteriori. Il disegno del profilo laterale attinge alla storia dell'identità del marchio (Peugeot 205, 208, 308…) ma aggiunge il dinamismo del lavoro realizzato sulla morfologia della silhouette di questa nuova generazione.
Il posteriore, dalle funzionalità aerodinamiche strategiche, è stato progettato a partire dai punti di passaggio dell'aria ottimali per una carrozzeria berlina 5 porte definiti in galleria del vento. Pertanto, la caratteristica linea di stile che attraversa il posteriore si basa su queste prestazioni aerodinamiche ottimali, così come la linea di fuga nella parte superiore del padiglione, che ha richiesto il lungo spoiler, identificativo dello stile di Nuova Peugeot 308 che si inserisce in un universo di riferimento più alto di gamma e più dinamico.
Nuova Peugeot 308 sfoggia il nuovo logo del marchio all'interno di una calandra interamente dedicata ad esso. La sua presenza è enfatizzata dal disegno della griglia del radiatore che converge progressivamente verso il logo stesso.
Evoluzione progettuale e tecnologica, il radar per gli aiuti alla guida (tecnologia radome che utilizza l'iridio compatibile con le onde radar) scompare dietro al logo che rimane l'unico elemento decorativo della griglia. La targa è spostata nella parte inferiore del frontale per ottimizzare il design del frontale.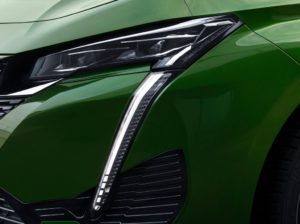 I proiettori anteriori sono dotati della tecnologia LED dal primo livello di allestimento. Cesellati e sottili, contribuiscono alla dinamica e all'identità di questa nuova Peugeot 308. Sono arricchiti da luci diurne a forma di artiglio sul paraurti anteriore. Questa firma luminosa si inserisce perfettamente nell'attuale stile Peugeot, identificabile a prima vista sia di giorno che di notte. Sugli allestimenti superiori GT e GT Pack, i fari Full LED sono ancora più sottili e adottano la tecnologia Peugeot Matrix LED, per una maggiore efficienza e sicurezza nella guida nell'oscurità.
Al posteriore, i gruppi ottici adottano la tecnologia full LED con i 3 artigli per una firma luminosa moderna, specifica del marchio del leone.
Nuova Peugeot 308 sarà disponibile in 7 tinte di carrozzeria: Verde Olivine, Blu Vertigo, Rosso Elixir, Bianco Madreperla, Bianco Banchisa, Grigio Artense e Nero Perla.
Techno Spirit – L'esperienza del nuovo Peugeot i-Cockpit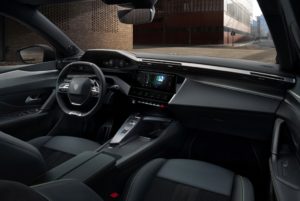 Il Peugeot i-Cockpit fa parte del DNA del marchio. Ad ogni nuova generazione si arricchisce e si aggiorna. Con l'arrivo di Nuova Peugeot 308, segna un'evoluzione in termini di ergonomia, di qualità, di design e di tecnologia grazie al suo nuovissimo sistema di infotainment, il Peugeot i-Connect.
Il nuovo volante compatto integra dei sensori in grado di individuare la presa del conducente sul volante durante l'utilizzo dei nuovi aiuti alla guida. Ergonomico, riscaldato (in opzione), il volante raggruppa tutti i comandi: radio, media, telefono e aiuti alla guida ADAS.
Il quadro strumenti digitale, ubicato in linea con la visione della strada, è caratterizzato da una dimensione di 10 pollici sin dall'allestimento Active Pack. Dalla versione GT, il quadro strumenti diventa tridimensionale. Interamente parametrizzabile e personalizzabile, il display presenta diverse modalità di visualizzazione (3D Connected Navigation con i servizi TomTom trafic, Radio/Media, Aiuti alla guida ADAS, Flussi di energia…) direttamente modificabili dal comando multifunzione.
Fonte: Peugeot Italia