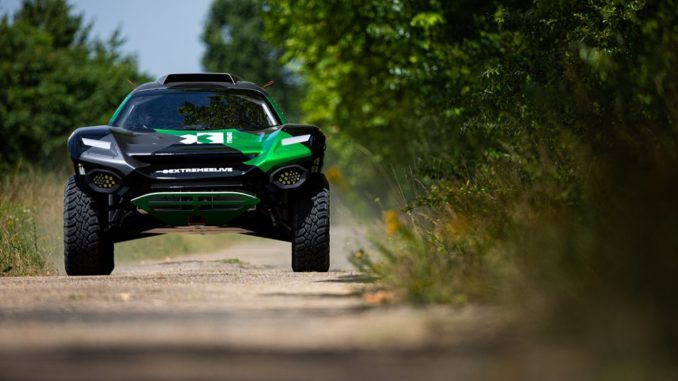 Il nuovo SUV elettrico di Extreme E è stato presentato per la prima volta al Goodwood Festival of Speed, con i fondatori Alejandro Agag e Gil de Ferran.
L'auto, denominata ODYSSEY 21, sarà presente nella serie di corse di Extreme E che evidenzierà l'impatto dei cambiamenti climatici su alcuni degli ecosistemi più fragili del mondo e promuoverà l'adozione di veicoli elettrici per aiutare a preservare l'ambiente e proteggere il pianeta.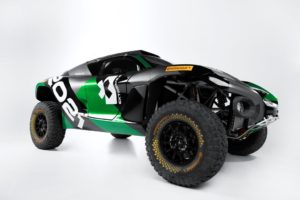 Alla sua prima uscita pubblica, la dimostrazione completata da ODYSSEY 21 della Spark Racing Technology ha percorso il famoso Goodwood Hillclimb, proprio di fronte a Goodwood House, dopo che la scorsa settimana è stata completata la costruzione del prototipo SUV elettrico nella fabbrica Spark in Tigery, Francia.
Alejandro Agag, fondatore di Extreme E e CEO di Formula E – partner operativo di Extreme E – ha dichiarato:
Il SUV Extreme E ODYSSEY 21, è diverso da qualsiasi altra cosa nel motorsport. La tecnologia all'avanguardia che i nostri partner leader del settore hanno impiegato nella sua progettazione e costruzione ha portato a una vettura straordinaria, in grado di offrire le massime prestazioni negli ambienti più difficili e variegati del pianeta.

La combinazione estrema di competizioni sportive di alto livello e ambienti ultra-impegnativi si rivelerà anche una significativa piattaforma di ricerca e sviluppo per i produttori, portando ulteriori progressi nella mobilità sostenibile.

Concludendo, ha detto: Che sia nell'Artico, nell'Himalaya, nell'Amazzonia, nel Deserto o nelle isole dell'Oceano Indiano, quest'auto mostrerà la capacità degli E-SUV, non solo agli appassionati di sport motoristici, ma anche ai consumatori che stanno cercando di fare la differenza sostenendo il pianeta scegliendo un SUV elettrico.
Per resistere alle dure condizioni, la potenza di picco di 400 kW (550hp) dell'auto Extreme E è in grado di spingere i 1650 kg dell'auto larga 2,3 metri da 0-62 mph in 4,5 secondi, con pendenze fino al 130 percento.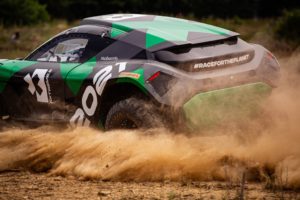 Ogni veicolo comprende un pacchetto comune di parti standardizzate, prodotto da Spark Racing Technology con una batteria prodotta da Williams Advanced Engineering. Questo comprende un telaio tubolare in lega di acciaio rinforzato con niobium, oltre a struttura di emergenza e gabbia di sicurezza, mentre i pneumatici, sia per le esigenze estreme invernali che per quelle estive, saranno forniti dal partner fondatore Continental Tyres.
Da quel punto di partenza, le squadre saranno in grado di testare e sviluppare il proprio propulsore e selezionare le aree della carrozzeria, come la copertura del motore, i paraurti anteriore e posteriore, la gonna laterale e le luci nel tentativo di replicare i modelli di auto di tutti i giorni.
Théophile Gouzin, direttore tecnico di Spark Racing Technology, che ha anche progettato l'auto di Formula E Gen1 e Gen2, ha dichiarato:
La nostra sfida consisteva nel costruire un'auto in grado di affrontare tutte le variazioni di superficie e terreno che verranno affrontate, che includeranno ghiaia, roccia, fango, ghiaccio, neve, acqua e sabbia. Subito fuori stagione nella stagione 1, l'ODYSSEY 21 e le sue prestazioni saranno molto impressionanti, superando la potenza e la coppia del World Rally Championship e delle auto da rally. I numeri sono strabilianti, davvero.

Abbiamo innovato in diverse aree, per esempio; le ruote sono circa 940mm. Le ruote di quelle dimensioni non sono mai state utilizzate. Usarle significa ottenere i benefici dell'aumentata capacità di trazione e di crociera insieme a un'enorme corsa della sospensione. Di solito, è l'una o l'altra: ruote più piccole, piccoli spostamenti della corsa delle sospensioni e quattro ruote motrici o ruote larghe, corse più ampie ma due ruote motrici. Siamo andati su entrambe le varianti con l'ODYSSEY 21.

Anche la coppia e la densità di potenza del gruppo propulsore rappresentano una svolta. Stiamo ottenendo cifre enormi da un piccolo pacchetto, il che significa minor peso, risparmio di spazio e, infine, una migliore distribuzione del peso. Tutta questa innovazione e queste lezioni apprese, sono trasferibili dalle auto da corsa alle strade, in ultima analisi a vantaggio del consumatore e della causa della mobilità sostenibile.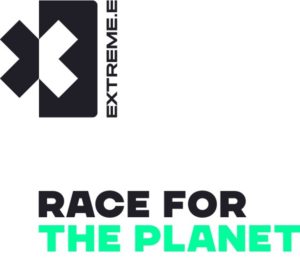 Tansu Isik, responsabile marketing, unità aziendale Sostituzione PLT EMEA di Continental – ha dichiarato:
Con i nostri pneumatici ad alte prestazioni appositamente progettati per la serie Extreme E, Continental offre ai piloti ODYSSEY 21 un'aderenza molto elevata per l'accelerazione, la frenata e la maneggevolezza di precisione su piste e percorsi molto impegnativi.

Le gomme saranno perfettamente adattate all'E-SUV ODYSSEY 21 in modo da garantire il miglior controllo e sicurezza del veicolo.
Adalberto Parreira, direttore commerciale, CBMM – ha dichiarato:
CBMM mira a portare soluzioni più sostenibili per la mobilità e la società. Extreme E è la piattaforma perfetta per mostrare chiaramente i vantaggi di un uso intensivo di materiali avanzati e intelligenti. Extreme E E-SUV presentato al Goodwood Festival of Speed ​​offre soluzioni affidabili, leggere e potenti per una carrozzeria costruita da un foglio in bianco (BIW) e altri componenti strutturali; è un esempio di ciò che può essere fatto con Niobium Tech come soluzione.
I test del prototipo ODYSSEY 21 inizieranno a settembre, con la consegna di 12 auto da Spark Racing Technology a marzo 2020. I test di gruppo si svolgeranno a metà strada fino al 2020 prima che i concorrenti salgano sul paddock unico di Extreme E, la RMS St. Helena , in vista della gara d'apertura all'inizio del 2021.
Fonte: Extreme E