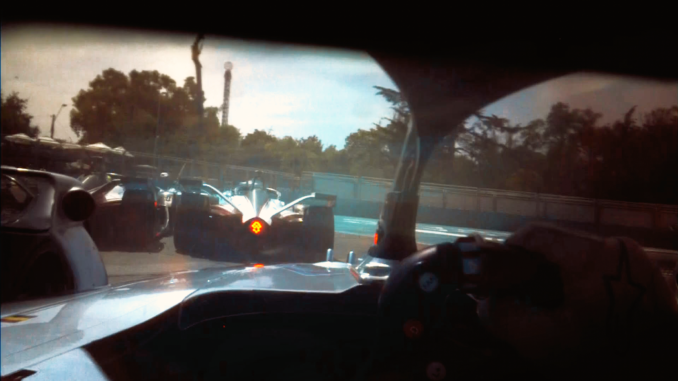 L'ABB FIA Formula E Championship ha introdotto nell'ultimo E-Prix di Santiago, la "Driver's Eye", una nuova telecamera innovativa collegata all'interno del casco.
In questo modo, i fan possono essere al posto di guida e hanno un'idea di cosa significhi sedersi dietro il volante.
La pionieristica tecnologia della telecamera spinge i confini di ciò che è possibile nelle trasmissioni sportive, trasmettendo filmati in diretta da dietro la visiera direttamente sugli schermi televisivi, la prima al mondo in qualsiasi categoria di corse su monoposto FIA.
Presentata per la prima volta a Santiago, l'angolazione della telecamera Driver's Eye aggiunge un elemento coinvolgente all'esperienza visiva e consente ai fan di sentire ogni sobbalzo e pennellata contro il muro attorno ai circuiti stretti e tortuosi del centro città.
Il dispositivo omologato FIA è perfettamente posizionato sull'imbottitura protettiva all'interno della fodera del casco e si trova esattamente all'altezza degli occhi del pilota.
La telecamera Driver's Eye ha un diametro di 8 millimetri e pesa solo 2,5 grammi, e ha impiegto molti mesi di ricerca insieme alla FIA e ai team per mettere a punto il prodotto finito pronto per le condizioni di gara.
Quando parli con i piloti di Formula E, la prima cosa che mettono in evidenza è l'emozione e la sfida della guida sui circuiti cittadini. Driver's Eye offre una nuova prospettiva dall'interno del casco in condizioni di

Felipe Massa (ROKiT Venturi Racing) con in mano il casco da gara e guardando in basso l'obiettivo con la testa accanto alla nuova rivoluzionaria fotocamera.
Felipe Massa (ROKiT Venturi Racing) holding his race helmet and looking down the lens with his head next to the revolutionary new camera.

gara dal vivo, mostrando l'abilità che serve per infilare l'auto tra i muri durante l'elaborazione dei dati e la comunicazione rapida con il team. Driver's Eye aggiunge una dimensione unica all'esperienza visiva e l'innovativa tecnologia della videocamera immerge i fan nelle corse da ruota a ruota. Siamo lieti di avvicinare i nostri fan ai piloti con l'esperienza sensoriale e il loro impegno con i contenuti di Driver's Eye sui social media dimostrano il valore delle innovazioni fondamentali per il campionato ABB FIA Formula E – ha dichiarato Sebastian Tiffert, direttore dei contenuti, editoriale e digitale della Formula E.
Il pilota della Rokit Venturi Racing Felipe Massa ha dichiarato:
Penso che sia bello come Driver's Eye mostri ai fan esattamente quello che vedo durante una gara in tempo reale. Offre agli spettatori una visione dei circuiti stretti e stimolanti del centro città su cui corriamo in Formula E e dimostra ciò di cui i piloti hanno bisogno di gestire e controllare nel corso di una gara. Mi piace la tecnologia in questo modo, che avvicina i fan ancora di più all'azione. Driver's Eye è un ottimo modo per mostrare il lavoro che si svolge al volante.
Didascalie delle foto
1 – La vista da dietro la visiera di Stoffel Vandoorne (Mercedes-Benz EQ) all'inizio del 2020 E-Prix Antofagasta Minerals Santiago (Rd 3).
2 – Una ripresa ravvicinata della telecamera Driver's Eye (lato destro) alloggiata all'interno del casco di Felipe Massa (ROKiT Venturi Racing).
3 – Felipe Massa (ROKiT Venturi Racing) con in mano il casco da gara e guardando in basso l'obiettivo con la testa accanto alla nuova rivoluzionaria fotocamera.
Fonte: Formula E
Foto: 'Courtesy of Formula E'