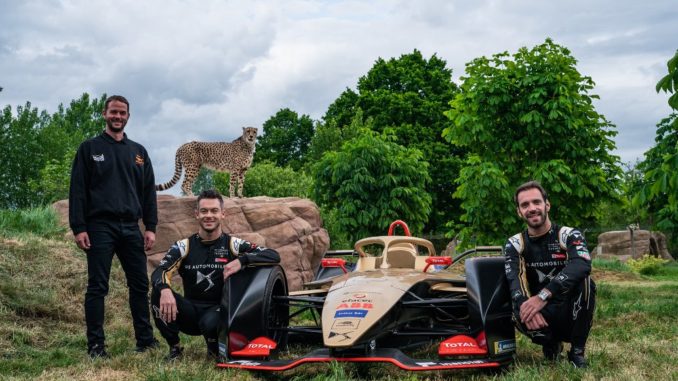 I piloti DS Techeetah André Lotterer e Jean-Éric Vergne hanno vissuto l'incredibile opportunità di incontrare i fratelli ghepardi Keene e Bajrami.
Dopo questo "incontro", le loro auto da corsa DS E-Tense FE19 hanno preso il loro nome.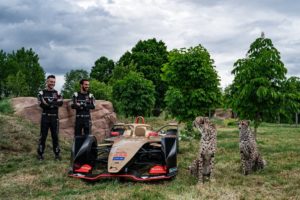 Hanno anche avuto l'opportunità unica di nutrire a mano il cucciolo di ghepardo, Willow, tutto al The Big Cat Sanctuary (BCS), il partner di beneficenza di DS Techeetah.
I piloti DS Techeetah hanno avuto la possibilità di essere i primi esterni al mondo a dare da mangiare a Willow in un'asta di beneficenza ospitata da DS Techeetah che ha raccolto migliaia di sterline per il lavoro di welfare, allevamento, educazione e conservazione di BCS.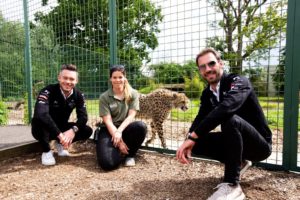 Willow, il ghepardo BCS famoso per il documentario della BBC, Big Cats About the House e mascotte adottata del team DS Techeetah, è stato allevato a mano dal The BCS Director of Cats and Conservation, Giles Clark e il team di BCS Keeper, dopo un infortunio che ha lasciato il cucciolo vulnerabile.
Oggi meno di 7000 ghepardi rimangono in libertà dove affrontano enormi sfide per sopravvivere. Fattori come un aumento nell'agricoltura di massa e nell'agricoltura in tandem con il cambiamento climatico globale significano meno prede e habitat e con un aumento del bracconaggio, del commercio illegale di animali selvatici e di conflitti tra uomini e animali, il ghepardo è a rischio di estinzione.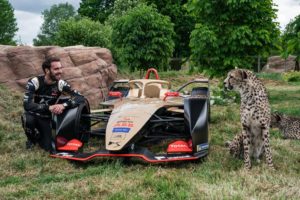 DS Techeetah e The Big Cat Sanctuary hanno collaborato per aumentare la consapevolezza e i fondi per migliorare ulteriormente il benessere, l'allevamento, l'educazione e la conservazione dei Big Cat in via di estinzione in tutto il mondo. Questa partnership è in linea con la lotta del team per fermare il cambiamento climatico sviluppando la tecnologia delle auto elettriche e guidando l'innovazione attraverso l'industria automobilistica. Ciò avrà un grande impatto nella protezione e nella conservazione degli ecosistemi e della fauna selvatica con più veicoli elettrici sulla strada.
Mentre auguriamo a tutti i grandi felini di rimanere in libertà e la nostra ambizione è di rilasciare i gatti anche in natura, per alcuni non è possibile, e diventano i nostri gatti ambasciatori presso The Big Cat Sanctuary. Qui svolgono un ruolo cruciale nell'allevamento e nella creazione di consapevolezza per la condizione della specie.

Raccogliere fondi e consapevolezza sono due delle cose più importanti per un ente di beneficenza ed è per questo che abbiamo stretto una partnership con DS Techeetah e perché abbiamo creato un'appartenenza unica con il team. Attraverso la piattaforma globale del campionato ABB FIA Formula E, in cui DS Techeetah è l'attuale leader del campionato, speriamo di invogliare un pubblico da tutto il mondo e sperare che tutta la famiglia della Formula E salga a bordo e ci aiuti nella nostra missione di "mettere prima i ghepardi – ha dichiarato Giles Clark, Direttore di Cats and Conservation presso The Big Cat Sanctuary.

La partnership con The Big Cat Sanctuary è molto vicina ai nostri cuori. Come team siamo molto appassionati dei nostri progetti e partner e garantiamo sempre azioni concrete per un domani migliore con tutti i nostri partner.

Quello che abbiamo qui è un'opportunità unica e molto reale per salvare effettivamente le specie di ghepardi e sollecitiamo davvero tutti coloro che sono coinvolti o stanno guardando la Formula E a salire sul progetto più degno del paddock. Abbiamo creato un abbonamento unico su misura per la comunità di Formula E in cui tutti possono essere coinvolti per aiutare a salvare le specie di ghepardi – ha affermato Keith Smout, DS Commercial Chief Officer di Techeetah.
Fonte: DS Techeetah Formula E Team