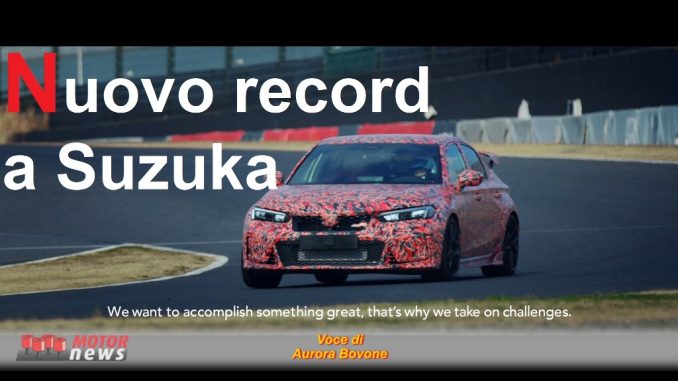 Nella puntata 9 di Motor News parliamo di Spoticar, Honda Civic Type R, Citroën C5 Aircross, C5 X, My Ami Buggy, Jaguar e Alexa e Justien Bieber con la Vespa.
Di seguito tutti i video…
Garanzia e sicurezza Spoticar per un usato sicuro
Il brand Spoticar del gruppo Stellantis per il second hand, seleziona il miglior usato in circolazione e garantisce un elevato standard di sicurezza e manutenzione passando al setaccio ogni veicolo per individuare anomalie e situazioni da correggere. Offre un'ampia selezione di oltre 8000 auto usate per ogni categoria, tra cui sempre più modelli di ultima generazione sia elettrici che ibridi selezionate dalla rete ufficiale.
Nuovo record della Honda Civic Type R a Suzuka
La nuova generazione di Honda Civic Type R ha stabilito un nuovo record sul giro per un'auto a trazione anteriore nel celebre Circuito di Suzuka in Giappone, completando il lungo tracciato di 5,8 km in 2 minuti e 23 secondo 120 millesimi secondo il cronometro di Honda, ovvero 873 millesimi di secondo in meno rispetto alla Honda Civic Type R Limited Edition che l'ha preceduta.
Servizio con la voce di Aurora Bovone.
The spirit of Honda R and the new record at Suzuka
Honda developed the Civic Type R thinking about Honda Spirit, with a mission to embody Honda's ultimate desired performance. The car pushed over the limits and signed a new front wheel drive track record at Suzuka Circuit.
In italiano – Lo spirito della Honda R e il nuovo record a Suzuka
Honda ha sviluppato la Civic Type R pensando allo spirito di Honda, con la missione di incarnare le massime prestazioni desiderate da Honda. L'auto ha superato i limiti e ha firmato un nuovo record in pista per le vetture a trazione anteriore sul circuito di Suzuka.
Video in lingua giapponese con sottotitoli in inglese.
Audacia e innovazione con Citroën C5 Aircross, C5 X e My Ami Buggy
Le ultime novità all'interno della gamma Citroën quali C5 Aircross, C5 X e My Ami Buggy, offrono un'esperienza a bordo inedita e orientata al benessere.
Elena Fumagalli, responsabile delle Pubbliche Relazioni di Citroën Italia, illustra i due primi modelli in questo video.
Alexa in Jaguar
The new Jaguar F-Pace 400 Sport and 300 Sport, like all other models in the range, now have Amazon Alexa as standard. Seamlessly integrated into the car, this feature brings the familiar Alexa convenience to the driver and passengers of the F-Pace and offers classic voice interaction with some Jaguar Pivi Pro system specific features, including navigation, multimedia playback, podcast playback and audiobooks, the management of phone calls and integration with compatible smart devices.
In italiano – Alexa in Jaguar
Le nuove Jaguar F-Pace 400 Sport e 300 Sport, come tutti gli altri modelli della gamma, ora hanno di serie Amazon Alexa. Perfettamente integrata nell'auto, questa funzionalità regala la familiare praticità di Alexa a pilota e passeggeri della F-Pace e offre la classica interazione vocale con alcune funzionalità specifiche del sistema Jaguar Pivi Pro, compresa la navigazione, la riproduzione multimediale, la riproduzione di podcast e audiolibri, la gestione delle telefonate e l'integrazione con gli smart device compatibili.
Video in lingua inglese.
Justin Bieber x Vespa
Vespa has always inspired the imagination of artists, stylists and designers from all over the world. In recent years, big names such as Giorgio Armani, Christian Dior and Sean Wotherspoon have been able to combine the unmistakable style of Vespa with their creativity, creating exclusive collections. Now it is the turn of an extraordinary and unprecedented collaboration in the world pop scene: Justin Bieber, international music star with millions of fans all over the world, and Vespa unveil Justin Bieber x Vespa, a new exclusive Vespa model conceived and personally designed by popstar, who talks about his experience in this video.
In italiano – Justin Bieber x Vespa
Vespa da sempre ispira l'immaginazione di artisti, stilisti e designer di tutto il mondo. In questi ultimi anni, grandi nomi come Giorgio Armani, Christian Dior e Sean Wotherspoon hanno saputo unire lo stile inconfondibile di Vespa con la loro creatività, realizzando collezioni esclusive. Ora è la volta di una collaborazione straordinaria e inedita nel panorama pop mondiale: Justin Bieber, star internazionale della musica con milioni di fan in tutto il mondo, e Vespa svelano Justin Bieber x Vespa, un nuovo esclusivo modello di Vespa pensato e disegnato personalmente dalla popstar, che racconta la sua esperienza in questo video, in lingua inglese.
Di seguito, le anteprima fotografiche dei video…