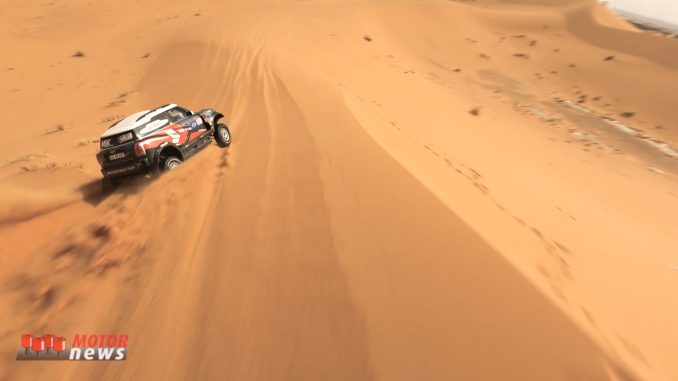 Nella puntata 23 di Motor News, servizi riguardo Honda Civic, Nuovo DS 7 e l'intervista al Managing Director Eugenio Franzetti e la presentazione del Rally du Maroc.
Di seguito tutti i servizi video…
Mezzo secolo di Honda Civic
Quest'anno Honda celebra i 50 anni della sua iconica Civic. Sviluppata come 'auto per il mondo', più di 27,5 milioni di Civic sono state vendute in 170 Paesi fin dal suo primo lancio avvenuto nel 1972. La prima Civic, prodotta a Suzuka e sviluppata come auto globale per tutti i mercati, fu in grado di offrire un'eccezionale praticità nella guida quotidiana. Civic diventò il primo veicolo a conformarsi alla più severa normativa al mondo sulle emissioni, il Clean Air Act del 1970, che ha definito lo standard per i futuri obiettivi di emissione nel settore mondiale dell'industria automobilistica.
Servizio con la voce di Lilia Marcucci.
DS in viaggio verso il futuro
Nella presentazione di Nuovo DS 7 avvenuta a Milano nello Step, il Managing Director Eugenio Franzetti illustra gli ultimi passi di DS Automobiles in Italia, parlano non solo del nuovo prodotto, bensì del mercato e dell'offensiva prodotto del marchio premium parigino che è all'interno della galassia Stellantis.
Nuovo step per DS Automobiles
Eugenio Franzetti, Managing Director DS Italy, spiega il motivo per cui la nuova DS 7 rappresenta un nuovo step per il marchio premium del Gruppo Stellantis. Nell'intervista di Motor News, Franzetti parla anche dell'andamento del mercato e della filosofia dell'elettrificazione.
Details of the 2022 Rallye du Maroc
Three months before the 2022 Rallye du Maroc, which will take place from October 1st to 6th, David Castera revealed the details of the 2300 km loop around Agadir that will take the competitors of the 22nd edition along the Atlantic coast.
Video in French language.
In italiano – Dettagli del Rallye du Maroc 2022
Tre mesi prima del Rallye du Maroc 2022, che si svolgerà dal 1° al 6 ottobre, David Castera ha svelato i dettagli del circuito di 2300 km intorno ad Agadir che porterà i concorrenti della 22a edizione lungo la costa atlantica.
Video in lingua francese.
The words of Amine Echiger, winner of the Rally du Maroc 2021
The Rallye du Maroc and its major partners have set themselves the goal of making the African continent, the birthplace and historical home of the rally-raid, a player in our sport. A commitment that has not waited to bear fruit. In the video, Amine Echiger last year winner of the Afriquia Enduro Cup category of the Rally of Morocco, speaks about this new edition.
Video in French language.
In italiano – Le parole di Amine Echiger, vincitore del Rally du Maroc 2021
Il Rallye du Maroc ei suoi maggiori partner si sono posti l'obiettivo di rendere il continente africano, culla e sede storica del rally-raid, un protagonista del nostro sport. Un impegno che non ha aspettato di dare i suoi frutti. Nel video, Amine Echiger vincitore lo scorso anno della categoria Afriquia Enduro Cup del Rally del Marocco, parla di questa nuova edizione.
Video in lingua francese.
Ecco le anteprime fotografiche dei video