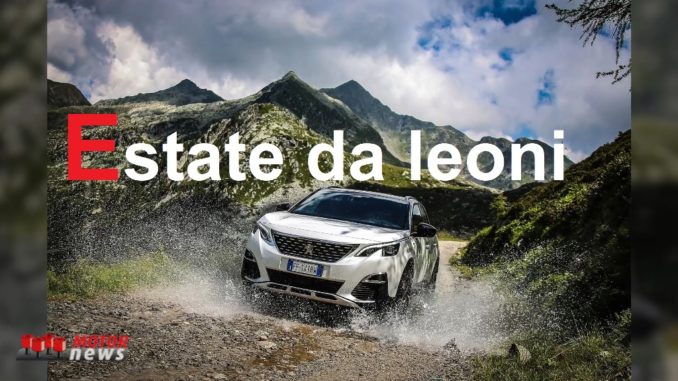 Nella puntata 21 di Motor News si parla delle iniziative di Peugeot per l'estate e Nuova 208, DS 7 Crossback, Seat Ateca 2020 e Nuova Audi Q5.
Di seguito potete vedere tutti i servizi.
Sintesi dell'eccellenza nella Nuova Peugeot 208
Il valore che rende unica la Nuova Peugeot 208 è quello di distinguersi, in un panorama automobilistico dove i modelli sono troppo spesso simili fra loro. Un'auto dalla forte personalità capace di trasmettere modernità ed energia. Nel design, nelle motorizzazioni e nelle soluzioni tecnologiche d'avanguardia, Nuova Peugeot 208 segna un passo importante verso il futuro dell'auto. Dalla nuova firma luminosa al rivoluzionario Peugeot i-Cockpit, ai più avanzati sistemi di assistenza attiva alla guida, alla gamma motori in grado di offrire una grande libertà di scelta: la nuova nata della casa del Leone rappresenta un nuovo riferimento nel segmento di appartenenza. Tante qualità alle quali si aggiunge l'esclusività della versione 100% elettrica, per guidare il futuro già oggi.
Le offerte Peugeot dell'estate 2020
Vacanze in totale serenità con la propria vettura, sottoposta a rigorosi controlli grazie all'offerta "Riparti in gran forma" è l'offerta delle concessionarie e delle officine autorizzate Peugeot. Un servizio ulteriore per i clienti di una gamma completa di modelli, che abbraccia tutte le differenti tipologie di alimentazione, comprese quelle dei nuovi 6 modelli elettrificati già oggi disponibili, con tecnologia 100% elettrica o plug-in hybrid.
Unveiled the new Seat Ateca 2020
Fernando Salvador, Seat Head of Products Communications and Events, speaks about the new Seat Ateca 2020 during the unveiled ceremony and about the four new aspect like refreshed and more emotional design, improved levels of comfort and safety, fully connected user experience and increased efficiency in the engine, In the video, Xavi Villanueva, exterior architecture design, explained different aspects of design.
In italiano – Presentata la nuova Seat Ateca 2020.
Fernando Salvador, Responsabile Comunicazione Prodotto ed Eventi di Seat, parla della Nuova Seat Ateca 2020 durante la presentazione, spiegando i quattro nuovi aspetti in cui si è particolarmente lavorato quali il design più moderno ed emozionale, miglioramenti nei livelli di confort e sicurezza, evoluti sistemi di infotainment e maggiore efficienza del motore. Nel video, Xavi Villanueva, designer e architettura di esterni, spiega alcuni particolari del design.
Prima parte.
Second part about Seat Ateca 2020
In the second part, Joan Roig, Seat head of chassis development, speaks about the automated driving in some scenarios and driving assistance services.
In italiano – Seconda parte del servizio Seat Ateca 2020
Nella seconda parte, Joan Roig, Responsabile Seat dello sviluppo telaio, parla della guida autonoma in determinati scenari e dei servizi di assistenza alla guida.
Tecnologia e stile distintivo di DS 7 Crossback
Da una parte il design, dall'altra la tecnologia, entrambi uniti nel fornire un insieme di emozioni che rendono DS 7 Crossback decisamente particolare. L'attenzione del pubblico nei confronti di DS 7 Crossback è ampiamente giustificata perché la sua personalità riesce a esprimersi anche a vettura ferma, mentre all'accensione inizia il gioco dei luminosi fari che compongono il sistema DS Led Vision.
Servizio con la voce di Lilia Marcucci.
Più tecnologica e dinamica la nuova Audi Q5
La nuova Audi Q5 è più tecnologica e dinamica, con design più grintoso, gruppi ottici posteriori con tecnologia OLED e propulsori ibridi plug-in con motore TFSI. Esternamente, nella nuova vettura le prese d'aria laterali possono contare su di un superiore sviluppo longitudinale e su inserti decorativi trapezoidali. Grazie alle luci diurne, i proiettori a LED vantano un'inedita firma luminosa.