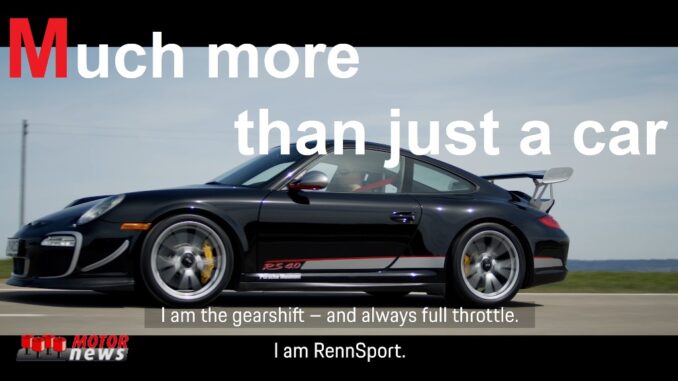 Nella puntata 16 di Motor News parliamo di storia e prodotto di BMW, Porsche Carrera, Nuova Mercedes Benz GLC e Militem FERŌX500.
Di seguito i servizi video…
Cento anni della fabbrica BMW di Monaco di Baviera
Il BMW Group festeggia il 100° anniversario del suo stabilimento di Monaco di Baviera, conosciuto come il quattro cilindri. L'azienda produce i suoi prodotti come "Bayerische Motoren Werke" nel sito del distretto di Milbertshofen dal 1922.
Porsche Carrera, much more than just a car
"Duck tail", "RS" or "2.7": the Porsche 911 Carrera RS 2.7 is known today by various nicknames. But its importance remains undisputed: it was the fastest German production car of its time and it is the first production model with front and rear spoilers, which earned it the nickname "duck tail". This is how Porsche launched the fashion for rear spoilers on production cars in 1972. The development of the 911 Carrera RS 2.7 began around 50 years ago. "The 911 Carrera RS 2.7 was conceived as a special homologation car. It had to be a very light and fast sports car," recalls Peter Falk, who was then in charge of testing Porsche series cars.
In italiano – Porsche Carrera, molto di più di una semplice macchina
"Coda d'anatra", "RS" o "2.7": diversi sono i soprannomi con cui è nota oggi la Porsche 911 Carrera RS 2.7. Ma la sua importanza resta indiscussa: è stata l'auto tedesca di serie più veloce del suo tempo ed è il primo modello di serie dotato di spoiler anteriore e posteriore, il quale le è valso il soprannome di "coda d'anatra". È così che, nel 1972, Porsche ha lanciato la moda degli spoiler posteriori sulle vetture di serie.L'inizio dello sviluppo della 911 Carrera RS 2.7 risale a circa 50 anni fa. "La 911 Carrera RS 2.7 era stata concepita come una vettura ad omologazione speciale. Doveva essere un'auto sportiva molto leggera e veloce", ricorda Peter Falk, all'epoca responsabile dei collaudi delle auto di serie a marchio Porsche.
Video in lingua inglese.
L'esclusività ibrida della Nuova Mercedes Benz GLC
Esclusività moderna e sportiva: è ciò che rappresenta la Nuova Mercedes Benz GLC sotto ogni aspetto. È la vettura più dinamica della fortunata famiglia di SUV firmati Mercedes Benz, come si nota immediatamente dal design, con proporzioni uniche, superfici tese, spigoli precisi, interni pregiati e ben definiti. GLC è disponibile esclusivamente in versione ibrida: come ibrida plug-in o come mild hybrid a 48 V e alternatore-starter integrato. I modelli ibridi plug-in offrono un'autonomia di oltre 100 chilometri (WLTP), perfetti per consentire di guidare in modalità prevalentemente elettrica nei tragitti quotidiani.
BMW X7, modello di lusso di maggior successo della casa bavarese
Con la sua inimitabile combinazione di esclusività, estrema dinamicità e spazi lussuosi e versatili, la BMW X7 è rapidamente diventata il modello di lusso BMW di maggior successo.
Servizio con la voce di Marco Cereda.
FERŌX500 e il nuovo segmento Extreme Utility Vehicle
In occasione dell'apertura ufficiale della sua prima concessionaria in Germania, Autohaus Ulmen a Düsseldorf, Militem ha presentato in anteprima internazionale il suo nuovo modello supersportivo: la FERŌX500 che monta un motore V8 HEMI di 6.417 cc in grado di erogare 470 CV a 6.000 giri/min.
FERŌX500 dà vita alla nuova categoria EUV (Extreme Utility Vehicle); unità estremamente potenti adatte a qualsiasi condizione.
Ecco le anteprime fotografiche dei video…