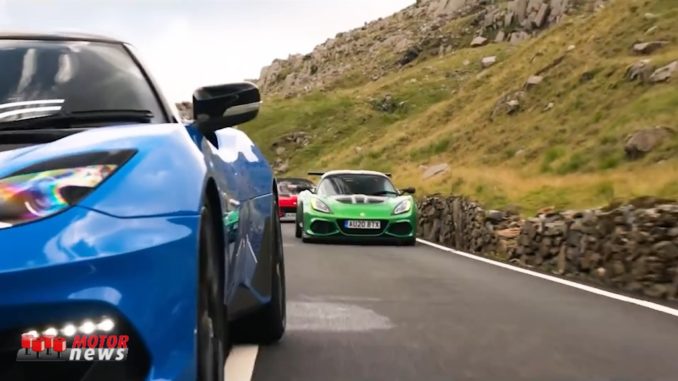 Nella 13esima puntata di Motor News del 2021 parliamo di Citroën, Peugeot, Volkswagen, la partnership tra Radford e Lotus e Land Rover che rinnova con Virgin Galactic.
Di seguito tutti i servizi video della puntata…
Sintesi delle news di aprile di Citroën
Audacia e innovazione per un'esperienza di viaggio nella massima serenità. Citroën C5 X incarna perfettamente la filosofia della Marca del Double Chevron. Citroën C1, la city car compatta che esprime vitalità, ingegnosa, pratica e agile, viene ora offerta anche nella nuova serie speciale Millenium.
Peugeot e Nucita vincono il Rally di Sanremo 2 ruote motrici
Al Rally di Sanremo, secondo appuntamento della stagione, Andrea Nucita bissa la vittoria al Ciocco nel Tricolore Due Ruote Motrici, alla guida della Peugeot 208 Rally 4. Grazie a questo successo l'alfiere del Leone e la 208 consolidano il primato e il vantaggio nella classifica piloti, che vede in seconda e terza posizione ancora equipaggi a bordo di vetture del Leone.
Benessere di Nuovo SUV C3 Aircross con il Citroën Advanced Comfort
Nuovo SUV C3 Aircross è stato progettato con il programma Citroën Advanced Comfort per offrire un benessere globale per tutti i passeggeri. Questi esclusivi sedili Advanced Comfort amplificano il benessere a bordo offrendo al contempo morbidezza e un corretto sostegno, occupando un ruolo di rilievo nel comfort che offre il veicolo, con i suoi quattro distinti parametri che hanno il compito di garantire un livello di comfort dei sedili paragonabile a quello della propria poltrona di casa.
Nel video, la parola di Guillaume Lecombe, chef de produit SUV C3 Aircross 2021.
Nuova Volkswagen Tiguan Allspace
Dotata di equipaggiamenti di prima classe, la nuova Volkswagen Tiguan Allspace è perfetta per le famiglie e come moderno SUV multiuso dotato di trazione anteriore o intelligente sistema di trazione integrale 4MOTION. Nuovi ed evoluti sistemi di assistenza come Travel Assist (guida assistita fino a 210 km/h) conducono a destinazione i passeggeri in tutto relax e nel massimo comfort. Con il sistema modulare di infotainment di terza generazione MIB3, la Volkswagen consente la connettività migliore possibile e numerosi servizi online.
Servizio con la voce di Aurora Bovone.
British partnership between Radford and Lotus
The first Radford car will be based on Lotus technology, following a partnership announced with the legendary British sports car manufacturer's consultancy arm – Lotus Engineering. Already in advanced development, the new bespoke Radford model will be fully revealed later this year. Radford recently revitalised by leading designer Mark Stubbs, broadcaster and motor specialist Ant Anstead, former FIA Formula One World Champion, Jenson Button and leading business adviser and lawyer Roger Behle.
In italiano – Partnership britannica tra Radford e Lotus
La prima vettura Radford sarà basata sulla tecnologia Lotus, a seguito di una partnership annunciata con il leggendario ramo di consulenza del produttore britannico di auto sportive, Lotus Engineering. Già in fase di sviluppo avanzato, il nuovo modello Radford su misura sarà completamente rivelato entro la fine dell'anno. Radford è stata recentemente rivitalizzata dal famoso designer Mark Stubbs, dall'emittente televisiva e specialista di motori Ant Anstead, dall'ex campione del mondo di Formula 1, Jenson Button e dal principale consulente aziendale e avvocato Roger Behle.
Rinnovato l'accordo tra Land Rover e Virgin Galactic
Land Rover ha annunciato il prolungamento triennale della sua partnership globale con Virgin Galactic, la prima "linea aerea spaziale" commerciale al mondo. Il nuovo spazioplano Virgin Galactic è stato presentato con il supporto della Range Rover Astronaut Edition. Land Rover prenderà parte all'operatività quotidiana della Virgin Galactic fino al completamento dei voli di collaudo della "SpaceShipTwo" e all'inizio del regolare servizio commerciale.
Servizio con la voce di Aurora Bovone.
Di seguito le anteprime fotografiche dei video della puntata…