Ci sono automobili nate per lasciare il segno e una di queste è la Ford Mustang che ora raggiunge il numero di 10 milioni di auto prodotte.
Ford Mustang è da 50 anni l'auto sportiva più venduta negli Stati Uniti, e, per il terzo anno consecutivo, è stata incoronata come la vettura sportiva più venduta al mondo.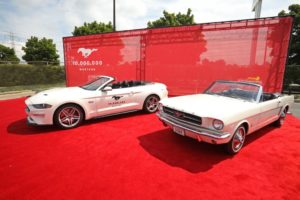 L'esemplare numero 10.000.000, costruita presso il Flat Rock Assembly Plant di Ford, in Michigan è una Ford Mustang GT convertible Wimbledon White equipaggiata con motore V8 da 450 CV e cambio manuale a sei rapporti, così come la prima Mustang di produzione (VIN 001), del 1964, dello stesso colore e modello, ma equipaggiata con motore V8 da 164CV e trasmissione manuale a tre rapporti.
Mustang è il cuore e l'anima di questa azienda, oltre a essere una delle auto più amate al mondo – ha dichiarato Jim Farley, President of Global Markets, Ford Motor Company. Quando vedo una Mustang sfrecciare per le strade di Detroit, Londra o Pechino, provo la stessa emozione di quando acquistai la mia prima auto: una Mustang del 1966 che mi ha accompagnato ovunque per tutta la mia adolescenza. Mustang è un simbolo universale di buon umore.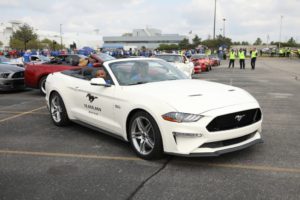 Le celebrazioni, oltre al Flat Rock Assembly Plant, coinvolgeranno anche l'Headquarter di Ford a Dearborn, con la presenza di tre aerei da combattimento P-51 Mustang della seconda guerra mondiale e la parata di esemplari della hero car realizzati nei cinque decenni da Dearborn al Flat Rock, dove la Mustang è attualmente prodotta.
Durante i suoi 54 anni di produzione, la Mustang è stata costruita anche a San Jose, in California, a Metuchen, nel New Jersey, e, inizialmente, a Dearborn, in Michigan.
L'auto sportiva più venduta al mondo
L'iconica Mustang, da 50 anni è l'auto sportiva più venduta negli Stati Uniti, secondo i dati elaborati per Ford da IHS Markit sulle immatricolazioni nel segmento delle coupè sportive nel periodo compreso dal 1966 al 2018.
In Europa, dal lancio avvenuto nel 2015, Ford ha venduto oltre 38.000 esemplari di Mustang.
L'anno scorso, la hero car dell'Ovale Blu, ha superato la Porsche 911 in 13 mercati europei, tra cui il Regno Unito e la Spagna, mentre i primi cinque mercati europei per le vendite di Mustang nel 2017 sono stati Germania, Regno Unito, Francia, Belgio e Svezia.
Più hero che mai

Nel secondo semestre di quest'anno, l'Ovale Blu ha introdotto anche in Europa, la nuova Mustang, caratterizzata da un aspetto più elegante e sportivo, con interni arricchiti dall'uso di materiali soft-touch e da un quadro strumenti LCD da 12''.
I motori aggiornati includono il V8 5.0 da 450 CV e la nuova trasmissione automatica da 10 rapporti capace di un'accelerazione da 0-100 km/h in soli 4,3''. La trasmissione manuale a sei rapporti è equipaggiata dalla tecnologia rev-matching di Ford, che utilizza il sistema di controllo elettronico del motore per sincronizzare l'acceleratore, mentre il guidatore scala la marcia verso il basso, facendo corrispondere la velocità di rotazione del motore a quella del rapporto selezionato, per cambi di marcia fluidi e precisi.
Il divertimento alla guida della nuova Mustang è garantito dalla presenza dei nuovi ammortizzatori MagneRide e dalle funzioni Drive Modes, che ora includono anche la modalità personalizzabile My Mode. La nuova tecnologia di regolazione del sound dello scarico (Active Valve Performance Exhaust) offre l'innovativa modalità Good Neighbour, per una guida più silenziosa durante alcune fasce orarie.
Le tecnologie di assistenza alla guida, disponibili a bordo della nuova Mustang, che migliorano i momenti trascorsi al volante infondendo una maggiore tranquillità, annoverano il dispositivo di frenata automatica d'emergenza con assistenza pre-collisione e riconoscimento dei pedoni (Pre-Collision Assist with Pedestrian Detection) e il mantenimento della corsia di marcia (Lane Keeping Aid).
L'iconica hero car è disponibile anche nell'esclusiva versione BULLITT Limited Edition, che rende omaggio alla leggendaria Mustang GT fastback protagonista, insieme a Steve McQueen, dell'omonimo film del 1968 della Warner Bros. Per l'Italia, ordinabile in soli 68 esclusivi esemplari, nella tonalità Dark Highland Green, equipaggiati con un motore 5.0 V8 potenziato, in grado di "sprigionare" 459 CV e 529 Nm di coppia, abbinato esclusivamente alla trasmissione manuale.
La Mustang, che è oggi alla sua sesta generazione, si conferma leader non solo nelle vendite ma arriva per prima anche nei cuori degli appassionati: la sua pagina Facebook, infatti, detiene il primato per il numero di like rispetto a qualsiasi altro modello.