It's the major eBus fleet order received by BYD in Europe, a total of 55 eBus order from Vy Buss in Norway that includes BYD's new Class II 13 metre model.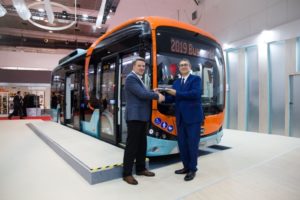 Vy Buss is the Norway's government-owned national rail and bus transport provider.
The order has been confirmed at an official signing ceremony on BYD's show-stand at Busworld in Brussels on 22nd October – attended by Ole Engebret Haugen, CEO at Vy Buss – Hans Petter Sundberg, CTO at Vy Buss – Javier Contijoch, Vice President of Sales at BYD Europe – and Edison Yin, Regional Manager Nordic at BYD Europe.
The order will be delivered next year, and is the first time that Vy Buss has invested in such a major fleet replacement for electric buses.
Vy Buss, which operates in Norway and Sweden, also becomes the first customer worldwide to order BYD new 'Class II' 13 metre eBus, with BYD the first electric bus manufacturer in Europe to introduce the Class II to its range.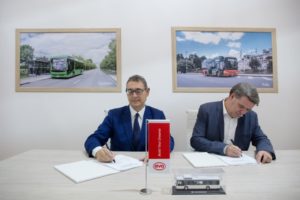 The Class II eBus which is equipped with new upgraded battery technology provides extended range and 'city-to-city' capability. The new Class II 13 metre eBus has 45 seats with high passenger capacity. The new model will benefit from BYD's new and highly efficient air conditioning system to further reduce CO2 emissions.
The 55 BYD eBus fleet order comprises various models from the BYD range including 28 new Class II 13 metre variant. Other models in the order include 20 standard 12 metre eBuses and seven 18 metre articulated eBuses. All vehicles will be delivered in the second quarter of 2020 and will go into service on routes in the municipalities of Oslo, Hamar and Haugesund.
Source: BYD