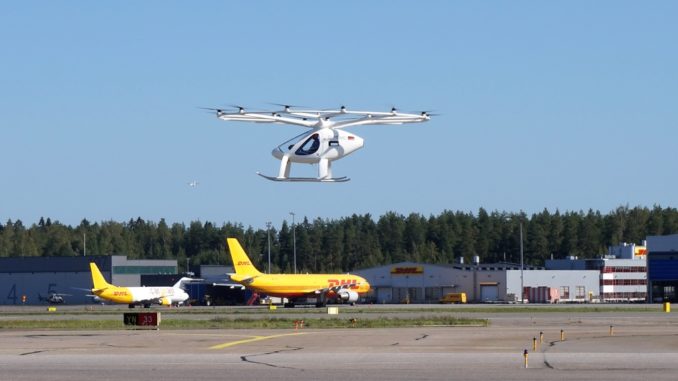 There is always a first time and for Volocopter the first flight at international airport arrived in Helsinki, last August 29th, with a successfull integration in airspace traffic.
The Volocopter 2X was integrated into the airspace of Helsinki international airport. This was the first time an eVTOL airtaxi has flown fully integrated into the air traffic management system at an international airport.
In fact, Volocopter performed a flight at the Helsinki International Airport successfully integrated into both the Air Traffic Management (ATM) and Unmanned Aircraft System Traffic Management (UTM) system. Within the Single European Sky ATM Research (SESAR) Programme this demonstration is the final leg of the Gulf of Finland (GOF) u-space project showing how ATM and UTM systems enable Urban Air Mobility (UAM).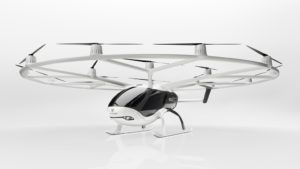 Urban environments require reliable solutions to enable safe airspace operations given the increasing number of drones and manned aircraft over cities. The GOF U-space flight trial demonstrated how ATM and UTM can act in combination to enable safe and efficient air taxi operation in urban environments, including airports.
Air Traffic Management is an essential part of aviation keeping all air traffic participants in controlled airspace safe and ensuring efficient operations. Today, the system is primarily used by commercial airliners. New aviation technologies such as drones or air taxis plan to fly in the Very Low-Level Airspace (VLL), which is not yet controlled. SESAR is the technological pillar of Europe's ambitious Single European Sky (SES) initiative to create one coordinated and integrated airspace for commercial, general and drone aviation alike. It pools all EU research and development activities in ATM, with more than 3,000 experts from around the world to develop the new generation of ATM.
As air traffic continues to rise in number and kinds – especially with the arrival of unmanned aircrafts and air taxis, the technology and rules for using VVL airspace needs updating – said project coordinator Maria Tamm from Estonian Air Navigation Services (EANS).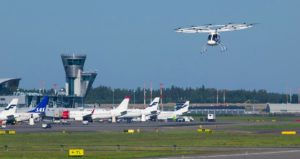 This is where SESAR comes into place and particularly the GOF U-space project for the integration of UTM into the ATM systems or connecting the uncontrolled and controlled airspace. The demonstration at Helsinki airport showed that various systems are ready to safely and efficiently manage air taxi operations, their related services and subsequent interaction within existing aviation and airspace activities.
Volocopter performed a series of tests with three different leading UTM service providers, namely AirMap, Altitude Angel and Unifly participating in the project for UTM systems and services for the VLL airspace. The providers were tested for compatibility, functionality and usability. For the tests, Volocopter integrated the necessary software and hardware (position report sensor) to perform different test scenarios including ground tests, unmanned and piloted flights. It shows that Volocopter can avail itself of a variety of existing UTM services once in operation.
We are happy to say that all providers we tested were compatible with the Volocopter systems – said Jan-Hendrik Boelens, CTO of Volocopter. As a member of the SESAR consortium, we have the rare opportunity to work at the forefront of integrating ATM/UTM with all relevant stakeholders at the table: regulators, airports, air navigation service providers and UTM providers. This pan-European ATM initiative puts another indispensable part of Urban Air Mobility ecosystem into place. We know that air taxi technology is viable: certification has been defined by the EASA, we will build our first VoloPort infrastructure before the year is out and with the GOF U-Space demonstration we have now shown that the existing UTM technologies are viable for UAM. The indispensable aspects of the ecosystem exist, now it's time to bring Urban Air Mobility to life.
GOF U-Space will present the result of all trials over the past year in early October in Helsinki and Tallinn respectively. These events are open for the public. The Volocopter will next fly publicly in Stuttgart, Germany on 14 September and present its VoloPort structure later this year in Singapore.
Source: Volocopter