The first ever crewed public test flight of an eVTOL air taxi in South Korea has been completed by Volocopter 2X aircraft in Seoul.
The Republic's Minister for Land, Infrastructure, and Transport (MoLIT) Noh Hyeong Ouk, together with senior officials from Delegation of the European Union to the Republic of Korea and German Embassy, witnessed the historical test flight, which marks a milestone in Volocopter's plan of introducing air taxis globally.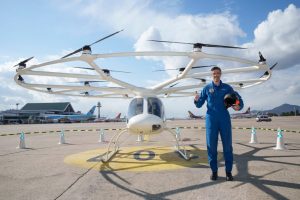 The 5-minute crewed test flight took place at Gimpo International Airport, covered a distance of approximately 3 kilometers, reached a maximum altitude of 50 meters and maximum speeds of 45 km/h. The test flight was part of the MOLIT's UAM demonstration event – 'Open the Urban Sky'.
Seoul is the second city in Asia that Volocopter has conducted a test flight following the first successful public flight trial over Singapore's Marina Bay area in 2019.
Volocopter has been leading the pack in the UAM sector with a family of electrically powered aircraft that can transport passengers (the VoloCity and VoloConnect) and goods (the VoloDrone). It is the only eVTOL company that has obtained design and production organization approvals (DOA and POA) from European Union Aviation Safety Agency (EASA).
Volocopter is scheduled to conduct a public test flight at Incheon airport on 16 November (weather permitting) during K-UAM Confex 2021, which will be attended by the President of Incheon International Airport Corporation and Mayor of Incheon Metropolitan City.
Source: Volocopter