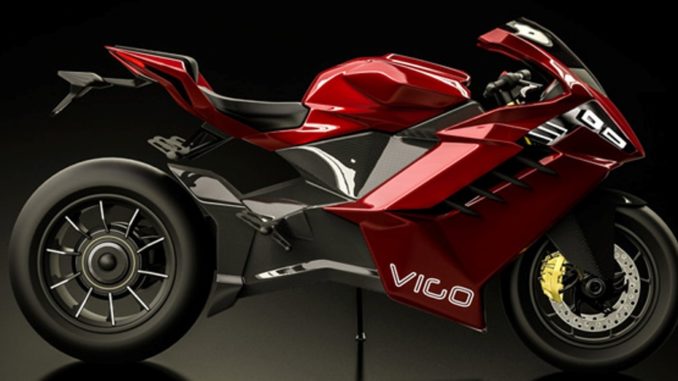 A breakthrough electric motorcycle with a range of up to 400 miles, enormous power and acceleration
Source: Vigo Motorcycles
Cambridge UK. The Vigo Motorcycle will potentially be one of the world's most advanced fully electric motorcycle with up to 400 miles range, incredible power that reaches 60 mph or 100kmh in 3.2 seconds.
Vigo motorcycle gracefully combines together a previously unchangeable range of up to 400 miles per charge, extreme power, magnificent design and cutting-edge technologies.
The following range has been compiled using 80% city, 20% highway environment with an average speed of 45 mph. Factors like: weight load, speed, adaptive braking ratio might gradually reduce the overall range of the vehicle. Values have been calculated taking into consideration specifications of used components.
Currently the motorcycle produces a maximum of 72db but the engineers are working on increasing it as well as improving its sound.
Government incentives towards the purchase of plug-in electric vehicles have been also established following EU countries: Belgium, France, Germany, Hungary, Iceland, Ireland, Netherlands, Norway, Romania, Spain, Sweden and many tax benefits are applied for electric motorcycle owners.
In the United Kingdom electric motorcycles are fully exempt from fuel duty as well as there is no Vehicle Excise Duty (also known as "road tax") and for electric vehicles.
Timothy Sergeev, Vigo Motorcycles Founder and Executive
Born in USSR. Studied in St. Petersburg and London. Have a thorough knowledge in IT, Electronics, Motorcycles Engineering, International Trading.
He said: "The internal-combustion engine is an outdated technology. The motorcycle industry hasn't evolved much for decades. Motorcycles of the future must be attractive, affordable and environmentally safe, like the Vigo Motorcycle will be".
Technical features
Range, max 400 miles (640 km)
Battery Capacity 21kWh
Life 250 000 miles (400 000 km)
Charging Time Regular: 7-12 hours
Rapid: 20-30 min
Cost to Recharge Approximately £2.5 (€2.94, $3.12) from household power supply
Motor High efficiency, brushless, magnetless, asynchronous, direct-drive AC motor
Motor Power, max 90kW (120 hp)
Torque, max 350 Nm
Speed, max 180 mph (290 kmh)
Motorcycle Dimensions
Length: 85′ (215 cm)
Height: 50′ (127 cm)
Width: 35′ (88 cm)
Seat Height: 33.1′ (84 cm)
Motorcycle Weight, total 350 pounds (160 kg)
PRICE (ex. VAT)* Estimated Retail Price: £7,999 (9,799 USD, 9499 EUR)
*Estimated Retail Price might change by the time of mass production. Discount Coupon Code gives you a discount off the final retail price. VAT excluded from all prices. Please check tax benefits for electric vehicles in your country in advance.
no images were found