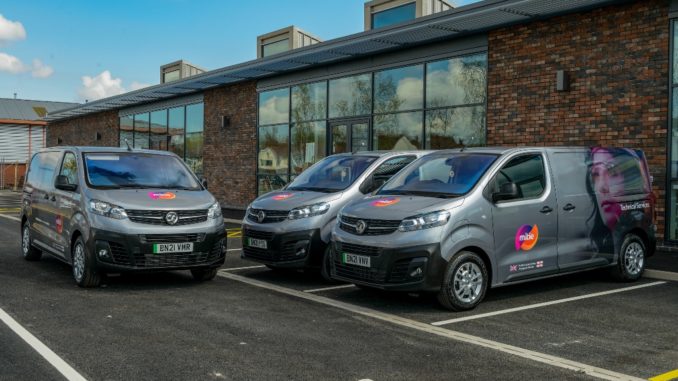 Vauxhall, il marchio britannico gemello di Opel, fornirà a Mitie 655 Vivaro-e elettrici con i quali arriverà a mille veicoli elettrici nella propria flotta.
Mitie è una delle principali società di fornitura di servizi professionali e di gestione di strutture pubbliche e private.
Il primo Vivaro-e è già stato consegnato, sarà usato da un tecnico Mitie ed è stato allestito in modo speciale per poter trasportare tutta l'attrezzatura necessaria riducendo il peso al minimo, massimizzando così l'autonomia della batteria.
Opel Vivaro-e è versatile e flessibile quanto ogni altro Vivaro e le sue portate sono paragonabili a quelle di veicoli commerciali simili con motori a combustione interna. Per esempio, la portata di Opel Vivaro-e Cargo S è pari a circa 1.200 kg, analoga a quella della versione diesel 2.0 litri.
I clienti possono scegliere tra batterie agli ioni di litio di due dimensioni, in base alle loro esigenze: da 75 kWh per un'autonomia fino a 330 km oppure, per chi utilizza quotidianamente il veicolo in modo meno intenso, da 50 kWh con un'autonomia fino a 230 chilometri, entrambe nel ciclo WLTP1. Le batterie sono posizionate sotto il vano di carico, in modo da non comprometterne la praticità.
Simon King, Responsabile Sostenibilità e Valori Sociali di Mitie, ha dichiarato:
Siamo felici di raggiungere il traguardo storico di 1.000 veicoli a zero emissioni grazie al nostro primo Vivaro-e. Alla nostra flotta se ne aggiungeranno più di 600 nel corso dell'anno e ci permetteranno di avvicinarci all'obiettivo di 2.021 veicoli elettrici nel 2021, per far passare all'elettrico un numero sempre maggiore di operatori Mitie.
Paul Willcox, Amministratore Delegato di Vauxhall, ha commentato:
Siamo orgogliosi che Mitie abbia scelto il nostro Vivaro-e elettrico, unendosi così a un numero crescente di società britanniche d'avanguardia che non accettano compromessi circa la funzionalità della propria flotta ma vogliono allo stesso tempo migliorare l'impatto ambientare e ridurre i costi di gestione.
Opel Vivaro-e è stato nominato International Van of The Year 2021 – conquistando così uno dei premi più ambiti nel settore dei veicoli commerciali leggeri. Si tratta della prima volta che il titolo viene assegnato a un van di taglia media totalmente elettrico. La giuria ha lodato la significativa autonomia a zero emissioni, l'eccellente volume di carico e l'elevato livello tecnologico del veicolo.
Vauxhall ha ricevuto da British Gas un ordine per 3.000 nuovi Vivaro-e elettrici che saranno consegnati nel 2022. La società gemella di Opel consegnerà anche una flotta di dieci Vivaro-e a Riverford, fornitore di frutta e verdura biologica.
[
1
] L'autonomia è stata calcolata secondo la procedura di test WLTP (R (CE) 715/2007, R (UE) 2017/1151). I valori registrati nell'uso quotidiano possono risultare differenti e dipendono da numerosi fattori, tra cui lo stile di guida personale, le caratteristiche del percorso, la temperatura esterna, il riscaldamento/climatizzazione e l'eventuale precondizionamento.
Fonte: Opel Italia