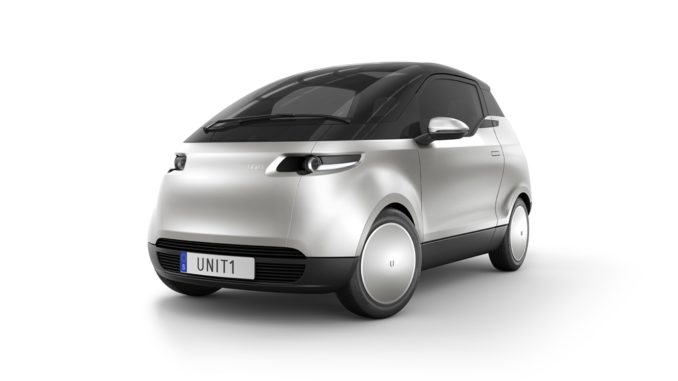 Uniti One is powered by a permanent magnet motor drives the rear wheels, producing an output of 50 kW (68 ps)1 and 85 Nm1 of torque.
A direct benefit of the car's ultra-compact footprint and light-weight construction, the Uniti One's standard 12 kWh battery provides 150 km (93 miles) of range1 from a single charge, while the optional 24 kWh battery extends range to an impressive 300 km (186 miles) 1. A hundred kilometres (62 miles) of range can be added in just ten minutes using a 50 kW CCS charger.
The larger 24 kWh battery can be charged from 20% to 80% in two hours and six minutes1 with a typical domestic 7 kW charger and the optional on-board fast charger installed, or just seventeen minutes via a 50 kW CCS charging unit. The 12 kWh battery option takes one hour and three minutes1 to charge from 20% to 80% (with on-board fast charger), or just nine minutes1 using a 50 kW CCS unit.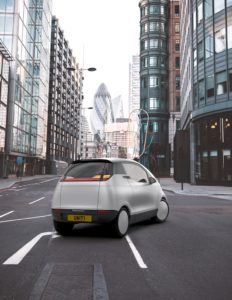 Driver involvement has not been sacrificed in the pursuit of efficiency. The light and agile Uniti One delivers the optimal balance of performance, enjoyment and real-world usability.
The Uniti One's class-leading 8.0 kWh/100km1 efficiency is achieved through a weight-saving ethos evident throughout the car. A combination of purposeful design engineering, appropriate use of materials and innovative manufacturing techniques give the Uniti One a kerb weight of just 600 kg.
Perfectly suited to the urban environment, the Uniti One accelerates from 0-50 km/h (0-31 mph) in 4.1 seconds1 and 0-100 km/h (0-62 mph) in 9.9 seconds1, before reaching its top speed of 120 km/h (75 mph), where permitted and conditions allow.
The Uniti One features two selectable driving modes which adapt the car's characteristics to suit the conditions or driver mood. City mode optimises the car for energy efficiency, providing a smooth and relaxed drive, whereas selecting Boost mode sharpens the accelerator response and adds a little weight to the steering for a more dynamic feel.
Engineered for the city
The Uniti One has been cleverly designed in response to evolving urban environments, vehicle usage and driving patterns. With its compact size and weight, driver-focused ethos and its zero-emissions EV credentials, the Uniti One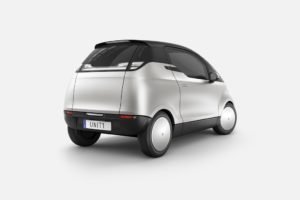 has been engineered for the city.
Its central driving position gives the driver a symmetrical and near-uninterrupted view of the road ahead and minimises obstructions to peripheral vison. This driver-centric layout means that the car can be positioned on the road accurately at all times, giving the driver better awareness both of the vehicle and environment around them.
A wide-angle rear view camera replaces a traditional mirror, providing the driver with outstanding rear visibility via a central digital display, even with two passengers or full load on board.
The chassis and suspension have been optimised to provide a compliant and comfortable ride, tackling the challenges of mixed urban road surfaces with ease. And, at a mere 3,222 mm long and 1,709 mm wide, with mirrors, the Uniti One has a turning circle of just seven metres – making it incredibly agile and manoeuvrable around town.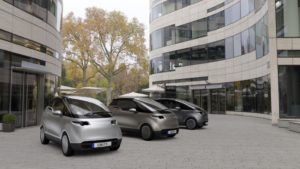 With the batteries situated beneath the floor, the Uniti One has a very low centre of gravity; its bespoke EV platform allow the wheels to be positioned so that front and rear overhang is minimised, increasing agility and stability on the move whilst maximising cabin space and passenger comfort.
Designed to cope with everyday city life, the Uniti One's lower exterior body panels can be easily removed for repair or even replacement. And, by adopting self-coloured materials for the exterior, rather than using paint, the surface is better equipped to withstand minor bumps and scratches.
1Range, charging times and performance figures subject to certification by appropriate authorities.
1Range, charging times and performance figures subject to certification by appropriate authorities.
2Uniti intends to offer important safety and service software updates at no cost to all owners, however, some performance enhancements, additional features or functionality may incur a fee.
Source: Uniti