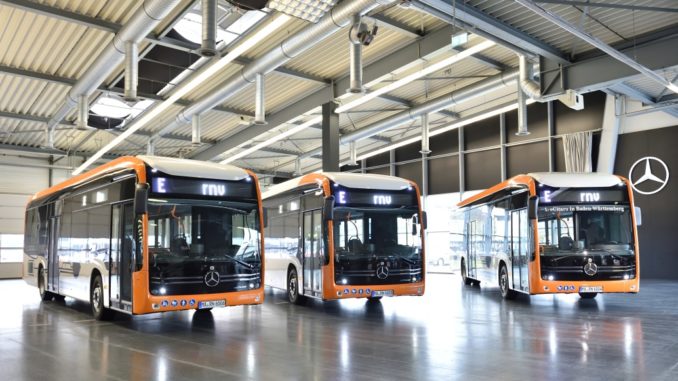 Mercedes-Benz delivered three new electric buses eCitaro to Mannheim and Heidelberg that will be used in the public transport operations in the German cities.
Rhein-Neckar-Verkehr GmbH (rnv) ceremoniously started operation of three fully-electric Mercedes‑Benz city buses. At the bus depot in Mannheim, Till Oberwörder, Head of Daimler Buses, and Martin in der Beek, Technical Managing Director at rnv, presented the new eCitaro buses in the presence of Dr. Peter Kurz, Mayor of Mannheim, as well as Christian Specht, first Mayor of Mannheim, and then in the presence of Professor Eckart Würzner, Mayor of Heidelberg.
The eCitaro is redefining conventionally driven bus transportation and is for us the symbol for future-oriented local public transport. A holistic approach is very important to us. That is why we have put together a comprehensive package comprising the vehicle, charging management and consultation with which we are supporting the transport company in its endeavour to electrify its buses – says Till Oberwörder.
Martin in der Beek sees the electrification of bus transportation as a clear company goal:
For us electromobility is the quintessence in modern, environmentally-friendly and sustainable drive system technology. Our city trains have been serving the local public transportation system electrically for more than 100 years. Now, we must do the same for buses. The eCitaro will give our buses a completely new face and will literally provide for better air in the area serviced by rnv.
Dr. Peter Kurz, Mayor of Mannheim, and Prof. Eckart Würzner, Mayor of Heidelberg, praise the far-sighted commitment of rnv with regard to "green urban traffic".
The local public transportation system in Mannheim stands for a holistic concept comprising both buses and trains. The electrification of buses is now an important milestone on the way to a clean city and will make local public transport significantly more attractive.
Prof. Eckart Würzner:
We are delighted that the eCitaro buses have arrived. At the end of January the first electric bus service in the region – our historic city service – can go into operation. This is an important step towards emission-free local transport and a climate-smart city. We hope that production of these buses will now really take off.
Charging technology in the depot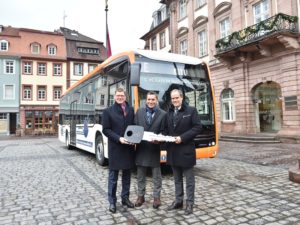 With its charging technology the eCitaro adapts to the conditions provided by rnv. The target is a mileage of 200 km or more for each vehicle which can be achieved with fast charging in the form of top-up charging during breaks in operation. During these breaks another eCitaro will be in operation in Heidelberg and Mannheim, otherwise it would not be possible to meet requirements.
The buses are charged using a combi-2 plug, located on the right in the direction of travel above the front wheel housing. The new ISO 15118 standard offers extended functions which enable for example automatic authentication of vehicles without a separate charging card. With the help of extended data transmission, Mercedes‑Benz developed a function with which automatic control of preconditioning in buses is realised via the charging connector. Thus, there is no need for additional cables or lines for compressed air, low voltage or communication. The newly developed charging device has an output of up to 150 kW and is to be delivered to rnv together with the eCitaro. This guarantees the simplest, fastest and most favourably priced variant of the power supply.
Mercedes-Benz will continue to support the rnv after the buses and charging stations have been purchased: Together with energy management specialists, "The Mobility House" from Munich, Mercedes-Benz is developing and implementing a customised charging management system. Charging is optimised in a way that the connection power of the charging devices and the requirements of the vehicle battery are taken into account.