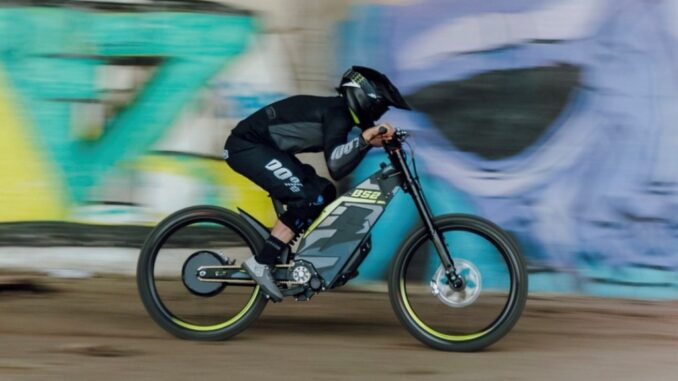 The new Stealth B-52 electric bike has a completely new component that allow the owners to transmit their pedal power to the ground….and that's the new H-Box.
Designed and manufactured in house, the proprietary, Aussie made H-Box has taken a big leap forward over the Gen 1's old V-Boxx. This isn't just variant of the old unit, because they started with a clean sheet to build a transmission that's unique and rugged just like the rest of their bikes.
Those who have owned Gen 1 models will know that when it comes to acceleration, cranking on the pedals with the throttle wide open gets you off the line and up to cruise velocity faster than a lot of motorcycles. The company closely studied the way that they, and their customers usually shift gears to get a better understanding of what it's necessary and what not. Combining 15 years of Gen 1 experience with a lot of intensive design work, the team has managed to reduce the number of moving parts by almost half while providing a much more usable gear cascade… still with the same overall gear range.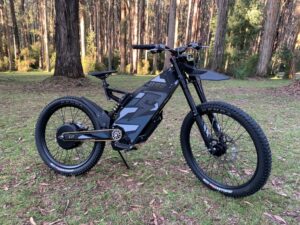 The H-Box's ultra low granny gear is perfect for steep climbs and low speed passes, but the wide ratio gearbox (620%) allows you to keep on pedalling at speeds of up to 80km/h. For fast take offs, synchronising your gears and adding a few hard pedal strokes can increase torque by a factor of 2, while at higher speeds, the wide ratio gearbox provides plenty of options for choosing the right gear and improving your drivetrain efficiency.
Gen 1 users may also remember the Vboxx's old twist grip shifter. While being a fast and efficient way to shift through the gears, it was also prone to accidental gear shifting and false neutrals when your hand would rock back and forth on the grip across rough terrain.
With the H-Box, they've taken a slightly different approach with the introduction of their new H-Shifter, electromechanical shifting system. A simple push of a button allows Gen 2 pilots to quickly and efficiently cycle through the gears without any misfires or unexpected ghost pedalling.
Powered by the B-52's main traction battery, the servomotor-controlled gear shifter has been run through the wringer for over 2 years with absolutely flawless operation. As an added bonus, if you happen to take a wrong turn and run the traction battery completely flat, the H-Shifter's backup power supply automatically kicks in so that you can keep on shifting gears for that long grind home.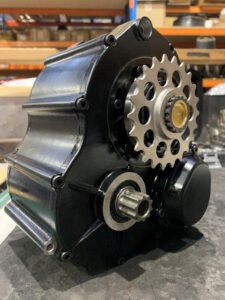 Not everything is proprietary on the H-Box though. This time around they designed the pedal train to be compatible with the ISIS Drive system which gives customers hundreds of styles, lengths and brands of cranks for those who like to finely tune their beasts.
Arguably the coolest feature of the old V-Box was its concentric swingarm pivot which is well known for completely eliminating chain growth when the suspension works through its travel. The H-Box uses the exact same principle but with much bigger pivot bearings to almost completely eradicate torsional flex through the swingarm as the rear wheel is bombing it's way through ruts, whoops and rock gardens.
So how long will it last?
Because it's a Stealth, it's gotta be tough and it's gotta last an eternity. Most products these days are designed for obsolescence giving you a few years of fun before it stops working and you're forced to buy a new one. But that's not the case of this bike.
The company are so confident in the durability of the new H-Box that they're guaranteeing all internal components for 5 years with the only requirement being a simple oil change every 5000km. Beyond 5 years they still don't foresee any major issues and if anything does pop up, Stealth have all of the spare parts needed to back you up and keep your bike running.
Matched with the B-52's legacy lifetime frame warranty, you can expect to be riding your Gen 2 Stealth B52 well into your retirement and beyond.
Source: Stealth