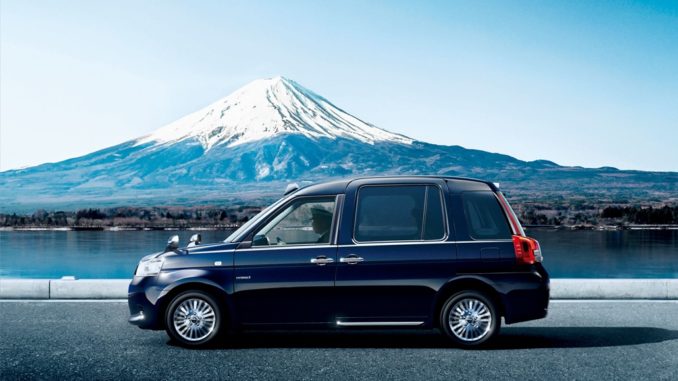 Introducing a people-friendly, next-generation taxi that embodies the spirit of Japanese hospitality
Source: Toyota Motor Corporation
Toyota City, Japan, October, 2017. Toyota Motor Corporation launched a new taxi vehicle, the "JPN Taxi."
The JPN Taxi embodies the spirit of Japanese hospitality. It was developed to provide usability and comfort to a wide range of people, including children, seniors, wheelchair users, and visitors to Japan from abroad.
Toyota aims to change Japan's landscape, develop barrier-free cities, and transform Japan into a tourist-oriented country by promoting the widespread use of its JPN Taxis.
The new model showcases a people-friendly, universal design that provides usability and comfort to a wide range of people through continual innovations and improvements, from grab handles to the overall vehicle structure.
Design features include a low, flat floor, making it easy for customers to ingress and egress from the taxi, a wide-opening, power rear sliding door (left side only) and space to accommodate wheelchair users.
In addition, the taxi is designed to beautifully complement the cityscape while at the same time being easily recognizable as a taxi. This is achieved in part due to the car's styling, which aims to transcend trends and serve as a timeless classic model, as well as the body's deep indigo (koiai) tone, a traditional color that has long been a symbol of Japan.
Furthermore, this model offers the driver an optimal range of vision, in part through innovations to the position and shape of the pillars and the use of fender mirrors.
People-friendly universal design, including low, flat floor and wide-opening rear sliding door.
Environmental performance and power performance were both taken to new levels. By employing a newly developed liquefied petroleum gas (LPG) hybrid system, the new model offers 19.4 km/L fuel economy and sharply reduced CO2 emissions.
Enhancements were made to safety equipment, including adding the Toyota Safety Sense C package and six SRS airbags as standard features.
Technical issues
Monthly sales target for Japan: 1,000 units
Assembly Plant: Higashi-Fuji Plant, Toyota Motor East Japan Inc.
Manufacturer's Suggested Retail Prices
Grade – LPG-hybrid system – Driveline – Price (Japanese Yen)
Nagomi – THS II*2 with reduction gear (1NZ-FXP 1.5-liter) – Front-wheeldrive – 3,277,800
Takumi – THS II*2 with reduction gear (1NZ-FXP 1.5-liter) – Front-wheeldrive – 3,499,200
no images were found