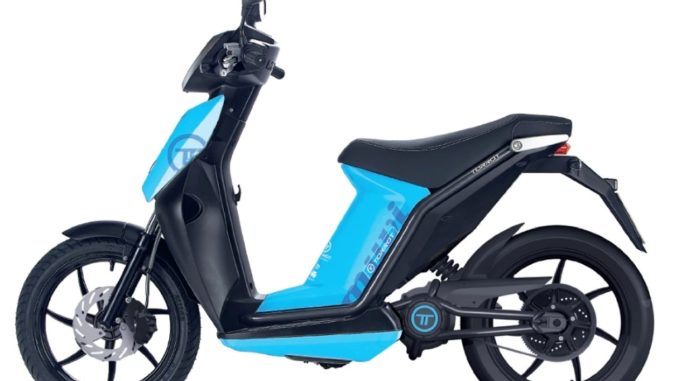 Torrot renovates the image of its emblematic electric scooter and makes even greater improvements in its performance in town
Source: Torrot
Girona, Spain. November 2017. Torrot renovates the image of the Muvi with a proposal full of colours to personalize its emblematic urban electric scooter. The new version receives a new swingarm and improves its power delivery and performance so you can enjoy the city as never before on the most advanced friendly scooter on the market.
Torrot has remodelled the brand flagship of the two wheel sector with a new palette of colours to personalize this electric scooter in a fun way. The new Muvi premieres two new looks. One genuinely 'classic' with soft, dark colours and another decidedly 'bright' with tones full of life.
Torrot's big selling electric scooter also gets improvements to its suspension and internally too, with the aim of increasing performance even more. With this in mind, the new version receives a new swingarm improving stability and introduces configuration changes to increase its power delivery and increase its top speed to operate with total ease in the streets of any city.
City or Executive, two versions according to choice
The new Torrot Muvi has two versions: City, the electrical equivalent to petrol driven mopeds; and the Executive, comparable on an electrical scale to 125 cc engines. Its attractive design lines hide the latest in new technologies. The most agile and fun way to move through the asphalt jungle. Its electronic controller, a real brain developed by Torrot in Europe, gives total control of the vehicle through your smartphone.
A simple look at its dashboard, with a Multifunction display customizable in three versions (Minimal, Classic and Techno), makes a quick and complete diagnosis of status through the application, Android or iOS, developed by Torrot. Thanks to this, you can easily manage data such as the mode of consumption or the range of kilometres you have left. Smart Mobility Solutions to make your life easier when you are looking for a place to park or when you want to choose the best route to get around.
Captivatingly practical and efficient in town
If you are one of those who value time and functionality above all, you can trust the new Muvi. Get the most out of life with this lightweight, easy-to-drive scooter, with problem solving solutions, like its practical storage space where you can store your jet helmet. A scooter to enjoy every day with a very attractive, fresh image, with stylized lines.
Silent, economic and autonomous. The new Torrot Muvi has two removable batteries that are easy to take out and recharge whenever and wherever you want thanks to the practical charger you can carry in the helmet holder space. And with only four hours of recharging, you will again have the range needed to enjoy more than 100 km with your brushless engine.
More efficient and with greater power delivery
A silent motor that transmits its power to the 16-inch high profile wheel through a toothed belt. The new Torrot Muvi has disc brakes and a suspension system with front hydraulic forks and rear side shock absorber and high profile 16 inch wheels, in order to favour maximum safety and balance when driving this electric scooter in its everyday natural habitat, the city.