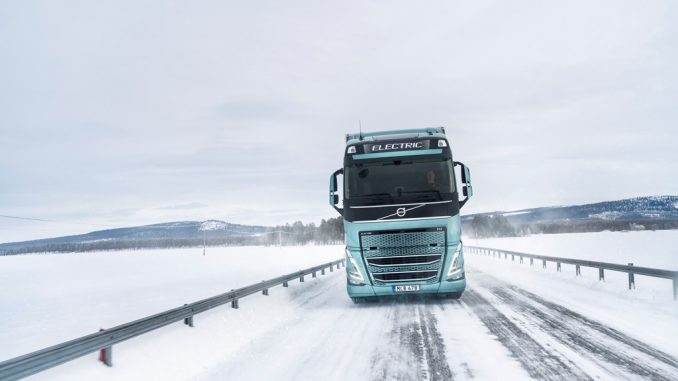 Volvo Trucks ha testato i suoi veicoli elettrici in condizioni di freddo estremo nei pressi del circolo polare artico, per capire il comportamento delle batterie.
Il risultato? Una funzionalità in grado di mantenere le prestazioni della batteria anche a temperature ben al di sotto dello zero.
Abbiamo clienti in ogni angolo del mondo e dobbiamo garantire prestazioni efficaci dappertutto, pertanto è indispensabile testare i nostri veicoli, inclusi naturalmente quelli elettrici, in condizioni climatiche rigide – dichiara Jessica Sandström, SVP Product Management Volvo Trucks.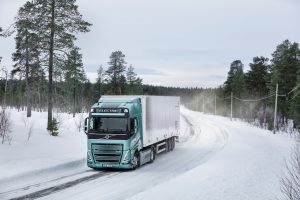 Cosa succede a un veicolo alimentato a batteria quando il termometro segna -25 °C e si alza un forte vento? Per scoprirlo, Volvo Trucks ha condotto una serie di test invernali nell'estremo nord della Svezia.
Durante i test sui veicoli svolti nella Svezia settentrionale, nei pressi del Circolo Polare Artico, valutiamo tutti gli elementi imprevedibili della natura – continua Jessica Sandström. Il vento provoca la formazione di ghiaccio sul veicolo e ci offre ottime opportunità per assicurare che tutto funzioni correttamente in circostanze estreme. I test condotti hanno dimostrato che i nostri veicoli elettrici si comportano molto bene in questi ambienti decisamente freddi.
Un risultato concreto dei test invernali è la nuova funzionalità Ready to Run. Si tratta di un'opzione che prepara il veicolo alla giornata lavorativa preriscaldando le batterie e la cabina quando necessario, oppure raffreddandole in caso di operazioni in ambienti molto caldi. La temperatura ottimale per le batterie è di circa +25 °C e il conducente può facilmente avviare il preriscaldamento o il preraffreddamento a distanza attraverso un'app.
I veicoli elettrici rivestono un ruolo importante nella soluzione pensata per ridurre le emissioni di CO2, ma per il momento rappresentano solo una piccola percentuale del mercato complessivo.
Solo poche centinaia di veicoli pesanti elettrici sono state consegnate ai trasportatori quest'anno in Europa.
Stiamo guidando il cambiamento e abbiamo una posizione di leadership sul mercato europeo per i camion elettrici. Ad oggi, abbiamo già avviato la produzione in serie di veicoli elettrici e stiamo effettuando consegne a clienti in tutta Europa e in America del Nord. Il nostro obiettivo è che il 50% delle nostre vendite totali di veicoli sarà elettrico entro il 2030 – conclude Jessica Sandström.
La funzione Ready to Run sarà disponibile sui Volvo FH, FM e FMX Electric utilizzati per il trasporto regionale e per le costruzioni leggere.
Fonte: Volvo Trucks