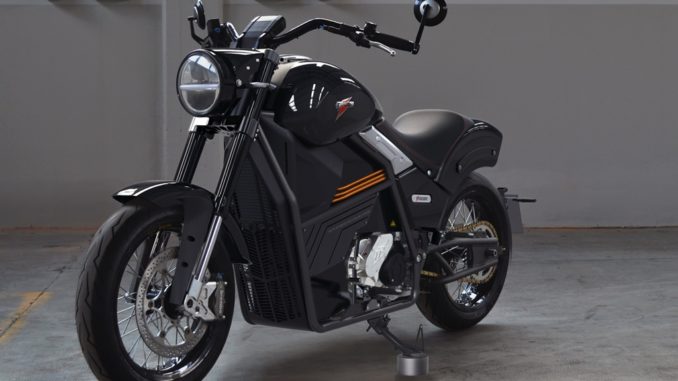 Tacita announced the first of its new 2020 model named the Tacita T-Cruise Urban that mix the American tradition and the Italian riding culture.
With the Tacita T-Cruise Urban we have combined the best of the two worlds: the American motorcycle tradition design and the Italian motorcycle culture with the plus of our second generation full electric powertrain. The Tacita T-Cruise Urban combines an incredible low revolutions torque with a sporty gearing and an unprecedented rider comfort with a low seat and configurable foot peg positions – said Pierpaolo Rigo co-founder of Tacita.
Tacita T-Cruise Urban is equipped with the new generation engine available in three power options up to 44 kW power, capable of an instant max 100 Nm of torque.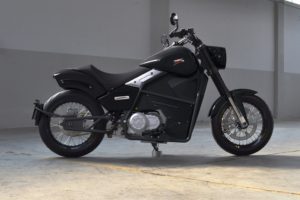 Tacita T-Cruise Urban 2020 can be configured with 2 different battery pack options: a Large size 18 kWh battery pack for a range up to 220 km* (137 miles) and a Medium size 9kWh battery pack that can make up to 112 km* (70 miles), all ranges before entering into Reserve Power mode.
As all Tacita motorcycles, the T-Cruise Urban is also equipped with the 5 speed gearbox technology. This unique feature reduces the overheating and the electricity consumption of the motor, that means more range and a better torque when needed for a peak performance in every situation.
With the T-Cruise Urban, we are addressing the specific needs of the urban mobility with the pleasure of the riding experience, the performance and the range. With up to 220 km (137 miles) range TRM* we can almost double the average a rider normally does on a daily city riding. The T-Cruise Urban will be a great companion to enjoy the daily life in USA and in Europe – said Axel Heilenkotter CEO Tacita USA Corp.
* calculated with TRM (Tacita Range method). For complete TRM details visit www.tacita.it/trm/
Powertrain
Electric Motor: Tacita Generazione 2 PMAC Power:
T65 : 100 N m of torque with 44 kW (59 hp)
T45 : 81 N m of torque with 34 kW (45,6 hp)
T30 : 60 N m of torque with 27 kW (36,2 hp)
The torque curve of Tacita T-Cruise, paired with the mechanical gearbox provides a unique riding experience only found in Tacita electric motorcycles. Enjoy till 100 N m of torque without overheating the system, thanks to its Liquid Cooling feature, unique in the industry. The new engine has been developed in house after ten years or experience and R&D, tested on our Tacita T-Race Rally on the most adverse conditions on the African Desert. Compared to our previous powertrain, the Gen.2 keeps the 5 gears box choice with a smaller, lighter, more powerful and efficient PMAC unit.
Four motor mapping: Eco+, Eco, Touring and Power.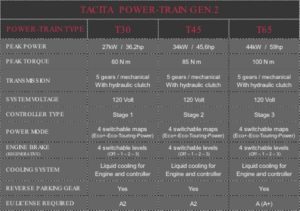 For the European market it will be available also the 11kW version, these are the data:

Battery
Type: Li-Po lithium polymer battery
Battery Life: over 2000 cycles for an estimated 360.000 kms (223,000 miles) on 18kWh model
Battery Warranty : 5 years
Range
18 kWh battery pack
Range: 220 km as per Tacita Range Method + Reserve Power 9 kWh battery pack
Range: 112 km as per Tacita Range Method + Reserve Power
Reverse
Backwards? We have. T-Cruise is equipped with reverse, backing up couldn't be easier.
Charging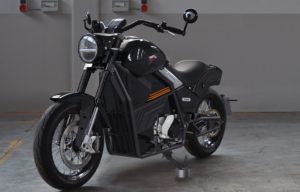 Charge anywhere: charging overnight at home, you will have a full battery every morning. And when you're on the road, it's easy to plug in along the city at any standard socket or any public charging station. T-Cruise is equipped with built on board charger and quick charger, that allows you to use level 2 and level 1 chargers just by plugging in.
Suspension
The Tacita T-Cruise comes with single shock absorber with preload setting and 90 mm travel. Hydraulic telescopic 41 mm Front Forks.
Transmission Gearbox
Tacita has created a unique 5 speed transmission gearbox that reduces the overheating of the engine and the consumption of electricity. Transmission: 5-speed gearbox with hydraulic clutch. Final transmission: Chain
Clutch
Ready when you need it. In Tacita T-Cruise the use of the clutch at the start is not necessary. The clutch is used to reduce the torque when necessary, as well as to change gears. When the electrical system is on and the accelerator is released, the electric motor does not rotate (unlike the internal combustion engine) so the bike is static, which is why it is not necessary to pull the clutch when you stop. The clutch will be ready when you need it.
Brakes
Choose your brakes. With the push of a button you can activate the regenerative engine braking that allows to recharge the battery when decelerating. Front brake: 320 mm disc with Brembo technology. Rear brake: 240 mm disc with Brembo technology.
Ergonomics
Fit for everyone's tastes. Fitted with 3-positions adjustable footpegs, the Tacita T-Cruise offers the best in class riding position in the Cruiser segment. Stretched legs, straight up, you choose.
Safety
According to the technical standard IEC 60479-1, the voltage that is considered to be dangerous is more than 120 VAC, so to comply with this safety limitation Tacita engineers decided that the total voltage of batteries on every Tacita Motorcycle will have a maximum of 120 V. Tacita thinks safety first, all the way.
Aesthetics
Seat
Every Tacita motorcycle comes standard with a handmade in Italy nautical eco leather with memory double foam that gives the T-Cruise Urban a unique seating experience while preserving the environment
Storage. Optional rear bags in Italian eco-leather with 28 available colours, standard black
Prices

Source: Tacita