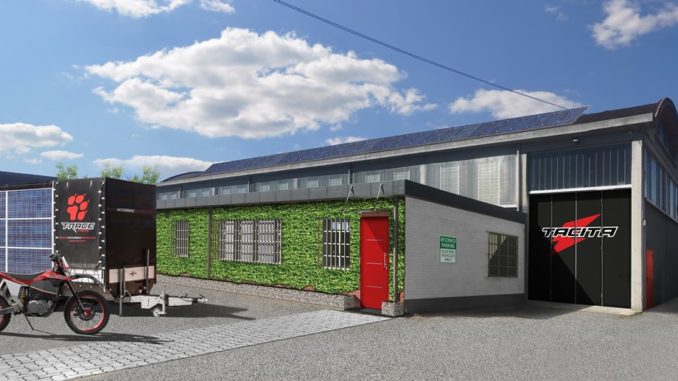 Italian electric motorcycle manufacturer Tacita celebrates its 10 years of activity with a new 100% green design and production factory in Turin, Italy
The Italian motorcycle manufacturer of offroad and street electric motorcycles moves his manufacturing headquarter in Turin Italy, to increase the production capacity of their state of the art electric motorcycles.
Founded in Turin in 2009, Tacita announced now that move to its new factory headquarter located 18 miles from Turin downtown, in the Piemonte region, to accommodate all the machinery and production lines that will allow Tacita to produce the parts to build the T-Race and T-Cruise 100% electric motorcycles product lines.
The new facility will be installed in an old building, which will be specially restored to house the CNC machinery, electro erosion cutting, 3D printers, design and testing technology and assembly lines, to allow to design and build with the highest technology available today the present and future Tacita electric motorcycles.
The new factory headquarter is designed to increase the production capacity to continue manufacturing its Tacita T-Race offroad and racing electric motorcycles, and to start the new street product line with the first release of the Tacita T-Cruise, announced last year.
The new headquarter represents an important milestone in Tacita's history. We have always believed in sustainability and electric mobility and our new headquarter reflects perfectly the corporate culture and the Tacita vision and principles. We have in fact decided to use an old building and recycle the structure to build a hightech, 100% green design and production Factory – said Pierpaolo Rigo, Tacita Co-founder.
Source: Tacita