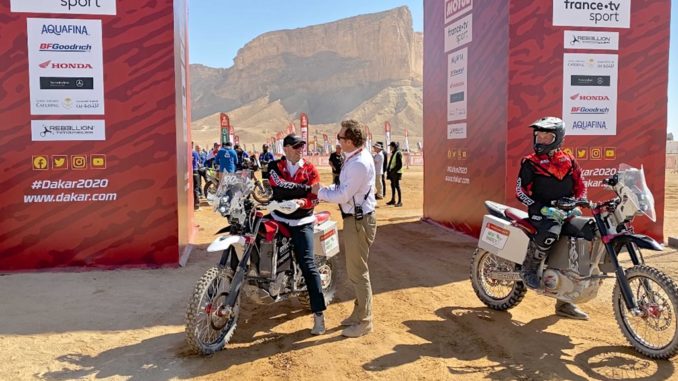 Italian Tacita T-Race Rally has been the first electric motorcycle to get part at the Grand Prix of Qiddiya the final stage of the legendary Dakar Rally.
Now, afte this important step, it's time for a balance at the Tacita Head Quarter in Torino, Italy. The Dakar Rally experience is still fresh, and more projects will come.
Dakar Rally has been the unique occasion to show the potential, and gather important data that will be crucial to take the bike to the next level.
The final Grand Prix stage was a demanding mixture of sand and rocks of off-road track, that put an impressive
challenge to show all potential of the Tacita T-Race Rally 100% electric motorcycle. On the hands of the Italian rider Diego Pederiva, the Tacita T-Race Rally motorcycle impressed the whole Dakar Rally participants and crew.
Pierpaolo Rigo, Tacita co-founder:
I participated in the 2005 edition in Africa, followed the South American chapter and I was discovering Saudi Arabia was amazing. My congratulations also to A.S.O., for the incredible organization machine. Invited by A.S.O., it was for us an incredible experience to be among the protagonists of the 2020 Qiddiya Grand Finale. It was crucial to prepare for the 2021 edition that will saw Tacita AT the starting blocks. With this year participation we have seen that the Rally Organization is fully committed to have zero-emissions vehicles at the start. We are really excited, full of ideas, calculations, and new solutions. It's great to have been there to get as close to the event as possible, so that we could observe every aspect of the race. We studied the feasibility of the stages, the routes, and the bivouac. Our goal is to have a full eco set up. We are delighted to announce that in our 2021 Dakar participation we will have a 100% electric bivouac and assistance team thanks to the T-Station ( the trailer covered with photovoltaic panels) and the electric vehicles (the electric pick-ups manufactured by Tacita).
Nicolas Chaix (Project Manager):
The range and the recharging system on the stages were the two main questions that were discussed before accepting the invitation from the organization. Together with A.S.O., we are planning to build specific regulations for electric motorcycles which will allow them an intermediate refueling. The process will be simple and safe with our technology, because at the designated CPs we will swap the empty battery packs with the pre-charged ones made available by the organization. We would like to thank the A.S.O. for the collaboration and the support. Many thanks for this 2020 edition to David, Charles, Nelly, Maxime, Robin, and Sixtine, just to mention a few names. The appointment is for January 2021 in Saudi.
Watch the video of Tacita T-Race Rally at Qiddiya Dakar Rally Grand Prix
A special thank to John Pogliano
Source: Tacita