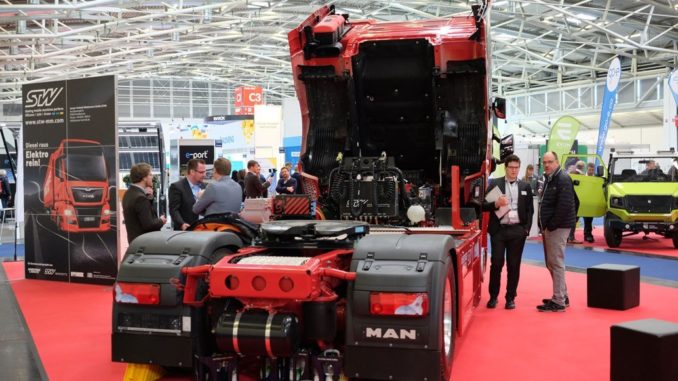 STW took part in the Power2Drive for the first time and the focus was placed on the "ELIAS" electric truck as well as the "powerMELA duo280" drive unit.
Power2Drive is the international specialist trade fair for charging infrastructure and e-mobility, and STW Company was able to record a high number of visitors.
In its coat of bright red paint, the ELIAS drew everyone's attention and was certainly a highlight at the Munich trade fair. Visitors were astonished to see a truck standing in the hall, and rushed to view it at the STW stand. ELIAS is a demonstration vehicle, which has resulted from a joint project with the special vehicle manufacturer Toni Maurer, the forwarding agent Ansorge and STW as system supplier. Promoted by the Bavarian State Ministry, a diesel truck has been converted into a fully-electric truck. STW views itself as a system supplier for components in the field of drives, power conversion and distribution, insulation monitoring as well as system safety for converters, system designers and manufacturers.
The powerMELA duo280 drive package was also presented at the STW stand. This represents the most significant STW component regarding the conversion of the diesel truck. In accordance with the slogan "Diesel out – electric in", the powerMELA duo280 replaces a conventional diesel engine and demonstrates the STW system technology. With a battery storage capacity of 400 kW/h, the ELIAS has a range of up to 200 km with a load of 44 tons. The electric truck is charged in accordance with the CCS standard using 150 kW DC fast-charging technology and is equipped for DC fast charging with 350 kW. ELIAS is currently involved in field tests with the forwarding agent Ansorge.
Source: STW