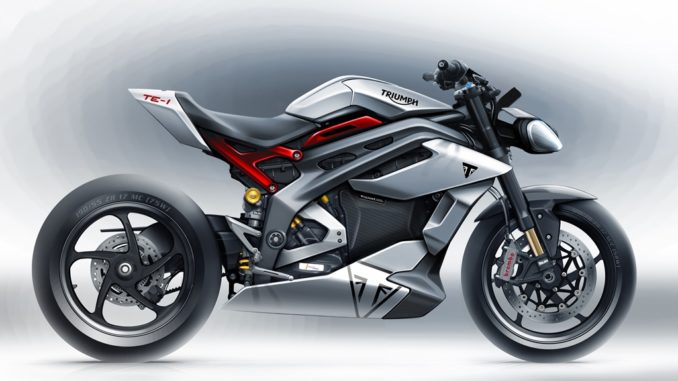 Unveiled the Project Triumph TE-1 e-powertrain which advanced battery system has been developed by Williams Advanced Engineering (WAE) setting new standards for electric motorcycles.
Wholly responsible for TE-1's lightweight, ground breaking battery system, employing a holistic approach to development will allow riders to use more electric power for longer providing access to outstanding performance regardless of battery charge, alongside rapid charging times.
With styling sketches for the final TE-1 prototype unveiled alongside first images of the innovative advanced electric powertrain, more detail can be revealed on this pioneering project which has now reached the successful completion of phase 2 of its four-phase programme.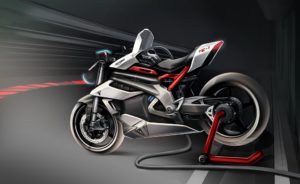 Beginning in May 2019, TE-1 has been focused on developing specialist electric motorcycle technology and innovative integrated solutions, thanks to a unique collaboration between four leading British organisations, Triumph Motorcycles, Williams Advanced Engineering, Integral Powertrain Ltd, and WMG at the University of Warwick. Funding has been provided by the Office for Zero Emission Vehicles via Innovate UK.
Paul McNamara, Technical Director at Williams Advanced Engineering, said:
WAE has a long history in powering a number of world-renowned electric vehicles, both on track and on the road. Alongside our partners, we are delighted to be playing a key role in this innovative project, setting new standards in electric performance on two wheels.
Nick Bloor, Triumph CEO, said:
The completion of Phase 2, and the promising results achieved to date, provide an exciting glimpse of the potential electric future and showcase the talent and innovation of this unique British collaboration. This important project will provide one of the foundations for our future electric motorcycle strategy, which is ultimately focused on delivering what riders want from their Triumph; the perfect balance of performance, handling and real world usability, with genuine Triumph character.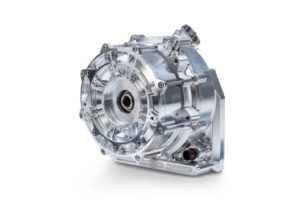 Williams Advanced Engineering has provided industry-leading lightweight battery design and integration capability, using its test and development facilities to deliver an innovative battery management system combined with vehicle control unit. At the start of the project, WAE identified appropriate cell technology and battery architecture to deliver the performance objectives set by the partners, namely the best balance between power and energy.
The battery has been developed to bring two class-leading benefits: the battery can deliver sustained power, matched to the consistent maximum power that the motor can give – whilst the battery can also charge at a faster rate.
WAE has also created innovative battery management software to ensure power is delivered in relationship to battery performance. The outcome of phase two for WAE includes a fully bench-tested battery with performance results that exceed any current technology in terms of power and energy density.
The all-new battery has peak power of 170kW and continuous power of 90kW, with a capacity of 15kWh. This enables the motorbike to deliver 130kW of peak power and 80kW of continuous power. Class leading system cooling combined with the optimum balance of power and energy means TE-1 can give the rider more electric power for longer and deliver outstanding performance regardless of battery charge. The 360-volt system also enables a fast-charging time of under 20mins (0-80%), which is combined with a market leading target range.
WAE has optimised the battery module layout to balance mass and positioning within the prototype chassis taking into consideration centre of gravity, space and relationship with the powertrain and charging approach. A new and bespoke vehicle control unit has been integrated into the battery pack to minimise weight and packaging.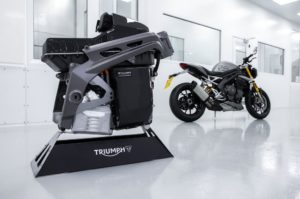 Dyrr Ardash, Senior Commercial Manager at Williams Advanced Engineering, said:
Through this innovative project, we are delivering next-generation battery technology. The energy density of this new battery will be a significant step forward giving the rider more power, for longer. And whereas existing technology limits performance at low levels of charge, our lightweight, compact solution gives the rider all of the performance all of the time – regardless of battery charge. It also delivers class leading range.

Additionally, we have pushed the limits of performance by balancing the battery for acceleration and range, with simulations modelled on track-based riding. In other words, as aggressive as possible. WAE has also designed and developed a bespoke electronic control unit combining the battery management system with the bike control functions in one package. A first for this market, this benefits packaging and integration whilst optimising performance and range. What's more, we have also reduced mass and optimised frame position to benefit handling too.
High performance battery expertise lies at the core of WAE. The company was the original supplier of batteries to the entire grid of FIA Formula E World Championship cars in 2014, a relationship that has been revived for 2022-23 season with WAE being awarded the exclusive contract to supply the Gen3 battery system. WAE also supplies battery systems to ETCR and Extreme-E.
Source: Triumph