The new British company Zapp unveiled the electric scooter i300, powered by a 14kW motor designed to lead the urban transport revolution.
The new Zapp i300 is powered by a pair of cutting-edge, lightweight lithium-ion batteries and a maintenance-free air-cooled interior permanent magnet electric motor. The i300's 14kW motor produces 587Nm of torque at the rear wheel, which combined with a lightweight construction of 90kg, means a 0-30mph time of less than 2.4 seconds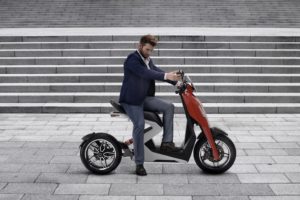 The easy-to-transport batteries enable owners to charge by simply removing the battery and plugging it into any household socket.
To give users extra range on the go, the new Zapp i300 includes rider-selectable 'regenerative braking', which returns energy when the rider shuts the throttle. Using the regenerative braking system as the primary means to slow down in heavy traffic not only increases the longevity of the scooter's brakes, but also reduce another pollution element – particulates.
A 140/60 ultra low-profile nitrogen-filled rear tyre ensures an effective deployment of the available torque from standstill. Front brakes feature a cross-drilled vented full-floating disc, four-piston calliper and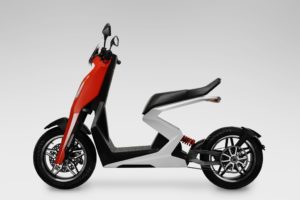 ABS to provide commensurate stopping power. Both progressive-rate gas-filled upside-down front forks with a rear coilover pushrod and mono rear swing arm suspension inspired by superbikes ensure a safe and engaging ride.
The Zapp i300 can be configured to match any taste or style. Individuality is encouraged during the build process of every scooter, with a generous pallet of colours, comprehensive suite of carbon fibre components, different seating options and other useful storage and sporting accessories.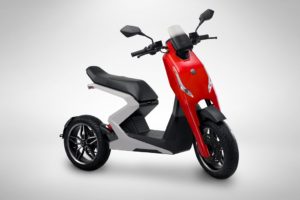 Swin Chatsuwan, Zapp Chief Executive said:
With air quality in cities worsening and our roads becoming increasingly congested, the world needs new alternatives to urban transport. With its revolutionary design, thrilling performance, and clean power source, we believe the i300 is the urban mobility solution people have been looking for.

There are already electric scooters out there, so we only ever intended to bring something highly innovative and hugely desirable to the market. There is nothing like the Zapp i300, either from a design or functionality and practicality perspective. We are very proud of what we have created and think commuters will like it as well.
The Zapp i300 is available to pre-order since 31 October.