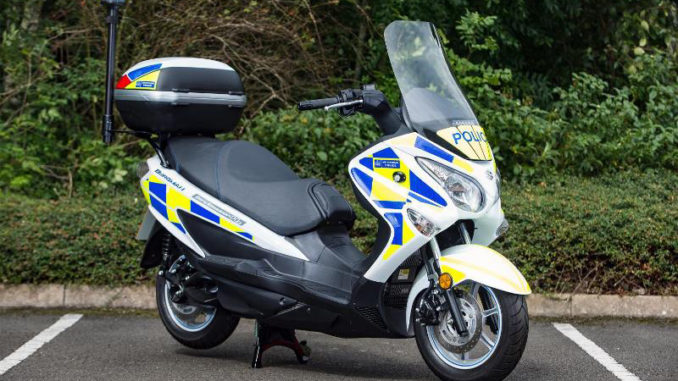 Fonte: Suzuki UK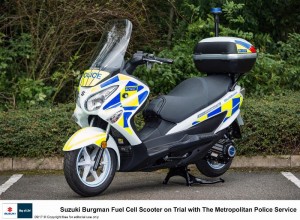 London, UK. September 4th, 2017. The Metropolitan Police Service are helping reduce harmful emissions in London's air by launching a trial to test Suzuki Burgman hydrogen powered scooters from today, Monday, 4 September.
In line with the Mayor of London's work to tackle London's toxic air, the Met's Fleet Services are trialling seven Suzuki "Burgman Fuel Cell", zero emission hydrogen scooters as part of its operational capability.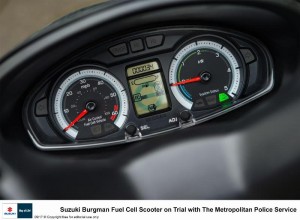 The trial will last for 18 months and will enable assessment of their suitability for the various roles the scooters could perform. On a broader scale it will help The Metropolitan Police to understand where this clean technology could be adopted across its fleet in the future.
The hydrogen fuel cell scooters will be used by Police Community Support Officers within the Roads and Transport Policing Command and will be based at Alperton Deployment Centre.
The trial is being run at no cost to the Met, with the loan of the vehicles from Suzuki Motor Corporation. The maintenance and fuel costs will be met by a collaborative project which is being part funded by the Advanced Propulsion Centre (APC). Lead partner of this project is British fuel cell technology company Intelligent Energy in association with Suzuki GB and Cenex.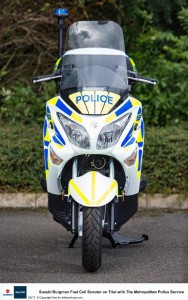 Commander Neil Jerome for Territorial Policing said:
"Being the UK's largest police service we constantly have vehicles on the roads and therefore it is our aim to make our fleet as clean as we can, whilst maintaining operational capability.

We are thankful to Suzuki and our partners and look forward with optimism about this trial. Through collaborative partnerships and innovative testing such as this, we can gain real-life experience of how we can progress our ambition and create a cleaner fleet that will benefit London and the service we provide."
Suzuki GB Managing Director, Nobuo Suyama, expressed his gratitude to the fleet trial partners:
"Suzuki are extremely honoured to be able to showcase the Burgman Fuel Cell and gain valuable feedback from this important trial with the Met. Operational data from the trial will be gathered and used to support Suzuki zero emission vehicle development programmes.

Deploying these vehicles into service with the Met marks a significant milestone in the extensive development of this ground-breaking technology. Being able to release the Suzuki Burgman Fuel Cell to the Met has only been made possible by the support of a number of technology partners; including Intelligent Energy Ltd, with whom Suzuki has jointly developed the Fuel Cell unit for the scooter."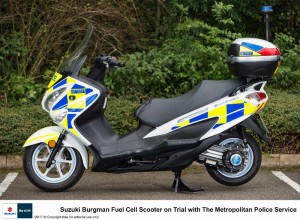 This trial complements a Metropolitan Police Service decision made in late 2015, to stop mandating diesel fuel for its fleet. Since then, it has been actively exploring ways to hybridise and electrify its fleet in addition to exploring other new technologies such as hydrogen. This is enabling The Metropolitan Police Service to make great strides towards its ambition of procuring 550 vehicles as zero or ultra-low emission by 2020 whilst, always ensuring that a fleet operational capability to respond 24/7 to policing, remains a top priority.
The hydrogen powered scooter trial follows the Greater London Authority (GLA) signing a letter of intent in March 2016, with Suzuki Motor Corporation to test these vehicles as a patrol vehicle within the Metropolitan Police Service (MPS) Fleet.
The scooters will be located at a central London location and will be re-fuelled using a private re-fuelling station, provided by Fuel Cell Systems. This mobile re-fuelling facility enables the scooters to be deployed elsewhere, or on deployment for long periods, as required.
The Suzuki Burgman Fuel Cell has a range of around 120km before refuelling is required.
Overall Length= 2095mm
Overall Width= 740mm
Overall Height= 1365mm
The Burgman Fuel Cell scooters are not yet commercially available. The MPS is the only organisation outside of Japan that Suzuki has approached to undertake this trial. These scooters will be fitted with Telematics to enable Suzuki to gather data on the scooters systems. This will assist industry to further develop this technology.
Suzuki kindly acknowledges the Advanced Propulsion Centre (APC) for providing support for the operational phase of the trial as part of a collaborative project involving partners Intelligent Energy and Cenex.