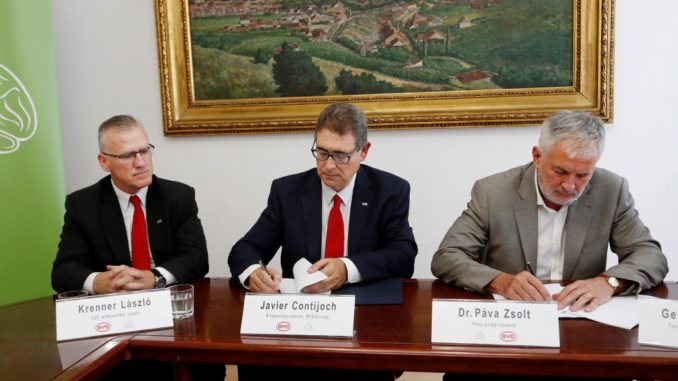 BYD received an order for a fleet of ten new 12-metre eBuses from public transport operator, Tüke Busz Zrt, in the southern Hungarian city of Pécs.
The new fleet – the first electric buses in the city – will replace ageing diesel-powered vehicles with delivery scheduled for early 2020, and signaling the start of a longer-term whole-fleet conversion to electric mobility.
BYD's 12-metre, three-door, low-floor eBus variant boasts a range of 300km on a single charge and, across the Tüke Busz Zrt new BYD fleet, will cover 900,000km per year – 10% of the company's annual distance. BYD has also designed and installed the prerequisite charging infrastructure for the new fleet.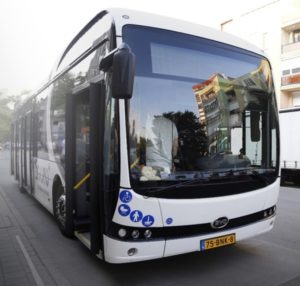 BYD embarked upon eBus field trials in Pécs five years ago, after which time the manufacturer has enjoyed significant growth. BYD has since established production facilities in both Hungary and France, emerging as market leader in several countries and proving popular with Local Authorities and bus operators across the continent.
This most recent order was announced at a special press conference last week in Pécs, where the city's Mayor, Zsolt Páva, described the state-supported investment as delivering on price, quality and service. He also said,
…we have taken a major new step towards the modernisation and sustainability of public transport in Pécs. I hope that the continuation will be similarly successful as we hope that, in addition to the ten new electric buses arriving early next year, we will be able to obtain more eBuses in the future and replace the entire Pécs bus fleet with modern, environmentally-friendly vehicles.
Mayor Páva also pointed to the importance of working alongside BYD as the most successful manufacturer in the electric bus market, and is equally pleased to have seen the new fleet of eBuses built at the Hungarian production facility in Komárom.
Chairman of the Board at Tüke Busz Zrt, Gyula Gelencsér, added:
Thanks to these new buses, the air and pollution of the city will be significantly reduced, and the comfort of the passengers will hopefully increase as these are comfortable, beautiful, quiet vehicles.
BYD continues to to find favour with Local Authority operators as more and more towns and cities across Europe see the benefits of electric mobility.
Javier Contijoch, Vice President Sales at BYD Europe, said:
The case for electrification is all but won. For scheduled bus services in towns and cities throughout Europe, Local Authorities are seeing that BYD electric mobility is a commercially viable alternative to diesel-power. And it's getting passengers back on-board," he said, "passengers who want to live in communities with a sustainable future.
Source: BYD Europe