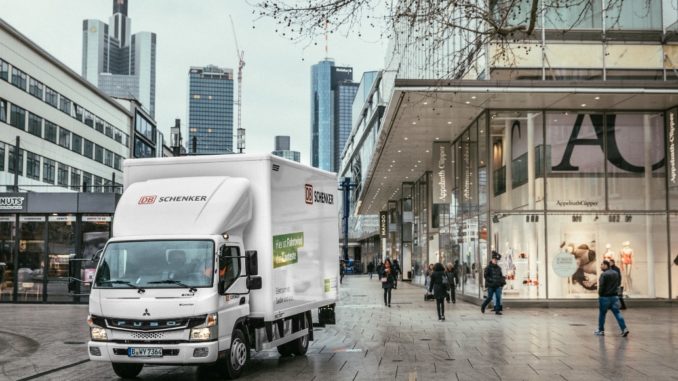 DB Shenker, the logistic service provider and Daimler Trucks FUSO expanding their partnership in the field of fully-electric light-duty trucks.
Last March DB Schenker took four additional FUSO eCanter trucks for urban short-radius distribution in Paris, Frankfurt and the Stuttgart region.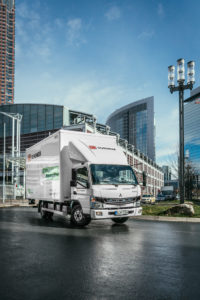 DB Schenker has already been using an eCanter in Berlin since last year and is testing the use of the vehicles in mixed fleets. DB Schenker is now in talks with FUSO about further eCanter vehicles for additional European markets.
Tristan Keusgen, head of European Fleet Management at DB Schenker said:
We need to bring goods into inner cities in a more sustainable manner and irrespective of vehicle bans. Our experience with the FUSO eCanter up until now has been valuable – it is perfectly suited to serving our customers in urban areas such as Paris or Frankfurt.

We are delighted that in future we will be working even more closely with DB Schenker on the electrification of inner-city short-radius distribution. The positive feedback regarding operation makes us very proud – and at the same time it is an incentive to further improve the FUSO eCanter. Our mutual approach is to learn from one another. In doing so FUSO can access the extensive network of the E-Mobility Group (EMG) within Daimler Trucks – emphasises Harald Schmid, head of Sales & Market Management at FUSO Europe & USA.
Emission-free in inner cities
DB Schenker is planning to use two eCanter trucks in France; they will be making around four trips a day with 10 to 12 stops in the Paris region. Two eCanter are also on the road in Frankfurt and the Stuttgart region, delivering to customers in inner-city areas almost silently and with zero emissions.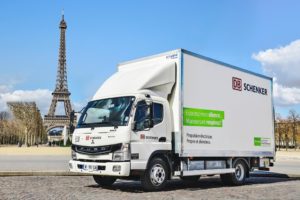 In addition to Paris, Berlin and Frankfurt, the fully electric light-duty trucks with an output of 129 kW and a payload of up to four tonnes are also on the road in other important European cities such as London, Amsterdam and Lisbon as well as in New York and Tokyo. At present a total of more than 100 eCanter trucks are being used in delivery operations worldwide and have completed more than 300,000 km "electrically". The 7.5 tonne vehicles boast a range of at least 100 kilometres and are thus able to cover the requirements of customers in inner-city short-radius distribution without problem. The vehicles are charged simply overnight either with alternating current or direct current chargers depending on availability. Charging can be reduced to around 90 minutes if a high-speed charger is used.
E-Mobility Group defines e-strategy at Daimler Trucks
The E-Mobility Group, founded in 2018, defines the strategy for electric vehicles at Daimler Trucks across all brands and is working on an electric architecture that is applicable worldwide. The E-Mobility Group is globally structured, with employees working in various locations throughout the company's worldwide development network, e.g. in Portland (USA), Stuttgart (Germany) and Kawasaki (Japan).
Source: Daimler AG