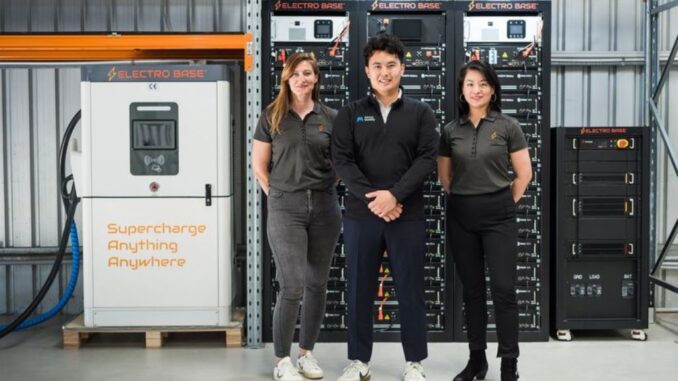 The pioneer in energy infrastructure software for Advanced Air Mobility (AAM) Aerovy signed a partnership with Electro Base, provider of innovative battery container technology.
Il pioniere nel software delle infrastrutture energetiche per la mobilità aerea avanzata (AAM) Aerovy ha firmato una partnership con Electro Base, fornitore di tecnologia innovativa per i contenitori di batterie.
The collaboration builds upon a history of successful teamwork, and the expansion of the existing partnership with Electro.Aero, the parent company of Electro Base.
Electro Base aims to deliver cutting-edge charging technology, with a focus on flexibility, efficiency, and sustainability. Aerovy's software solutions will be integral in optimizing energy management within Electro Base's charging infrastructure.
Electro Base: Leading Charging Technology in Perth, Western Australia
Electro Base's battery containers are designed to enable rapid charging for a wide range of electric vehicles, whether on-grid or off-grid. These containers are equipped with integrated chargers for electric cars, trucks, and construction equipment, along with auxiliary sockets for other devices. Electro Base's unique grid-tie technology allows for a combination of grid and off-grid inputs, managed seamlessly through Aerovy's cloud technology. AI-driven energy cost optimization enables fast charging while minimizing cost and emissions.
Aerovy: Revolutionizing Energy Management
Aerovy is developing cloud-based software solutions purpose-built for AAM. This collaboration integrates Aerovy's advanced software with Electro Base's chargers and battery energy storage systems, enabling machine learning-driven price arbitrate for electric vehicle charging. With this partnership, charging service providers can ensure that energy will be available for peak demand while minimizing operating cost.
Taking the Partnership to New Heights
The expanded partnership between Aerovy and Electro Base represents a significant step towards the electrification of the transportation industry. By combining cutting-edge charging technology with sophisticated software solutions, the two companies are facilitating a more efficient, sustainable, and accessible electric vehicle charging ecosystem.
"Our continued partnership with Electro.Aero and this new strategic relationship with Electro Base highlights our commitment to advancing the charging landscape for AAM and beyond. We're excited about the possibilities this collaboration unlocks for the future of sustainable transportation – said Nick Gunady, Founder and CEO of Aerovy.
‍Fonte: Aerovy