Swedish and Nordic region's largest bus operator Nobina increase the own fleet with 34 BYD eBuses in two separate deliveries.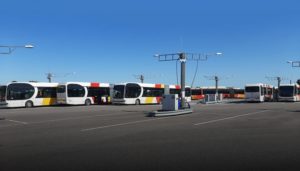 Vehicles will entry in operations with Public Transport Authorities in Linköping and Halland.
Official handover formalities were coordinated simultaneously at separate locations on 15th June. The deliveries demonstrate BYD's commitment to its customers as Sweden and the rest of Europe continue to face significant challenges as a result of the coronavirus health emergency.
The latest delivery comprises 18 low-floor 18.6-metre articulated eBuses for the city of Linköping and a total of 16 12-metre eBuses assigned for various services throughout the province of Halland on Sweden's south-western coast.
The 18.6-metre articulated model offers enhanced passenger capacity – approximately 105 (37 seated) – and, thanks to its centre-pivot design, boasts an impressively narrow 24-metre turning circle. For its Halland operation, Nobina has selected BYD's best-selling 12-metre low-floor model with 26-seats and total carrying capacity of 68.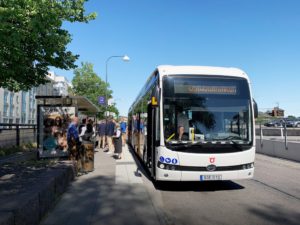 Nobina's total intake of eBuses from BYD now
exceeds 160 units
; either in operation or on order, and including an order for 13 12-metre models earlier in April for the town of Piteå in the north-east of Sweden. BYD now has nearly 300 eBuses either delivered or on order with PTA fleets right across Scandinavia with operators sharing BYD's commitment in delivering 100% emissions free, pure-electric public transport.
Nobina is strengthening the position as the leading operator of electric and sustainable public transport services in the Nordics – said Jens Råsten, Fleet Manager, Nobina Group. Where the technical e-mobility concept by BYD has proven to fit perfectly well into the high demands among customers and PTAs in the Nordics regarding flexibility, total transport economy, quality and reliability.

Despite the coronavirus pandemic, we have remained steadfast in our commitment to supporting Public Transport Operators with our products and services – said Isbrand Ho, Managing Director, BYD Europe – our customers are clearly planning ahead and they need to rely on BYD to continue the partnership – even when times are tough.

Isbrand continued: Nobina is an excellent example of a forward-thinking bus operator – an operator that understands that a sustainable, pure-electric bus fleet can deliver high levels of productivity while appealing to more and more passengers who demand clean, sustainable public transport.
Photo
[On the left] CEO of Nobina Sverige AB, Henrik Dagnäs; [On the right] Sofia Malander, CEO of ÖstgötaTrafiken, PTA
BYD 18-metre articulated eBus in Linköping [Source: Nobina]
BYD 18-metre eBus fleet delivery in Linköping
Source: BYD Europe