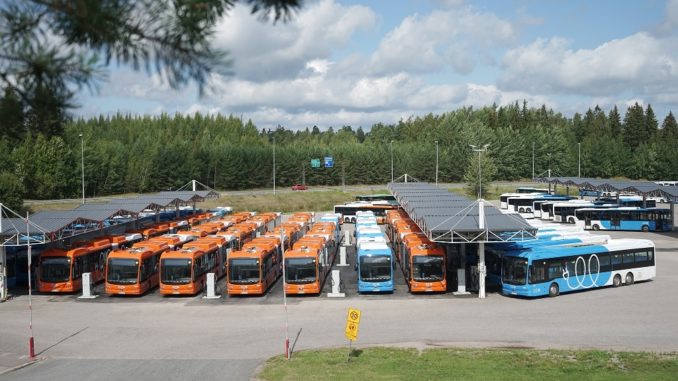 BYD delivered 76 BYD eBuses to major Nordic public transport operator, Nobina, for use in the Finnish capital, Helsinki.
The fulfilment completes Finland's largest ever electric bus order – a 119-unit order for Nobina – and represents BYD's second-ever delivery to Finland following the arrival of 43 units to Turku in June.
The new Nobina fleet features BYD's latest 15-metre city eBus that debuted in European service in Turku. The operator is also receiving a broad range of eBus models, including 23 units of the best-selling 12-metre model, eight units of BYD's recently updated 13-metre variant and 44 high-capacity 18-metre articulated buses.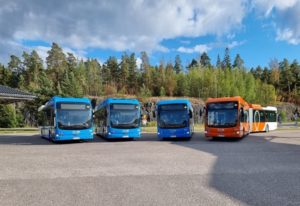 Nobina and the Helsinki Regional Transport Authority (HSL) hosted an event to introduce the eBus range onto the streets of Helsinki on 10th August. Taking place at Nobina Finland's headquarters, guests had the opportunity to participate in a tour of the local area onboard the new eBus fleet. Speeches were also made by Mårten Winqvist, Traffic Director at Nobina Oy and the Director of HSL's Public Transport Department, Tero Anttila.
Representing more than half of the buses delivered to Helsinki, the 18-metre articulated eBus boasts a spacious interior capable of carrying 112 passengers and can charge up to 300kW through a roof-mounted pantograph, providing a convenient and efficient recharging process. In line with the units delivered to Turku, Helsinki's 15-metre eBus offers a 47+3 seating capacity and a total passenger capacity of 90 passengers. BYD's latest generation Iron-Phosphate batteries fitted to the 15-metre eBus can deliver a single-charge range of 400km under SORT test conditions.
All of Nobina's new 12-metre eBuses feature a tailor-made seat layout capable of carrying 72 passengers. Built at BYD's European production facility in Hungary, the 23 new units of the popular bus reinforce its position as the marque's best-selling model in Europe.
Each bus is equipped with a full driver cab surround and BYD's own Battery Thermal Management System technology to maximise battery life and optimise driving range in the cold conditions often experienced in Finland. Similarly, to ensure that the ambient temperature on-board the bus is always comfortable, climate pre-heating is fitted for use on early morning starts.
Source: BYD